Whether you're redesigning a patio you've had for years or putting in a brand-new one, we understand how important comfort and style are to you. While you naturally aim for your outdoor living space to look great, you should also want to spend hours there! A patio umbrella can help you achieve both a unique style and comfortable shading.
If you're still asking yourself, "Should I get a patio umbrella? Do I really need one?" that's a fair question. But investing in an outdoor umbrella will help you:
Protect your skin.

Stay cool (and healthy).

Preserve your furniture.

Protect your devices.

Express your style.
Protect your skin.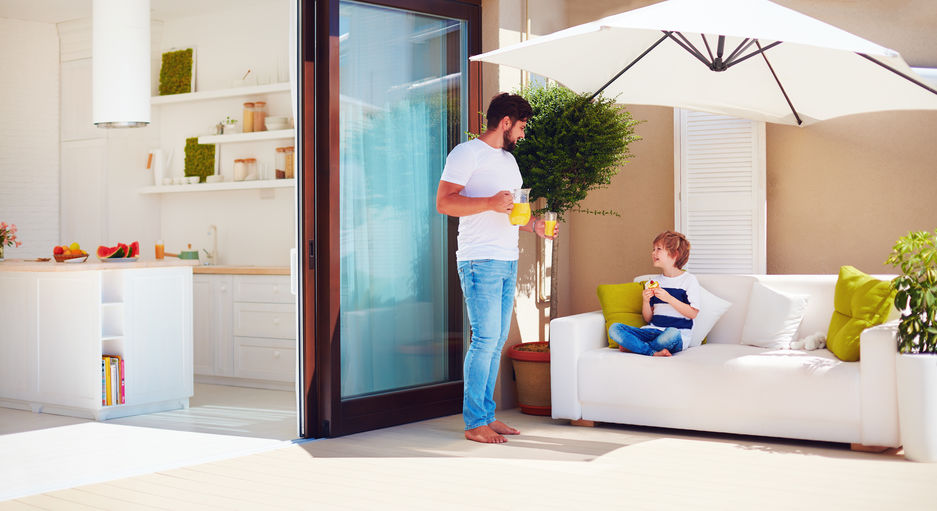 It's only natural that you want to enjoy your patio on sunny summer days, but you may not know just how much sun is too much. This will vary based on your skin type and where you live, according to the Institute for Quality and Efficiency in Health Care. For fair-skinned folks, you'll start to get a sunburn within just 10 minutes of UV ray exposure. Even if you have darker skin, you'll likely experience burning after an hour. 
You probably already know places close to the equator—such as Hawaii, Florida, and Texas—have higher amounts of UV radiation. Something you may not have thought about, though, is a greater risk of sunburn if you live in a mountainous region like Colorado or Utah.
Regardless of your reaction to the sun, or where you call home, you can protect your skin by combining a UV-blocking patio umbrella with these sun-safe practices:
Wear sunscreen every day.

Avoid the sun from 10:00 am to 3:00 pm, when the sun's rays are strongest.

Wear UV-filtering sunglasses and/or a wide-brimmed hat.
Stay cool (and healthy).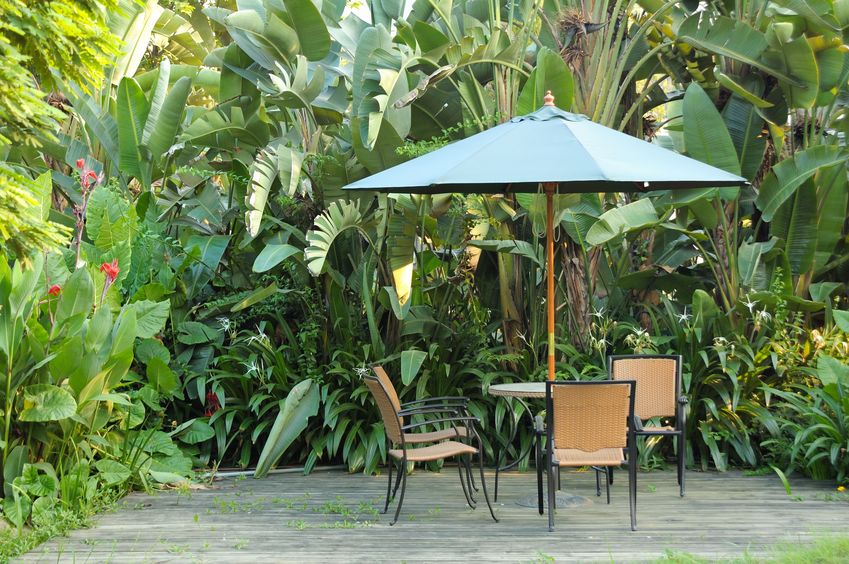 While shading your outdoor space will protect your skin, you can also keep cool under a patio umbrella. This may seem like common sense, but you may actually be able to prevent a serious health risk by staying in the shade. 
During the hot summer months (when you most want to be outside!), sitting in the sunshine can simply be too warm for you, your family, or even your pets. Once temperatures exceed 95 degrees Fahrenheit, your body becomes less effective at cooling down—and you may overheat, become dehydrated, or even faint.
But you can fight off heat-related conditions by setting up a patio umbrella and following a few more tips for a safe summer outdoors:
Drink plenty of water.

Check with your doctor to see if your medication(s) may cause dehydration.

Simply rest in your outdoor space to avoid overexerting yourself.

Head inside if you're feeling unwell.
Preserve your furniture.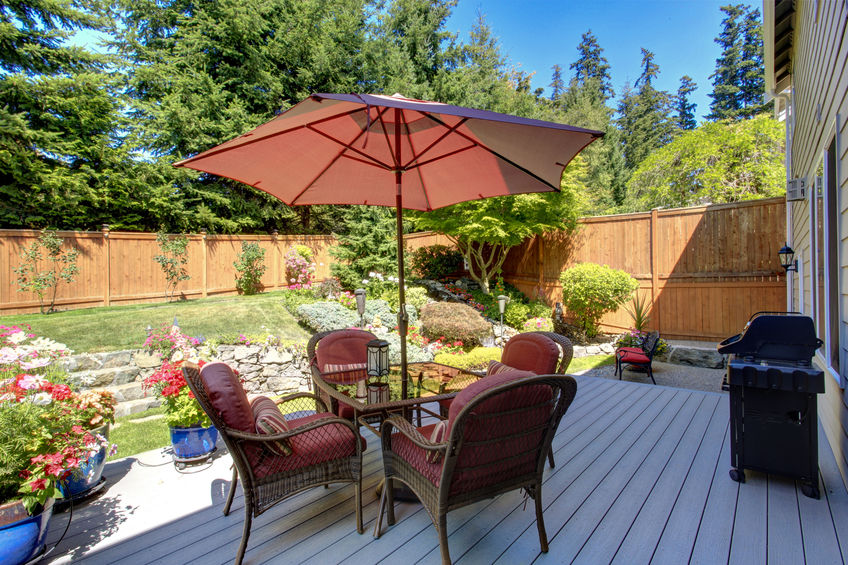 UV rays aren't only bad for your skin; they can also damage your patio furniture and cushions over time, especially if you live in a sunny area. Outdoor spaces in rainy climates aren't invincible, either, as moisture can also shorten your pieces' lifetime. Sun- and moisture- resistant cushion fabric—like acrylic or acrylic linen—will help you combat early wear and tear, but your patio may still benefit from additional weatherproofing.
The good news is that a patio umbrella will help you protect your furniture and cushions from rain and UV rays for years to come. To further safeguard your patio pieces: 
Apply a

fabric protectant

to outdoor cushions and pillows.

Close your umbrella

if you're expecting rain.

Bring your cushions, chairs, and umbrella inside during winter and inclement weather.
Protect your devices.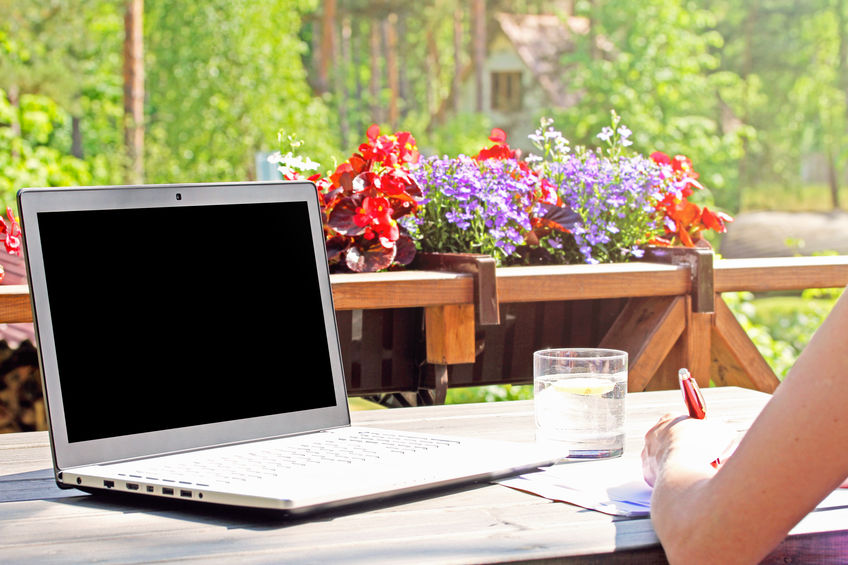 Whether you work full-time from your laptop or simply enjoy online shopping now and then, summer presents a great opportunity to work (and play) outside. However, laptops and phones tend to overheat more easily than desktops because their hardware components are close together, with little room for air flow. And as a device gets older, it'll have to work harder to cool down—much like our bodies do when we're outside in extreme heat. According to Lifewire.com, your phone or laptop may even burn you if it overheats.
Fortunately, an outdoor umbrella can help you keep your devices out of direct sunlight and slow down any threats of overheating. You can also protect your phone and laptop while working or browsing outside by:
Switch to battery-saving settings on your phone

Shut down any computer programs you're not using

Using a cooling stand for your laptop

Shutting down your phone or computer when you're not using it
Express your style.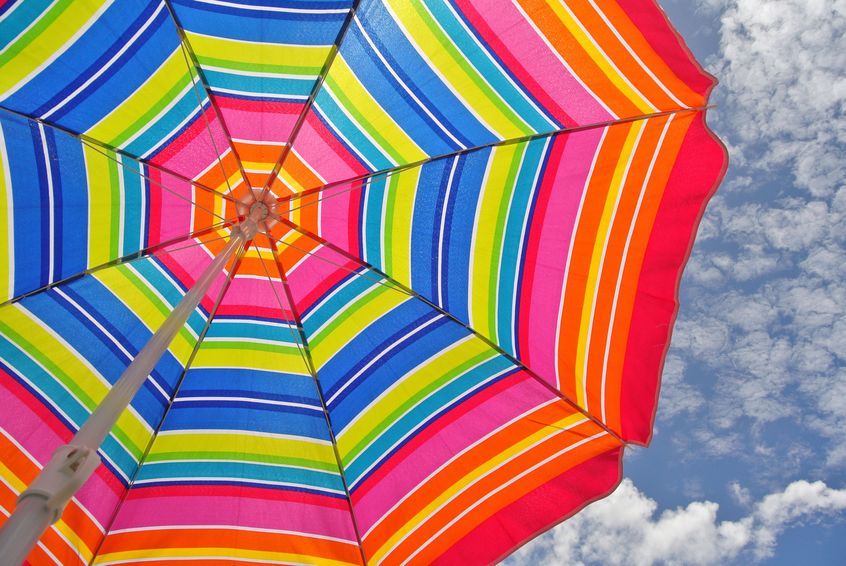 While you should stay safe and cool on your patio, we also know you want to show off your one-of-a-kind style! If you're looking for a way to spice up your outdoor space, an umbrella can add an exciting pop of color. 
Whether you'd love a blue-and-green umbrella to complement your poolside patio, or a burnt orange covering to accent your rustic porch, a custom umbrella manufacturer can help you bring your dream space to life. You can even create a custom piece by choosing fabric and a base that perfectly matches your patio's cushions, pillows, and decor. 
If you're not sure where to start, or you have no idea what you want your patio to look like, this quiz can help you determine your style.
If you're looking to spend lots of time outdoors this summer—but you want to stay safe and healthy, too—a patio umbrella will help you do just that. What's more, you can freshen up your outdoor space with a customized piece that shows off your style!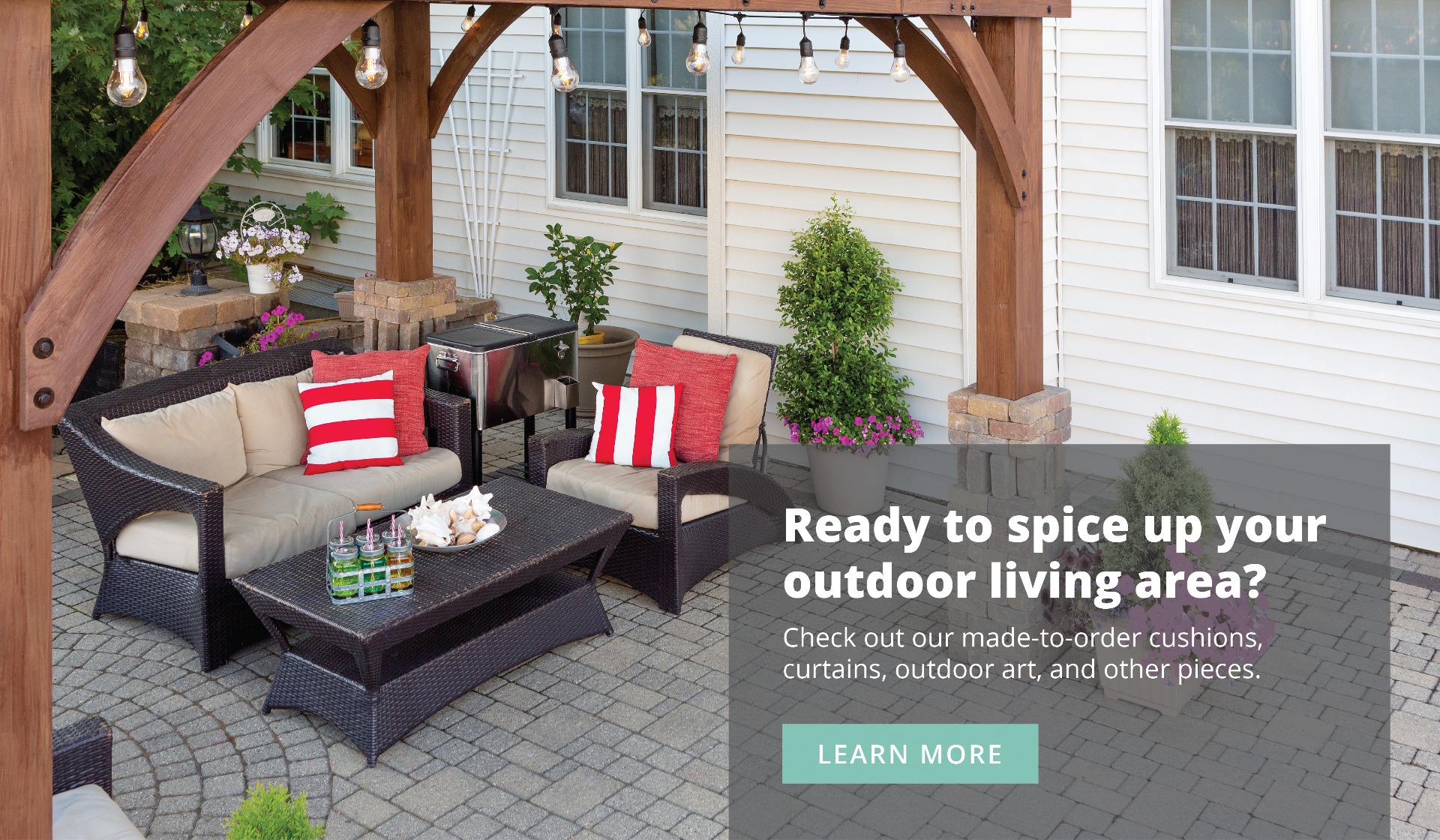 Summer Living Direct—a branch of Jordan Manufacturing—has helped Indiana homeowners, decorators, and DIY-ers find quality custom cushions, curtains, outdoor art, and umbrellas for their patios since 1994. To learn more, please visit our website or follow us on Facebook.