Wondering when you should start getting your outdoor space ready for winter? Fall is the perfect time to winterize your patio — the weather is still relatively pleasant, and you won't have to deal with snow, ice, and freezing temperatures just yet. 
Whether you can use your patio in the winter or have to say goodbye to outdoor lounging for now, weatherproofing your space will keep it in great shape for when you're ready to enjoy it again in the spring.
Read on for our four patio winterizing tips that will help your outdoor space endure colder weather.
1. Clean and cover your tables, chairs, and grills.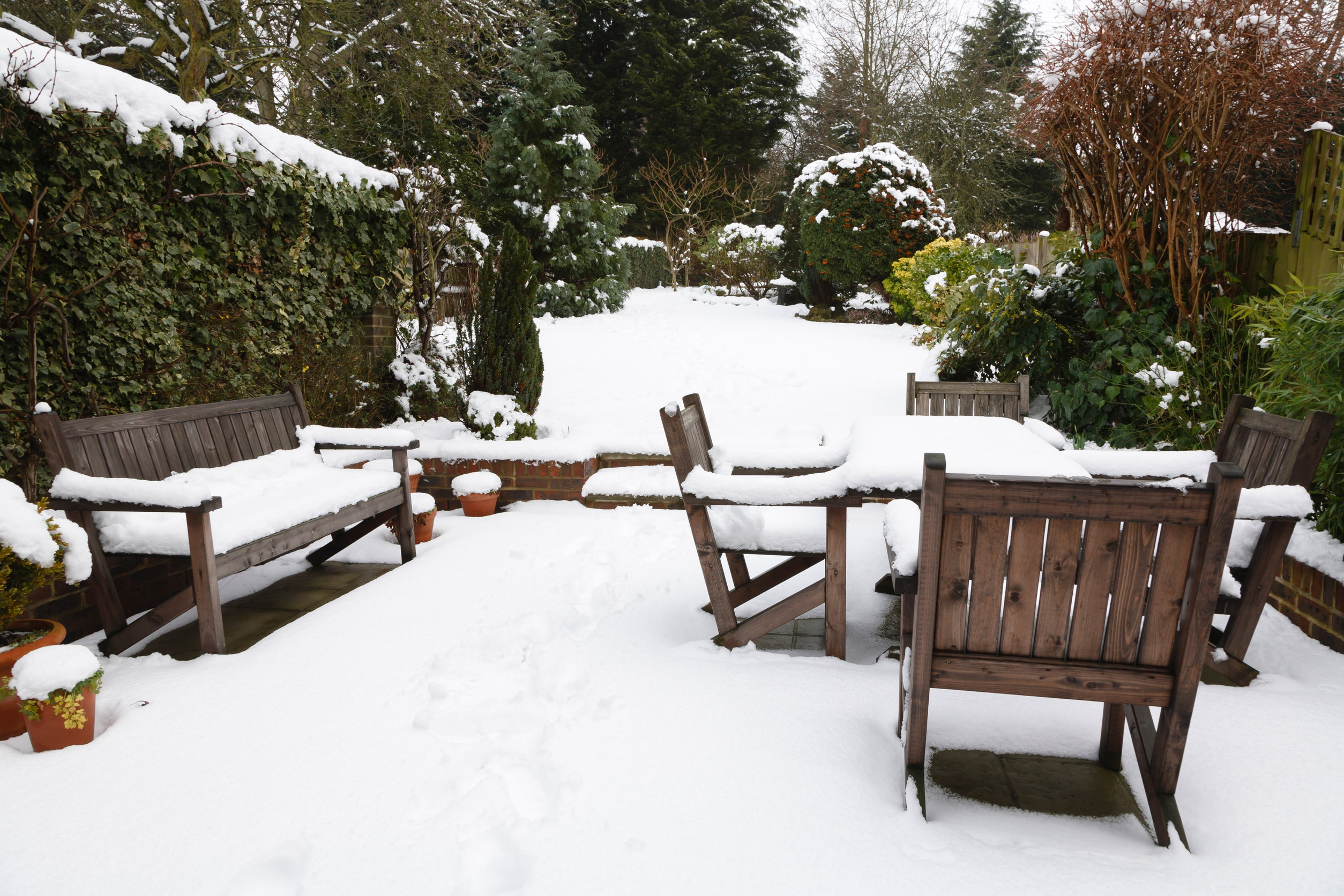 To winterize your patio, you'll first wash outdoor tables and chairs with soap and water. Once dry, store this furniture inside if possible to avoid leaving marks on your patio or exposing your pieces to rust, ice, and snow. If you don't have an indoor space to keep tables and chairs, you can get heavy-duty outdoor furniture covers to protect them from moisture, mildew, and discoloration. 
Whether you have an indoor shelter for outdoor furniture, or you choose to cover your pieces, move the tables and chairs off the patio for now; this will make it easier to clean the surface (see Tip #2).

You'll also want to clean and cover your patio grill (if you have one). For charcoal or wood grills, empty the ashes and scrub the grates with dish soap and water; let the grates dry before putting them back in the grill. For gas grills, shut off the gas line and store the gas tank in a cool, dry space (a shed or garage is perfect for this). Move your grill off the patio and cover it to keep snow and ice out.
2. Sweep, wash, and repair your patio's surface.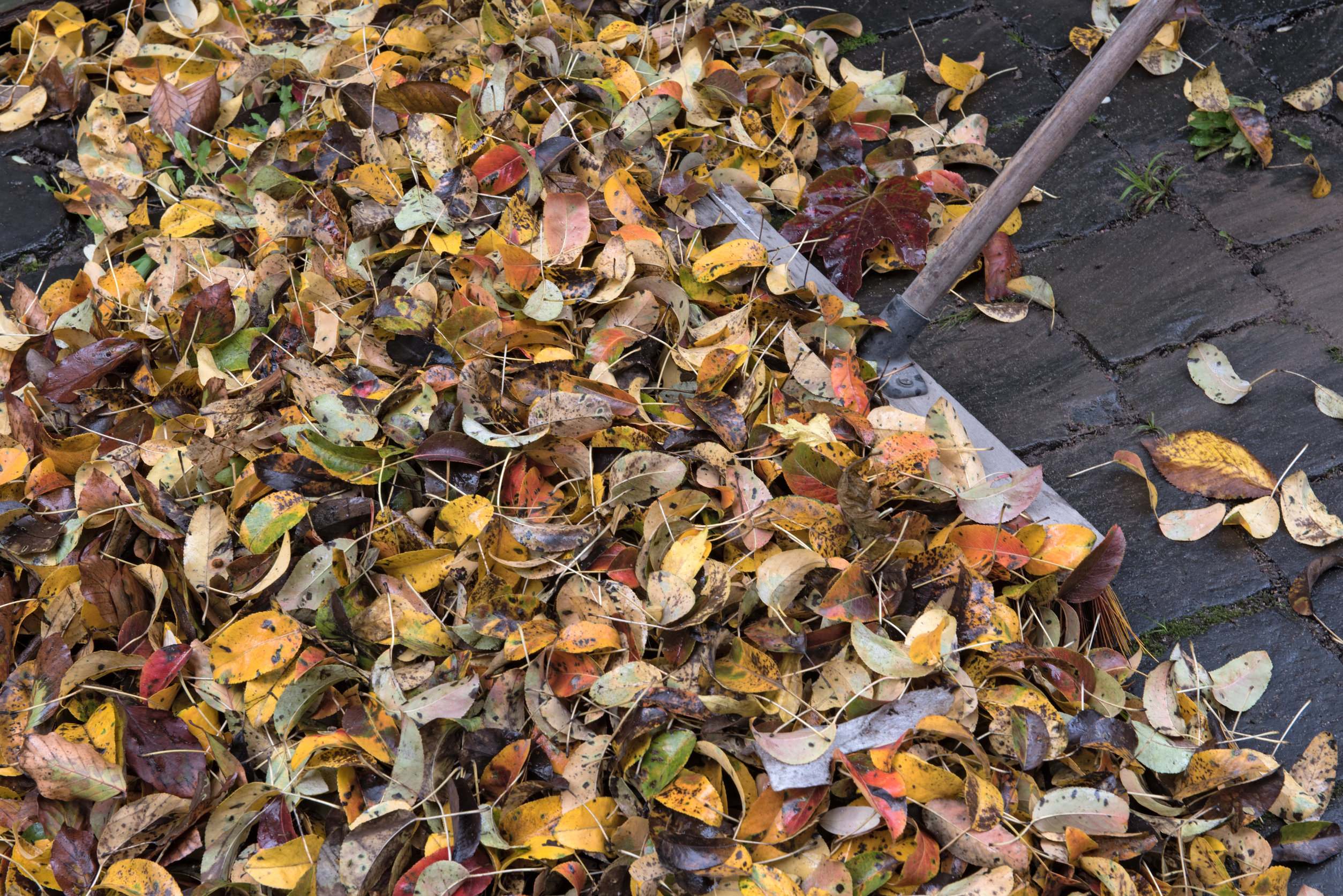 Now that you've removed your outdoor furniture and grill from the patio, it'll be much easier to sweep, wash, and repair the surface. Sweep autumn leaves off your deck or porch regularly to prevent discoloration and fading on the wood, brick, or concrete. This will reduce the amount of cleanup you'll have to do in the winter! 
You'll also want to clean and repair the surface of your patio to keep stains, moisture, and ground-in dirt from damaging it. The process will vary depending on the material of your patio — wood, brick, or concrete.
For

wooden surfaces

, tighten any nails or screws that have come loose from the boards. Then, use a bleach-free wood cleaner and a brush to scrub away mold, moss, algae, and debris. You can also

power wash the patio

, but keep the pressure low to protect the finish. Apply a water-repellent stain or finish to the surface to keep ice and snow from warping or cracking the wood.
If you have a

brick or masonry patio

, prevent ice and snow from seeping into crevices (and causing cracks upon expanding) by sealing the surface. Then, carefully rinse your patio with a garden hose.
For

stone or concrete surfaces

, fill in any cracks with poly sand or cement to prevent expansion and damage. Then, use a garden hose to gently clear off any leaves, dirt, and debris to avoid patio stains.

3. Tend to the area around your outdoor space.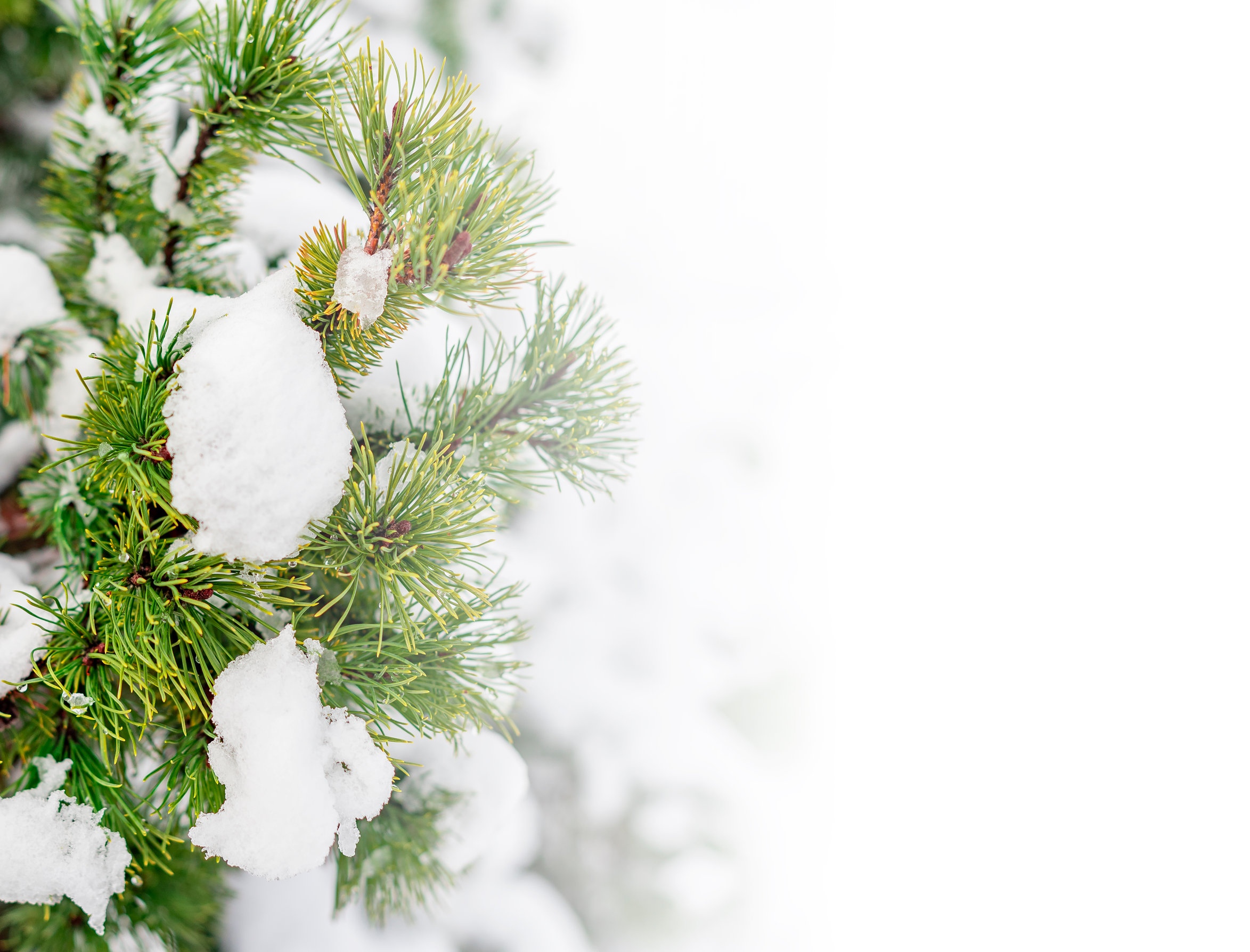 The space around your patio could use some winterizing, too. To start, prune any tree or bush branches that hang over your outdoor space so they don't ​​snap under the weight of heavy snow and ice. This will keep the branches from falling onto your patio and scratching the surface.
And if you have a bird feeder, refill it now (and throughout the winter) to help out any snowbirds that hang around in the winter. But you might want to move bird feeders a bit farther away from your patio to keep droppings off the surface!

For those with sliding patio doors, you'll want to remove rocks, dirt, and debris from the door tracts. By keeping these clear — and by adding or replacing weather stripping — you'll prevent the cold winter air from getting into your home.
4. Clean and store patio cushions and pillows.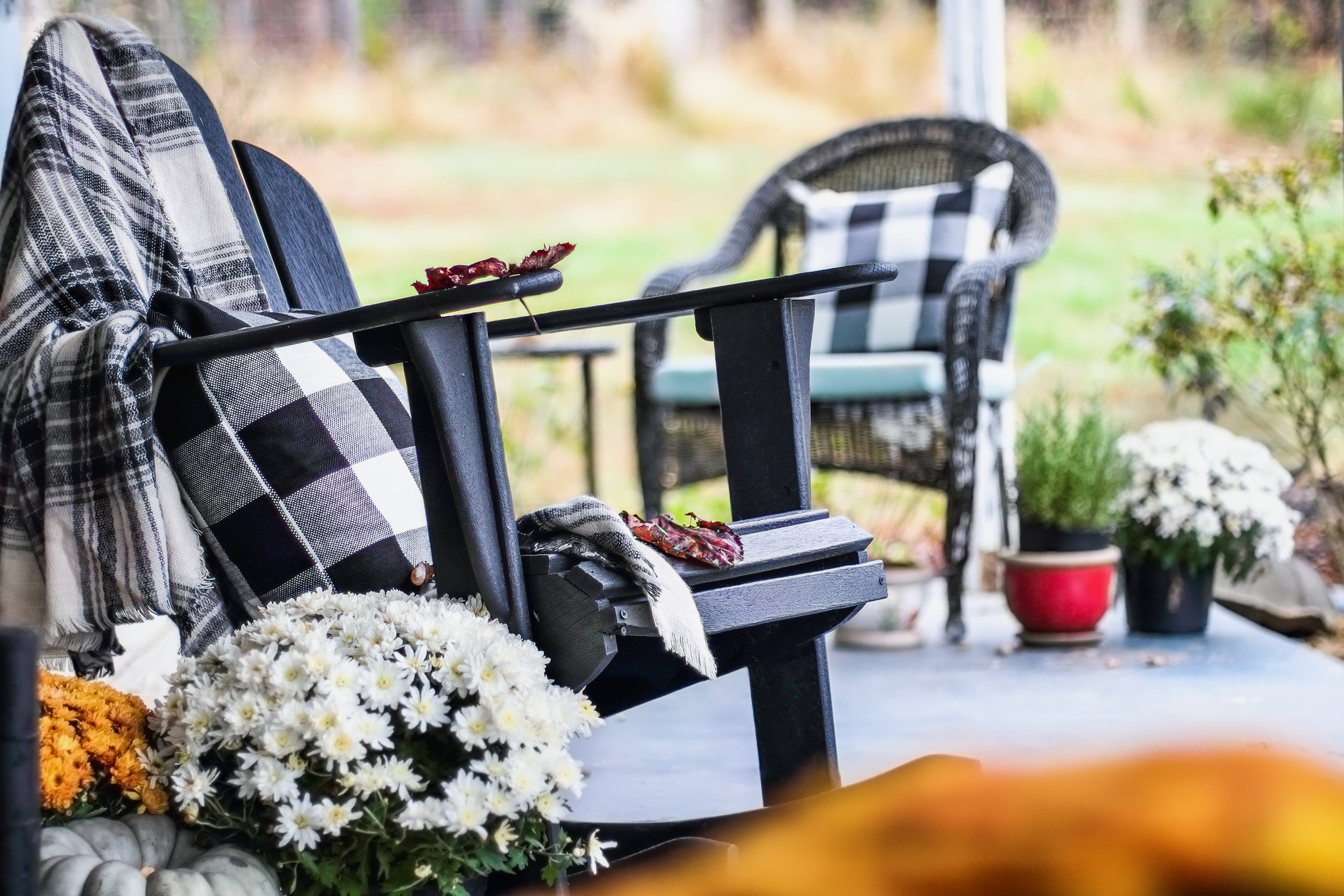 Quality outdoor cushions and pillows can resist water and mildew, especially if they're made of acrylic fabrics or olefin. But heavy snow and ice may still damage the most water-repellent material. And if your pieces are filled with foam, they can quickly grow mold unless they're moved to a clean, dry space.
To winterize your outdoor pieces, you can vacuum or shake off cushions and pillows to get rid of stain-causing debris. Then, gently clean the pieces so they're free of stains, bird droppings, mildew, and more. For a how-to guide on caring for your patio cushions (and pillows), check out this blog.
Once you've cleaned your pillows and cushions, you can store them in a shed, garage, or weatherproof box to protect them from winter damage all season long.
By following these tips, you'll be able to winterize your patio in time for colder weather. Then you can sit back, relax, and enjoy watching the snow fall from inside your warm home — without having to worry about winter ruining your outdoor space!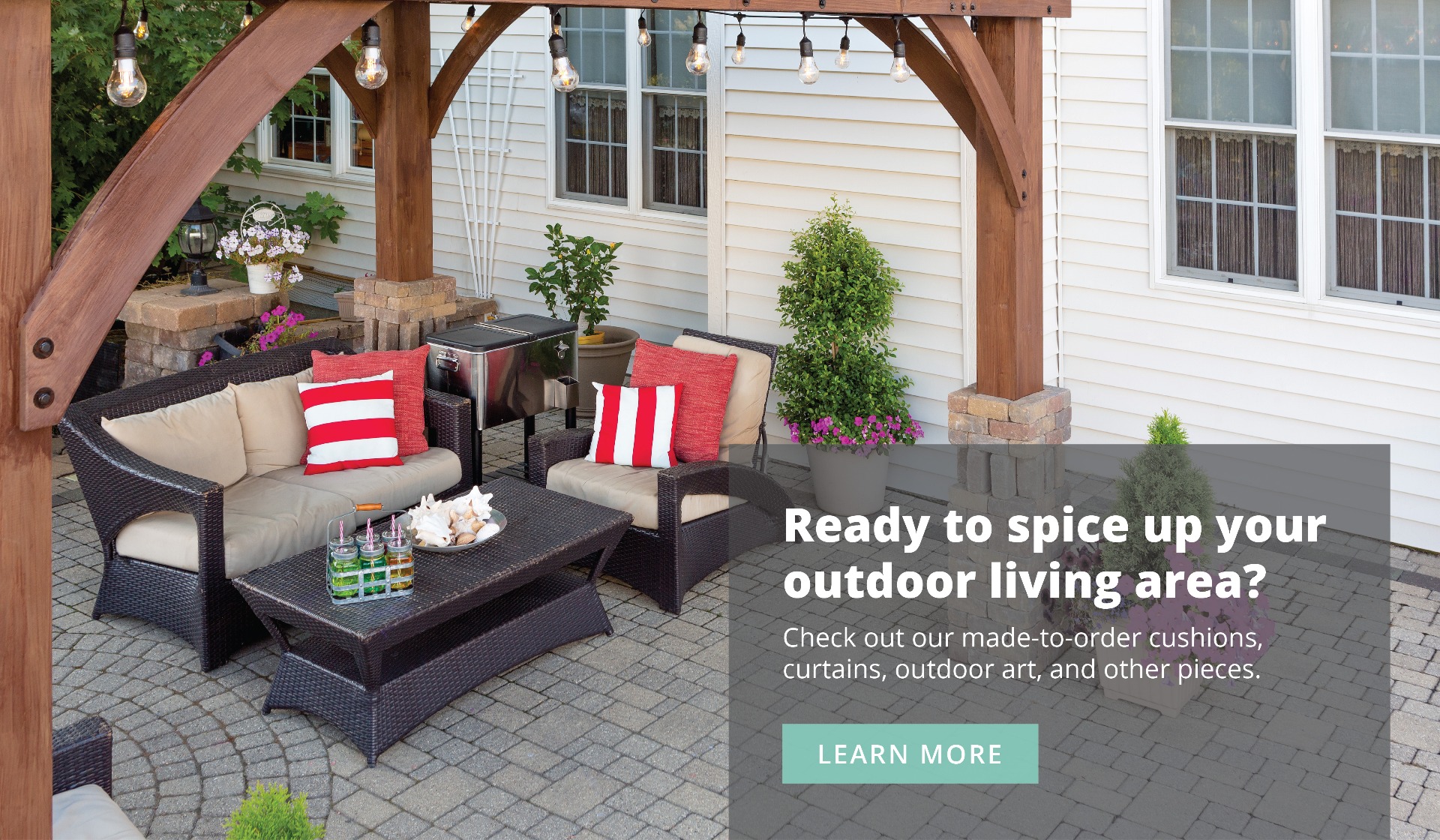 Summer Living Direct — a branch of Jordan Manufacturing — has helped Indiana homeowners, decorators, and DIY-ers find quality custom cushions, curtains, outdoor art, and umbrellas for their patios since 1994. To learn more, please visit our website or follow us on Facebook.