Whether you live in an area that's sunny all year long, or you have to shelter indoors from spring rain and winter snow, the elements can take a toll on your outdoor space. It doesn't take much for stains, fading, bird droppings, dirt, or mildew to damage your once-beautiful patio cushions — even if they have durable fabric and filling that's made for the outdoors. 
But the good news is, you can keep your patio pieces looking great for years to come without too much effort. When caring for outdoor cushions, try following these dos and don'ts to protect your pieces from the elements: 
Do...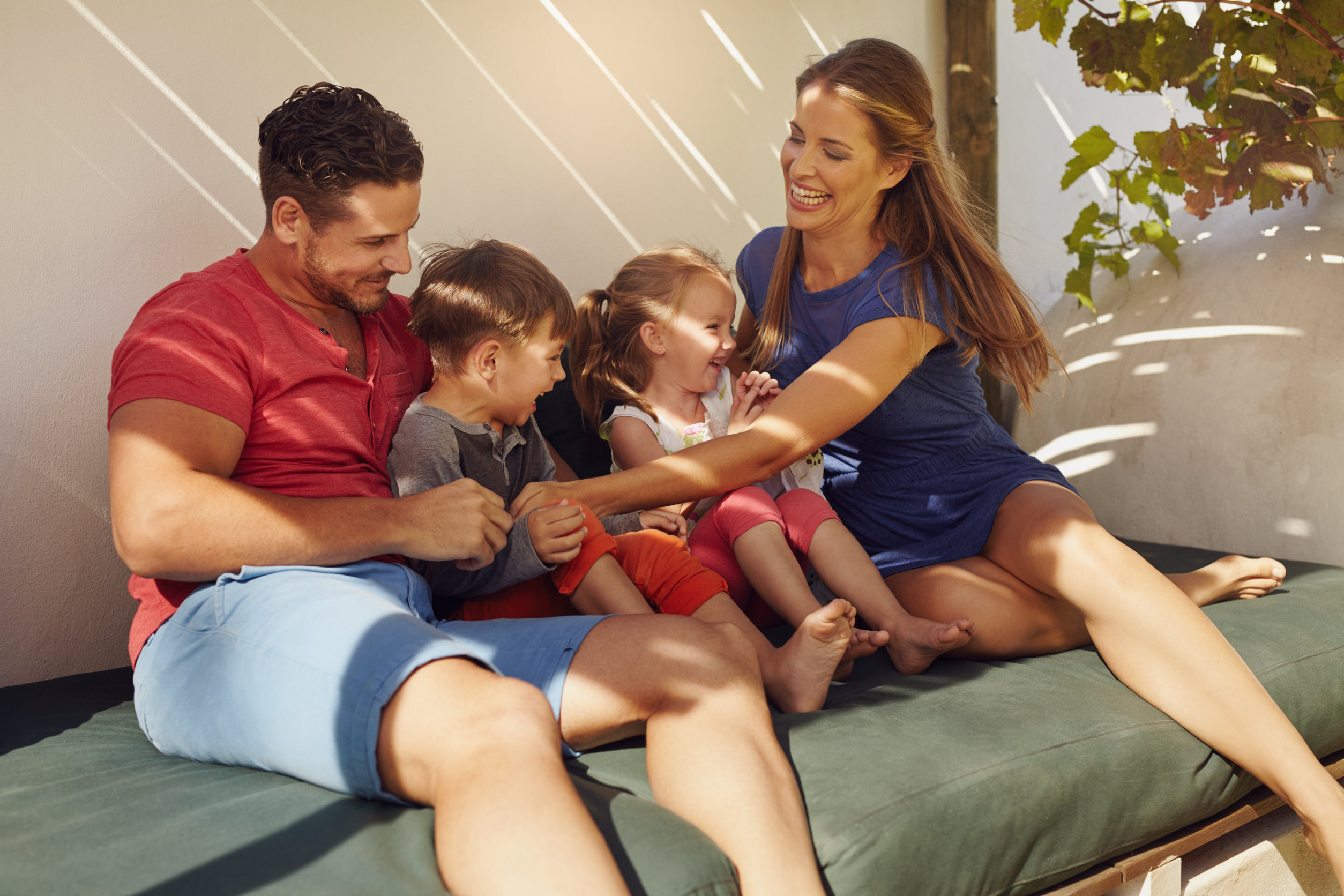 1. Clean your cushions often.
Shaking off your cushions whenever you're finished spending time on the patio is a quick and easy way to get rid of loose dirt that may have settled on them. When it comes to a deeper clean — which you should do a few times every season — follow the manufacturer's label for specific care instructions.
Below, you'll find a few general cushion cleaning tips:
Spot-clean stains with mild soap, water, and a brush.

Let spot-treated cushions soak for five minutes, then rinse with clean water.

If your cushion covers are removable, machine-wash them on a gentle cycle.

Add bleach for white fabrics as necessary.

Dry cushions outdoors before using or storing them.
2. Use weatherproof covers.
After cleaning and drying your patio pieces, you'll want to continue keeping the sun, mildew, and dirt at bay. If you're not ready to store your cushions away for the season, you can still protect them while they sit outside on your patio. 
Outdoor furniture covers are a great option for safeguarding your patio cushions, pillows, and furniture from the elements. Use them every day as you leave your patio to go inside, or simply cover your patio cushions before it rains.
3. Store them inside for the winter.
Furniture covers are a great solution for spring, summer, and fall, but if you live in an area with snowy, windy winters, you'll want an even better solution for protecting your patio cushions. Moving them indoors at the end of patio season is your best option.
You'll also want to make sure you're preventing moisture, mildew, and mold from settling in while your patio pieces are in storage for the winter. Whether you put your cushions in a shed, garage, or weatherproof sunroom, make sure your storage area is clean and dry. 
Don't…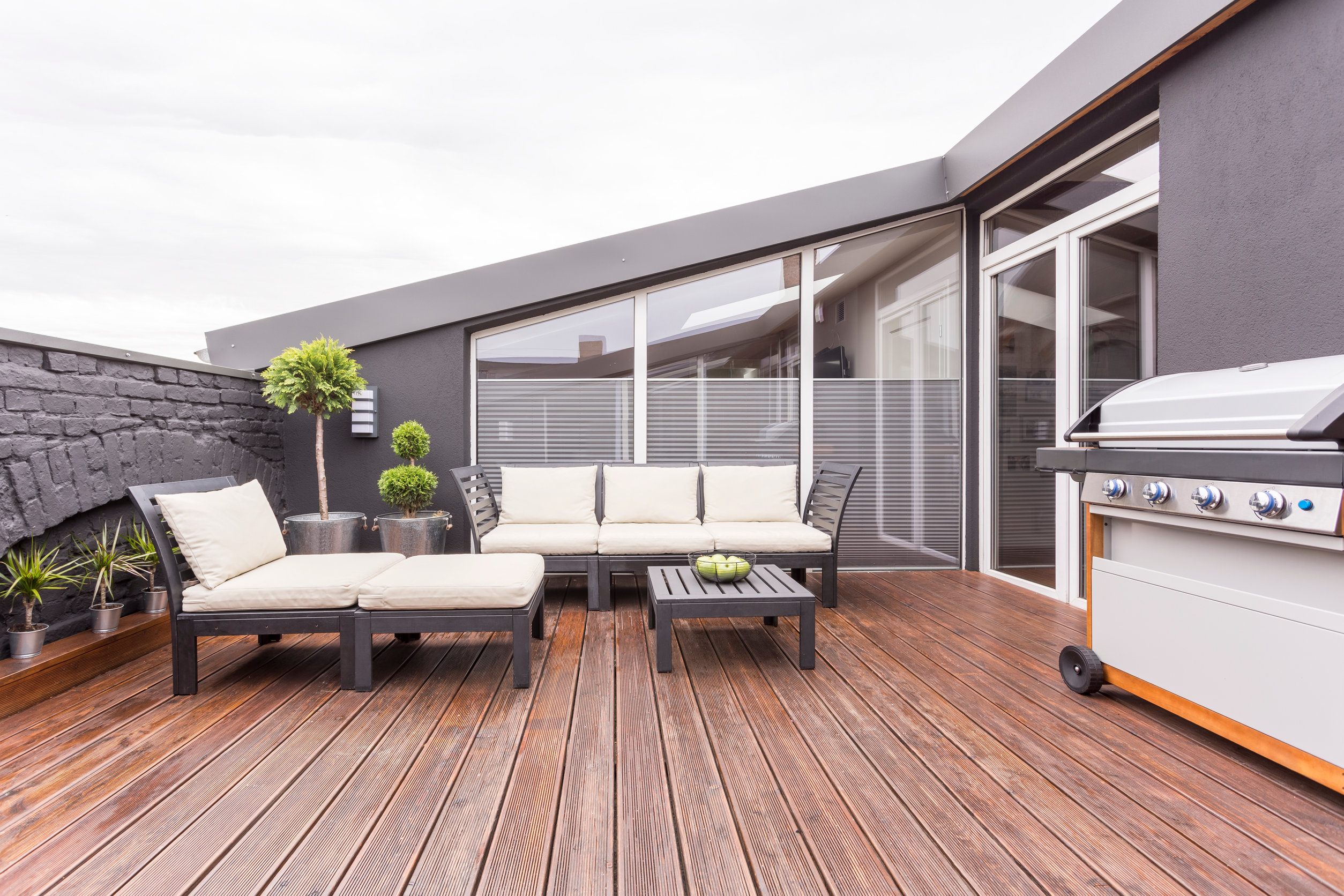 1. Let moisture set in.
Some types of patio cushions (like those with acrylic, acrylic linen, or olefin fabric) can withstand more moisture than others. But no outdoor cushion is completely waterproof or mildew-proof, so you don't want them to collect too much water from rain or snow.
Cover your patio pieces before it rains or snows, and store them inside for the winter to prevent moisture from setting in. If you already have mildew on your cushions, try these steps to remove it:
Mix one cup bleach, two cups laundry detergent, and one gallon water.

Spray the mixture on the entire cushion.

Let it soak for 30 minutes. 

Scrub with a sponge or clean rag. 

Rinse with clean water and let dry.
2. Leave stains to settle.
When you get cushion stains (especially food- and drink-related ones), you'll want to spot-treat them right away to avoid permanent damage and keep bugs or pests away. 
You can get most stains out with mild soap and water. Knowing how to remove tougher stains, like sunscreen and bird droppings, will also help you preserve your patio cushions. 
For sunscreen and other oily stains, try these tips:
Soak up any excess oil with a cloth.

Apply an absorbent powder (like cornstarch) to the stain.

Let the powder sit for 10-15 minutes, then scrape it away.

Use a fabric spot remover.

Rinse with clean water and let dry.
And to remove bird droppings, follow these steps: 
Remove as much as you can with a cloth.

Mix 1 teaspoon dish soap, 1 teaspoon sodium borate, and 1 quart warm water.

Spray the mixture onto the stain.

Use a soft bristle brush to clean.

Rinse with clean water and let dry.
3. Let them stay in the sun.
If your cushions are always in the sun, their colors will eventually fade. But you can prevent this by rotating your pieces around the patio — for example, moving a sun-soaked cushion into the shade, and placing a shaded cushion in the sunlight for a while.
Another way to protect your patio cushions from sunlight is to set up an outdoor canopy or umbrella. This blog shows you how to make your own canopy with fabric and PVC pipes, or you can invest in a custom-designed umbrella to shade and safeguard your cushions.
The elements (and life) are no match for your patio pieces when you follow these tips for caring for outdoor cushions! But if your pieces have already seen lots of damage, or you simply want to redecorate your outdoor space, no worries. A team of experts can help you custom design replacement cushions and make your patio look amazing again.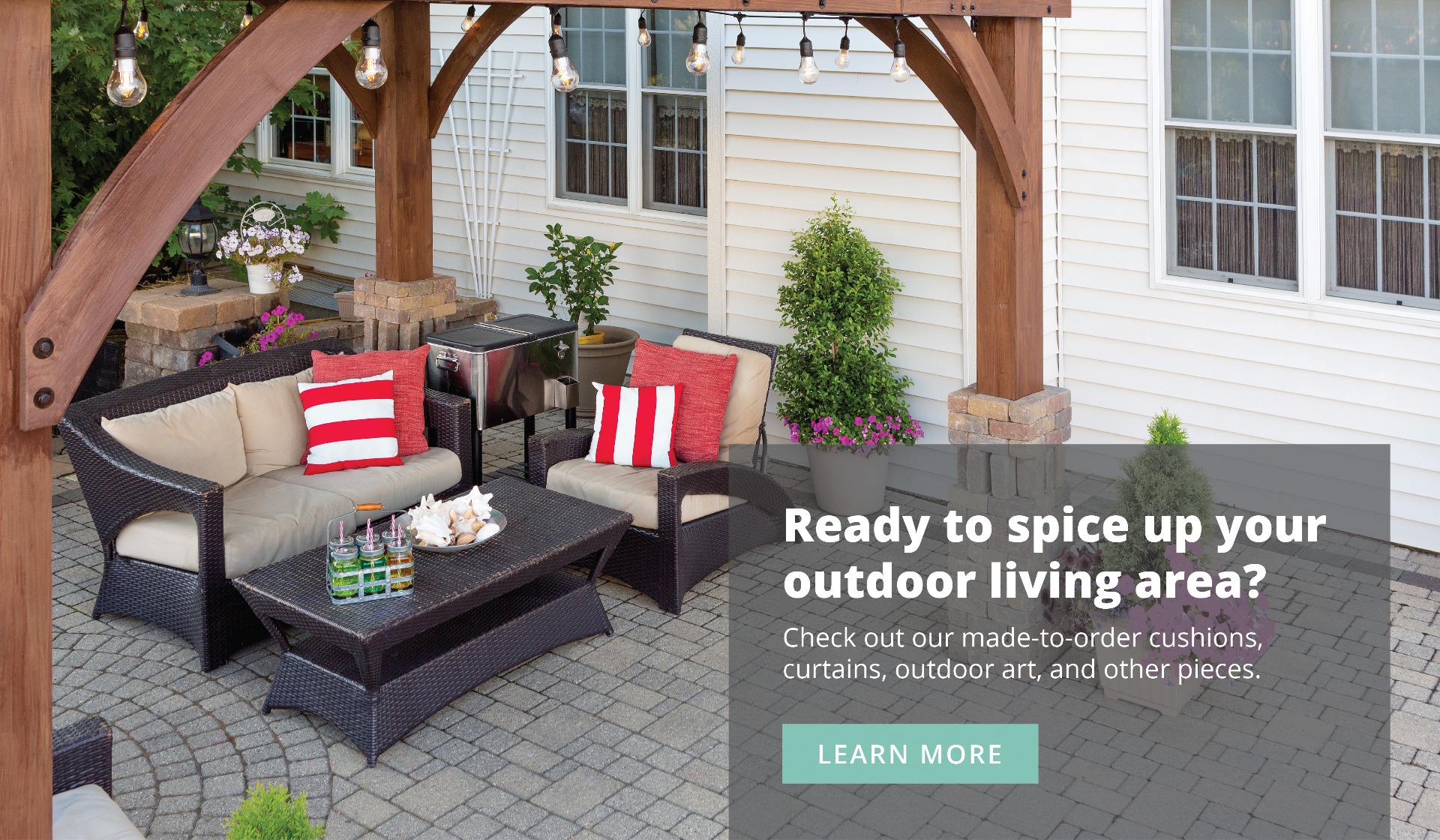 Summer Living Direct—a branch of Jordan Manufacturing—has helped Indiana homeowners, decorators, and DIY-ers find quality custom cushions, curtains, outdoor art, and umbrellas for their patios since 1994. To learn more, please visit our website or follow us on Facebook.