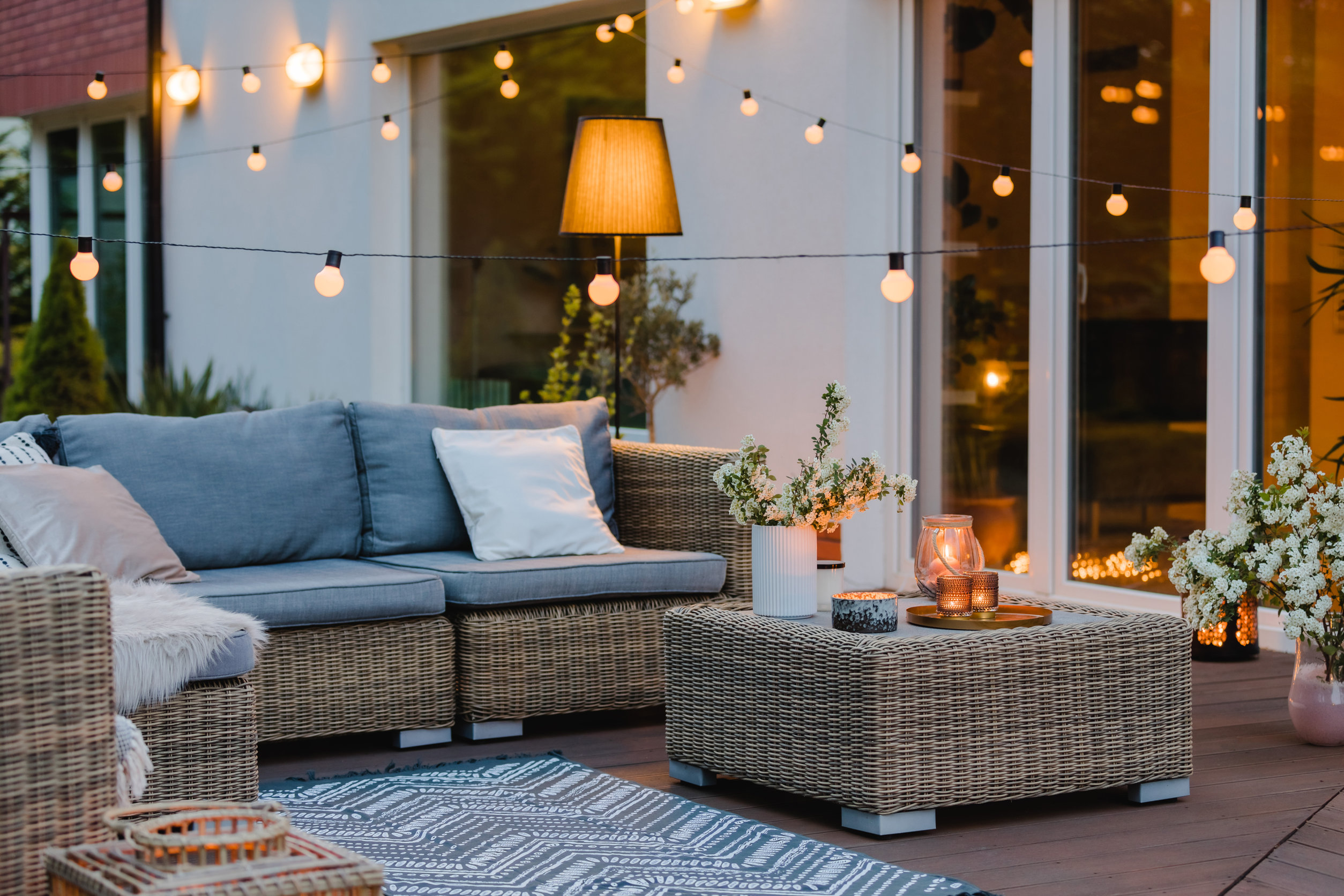 Patios are springing to life with the warm weather right around the corner. Whether you have a first-floor slab looking for a full pop of color or a balcony space that needs a little bit of added comfort, simple upgrades can transform your space into your own outdoor oasis.
Not all rental properties come with an outdoor space that feels quiet, private, or peaceful. By adding a few colorful throw pillows, a shady umbrella, a textured rug, or a bit of greenery, you can find the privacy and comfort you've been searching for in your patio.
Your patio may be small and feel a bit dreary, but with a few creative patio ideas, you can transform your space into something that brings you joy. 
1. Introduce color and texture with an outdoor rug.
Cement slabs and balconies are bound to have stains and cracks from years of exposure to mother nature and previous renters. Cover up those unsightly spots with a colorful rug! 
Rugs can add a new texture and feel to your patio, plus they're easy to roll up when your lease is over and you're moving to your next place. With so many colors, patterns, and sizes to choose from, you're bound to find the perfect way to disguise unsightly stains and they're a great patio idea to add a little comfort to your space.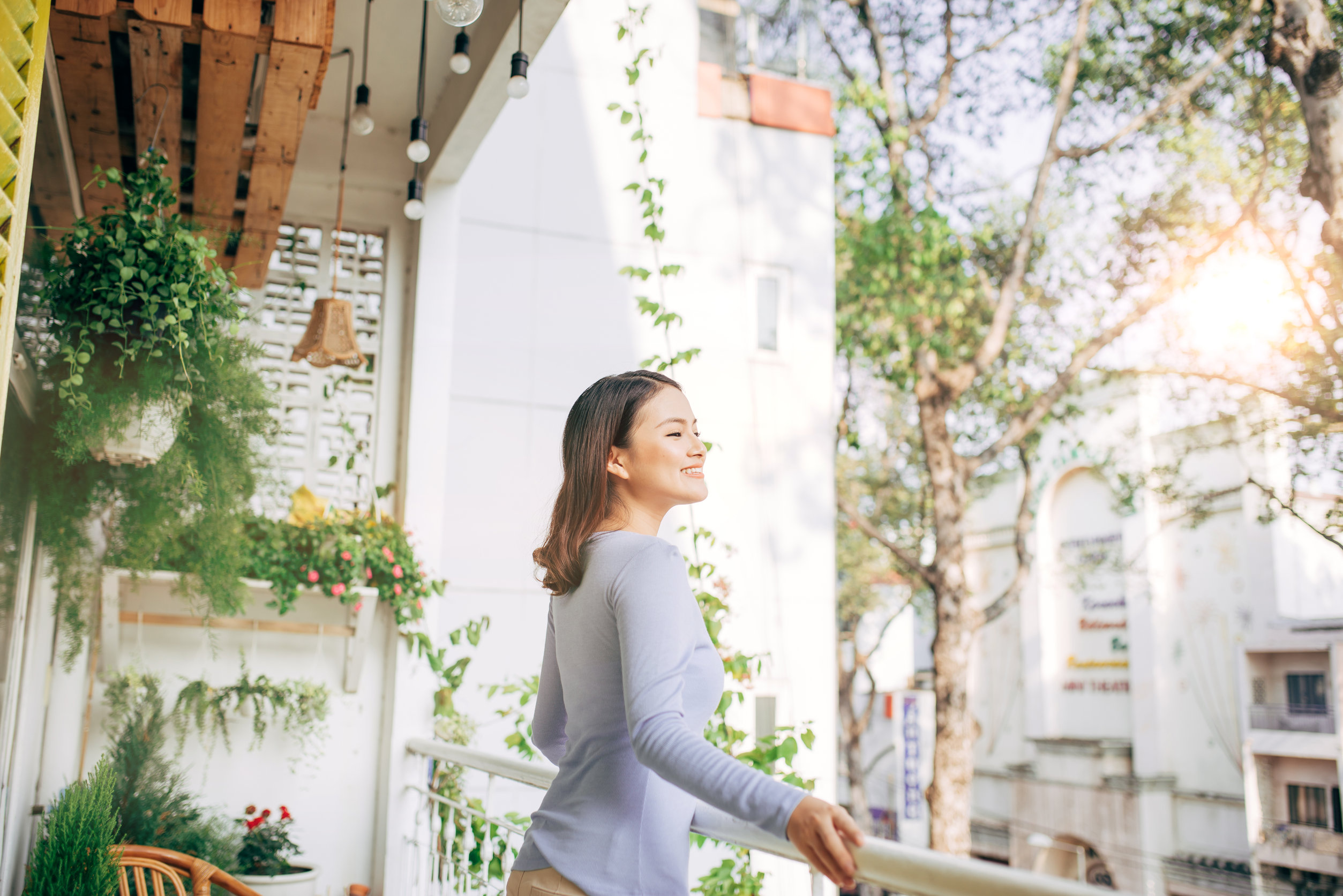 2. Add a little green to liven up your patio.
Whether you have a green thumb or struggle to keep plants alive, a little greenery—real or artificial—can add color and flair to your patio. Finding the right plants for your patio's sun exposure or adding a fake plant can liven up your space naturally. 
Don't leave your corners bare. A potted plant is a fantastic patio idea that can add color to your space and utilize your patio to the fullest. Add dimension and height to your space with plants both tall and small.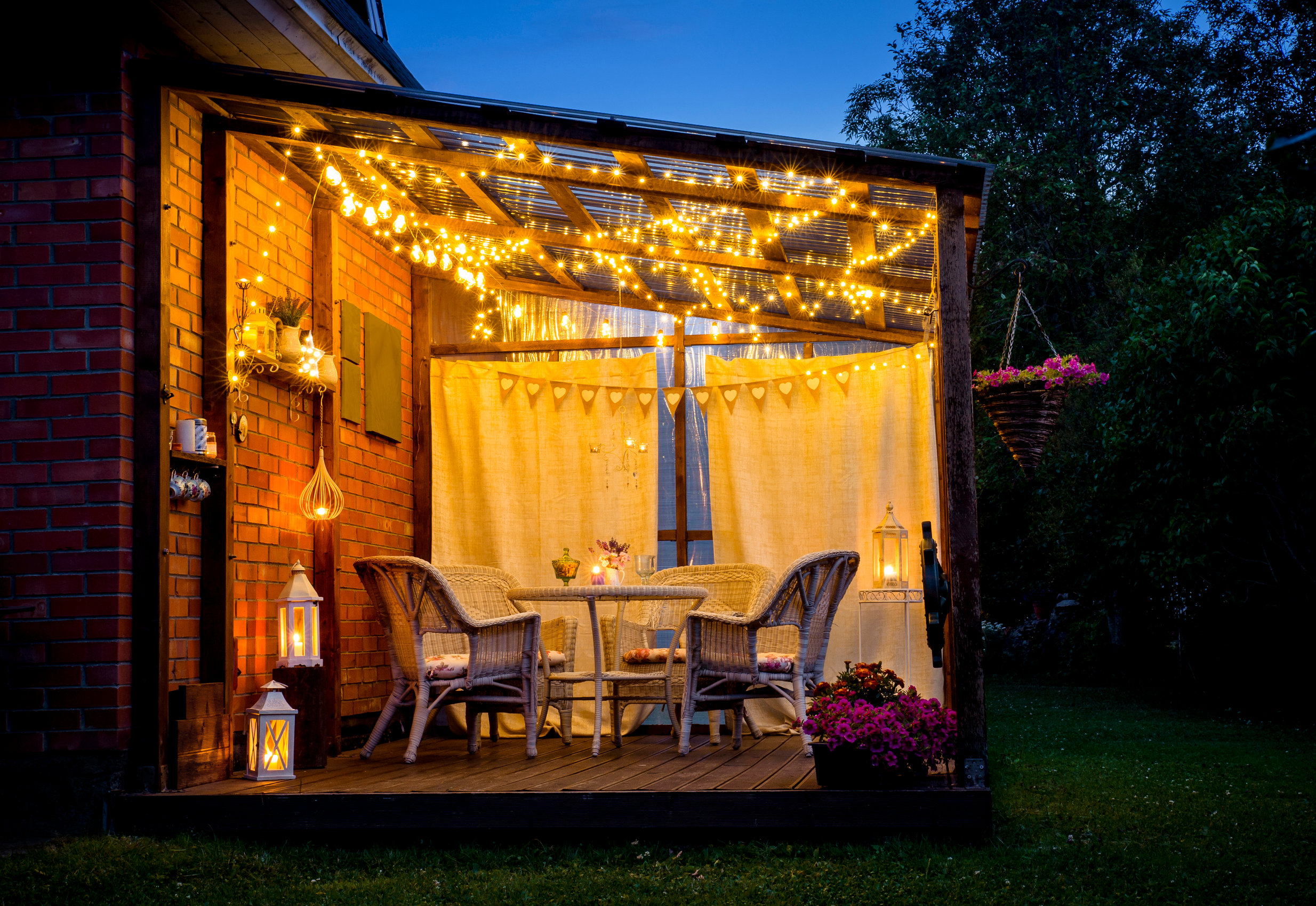 3. Light up your space with string lights.
Lighting can set the tone of your patio. The right lighting in your outdoor space can transform your patio into a magical escape, a hang-out for your friends and family, or the ideal space for a cozy evening read. 
Your patio may be covered by your building or shaded by adjacent structures, but by adding a few string lights you can lighten up a dark space. String lights can help you enjoy your space on cool summer nights even after the sun has gone down, plus they're easy to remove at the end of your lease.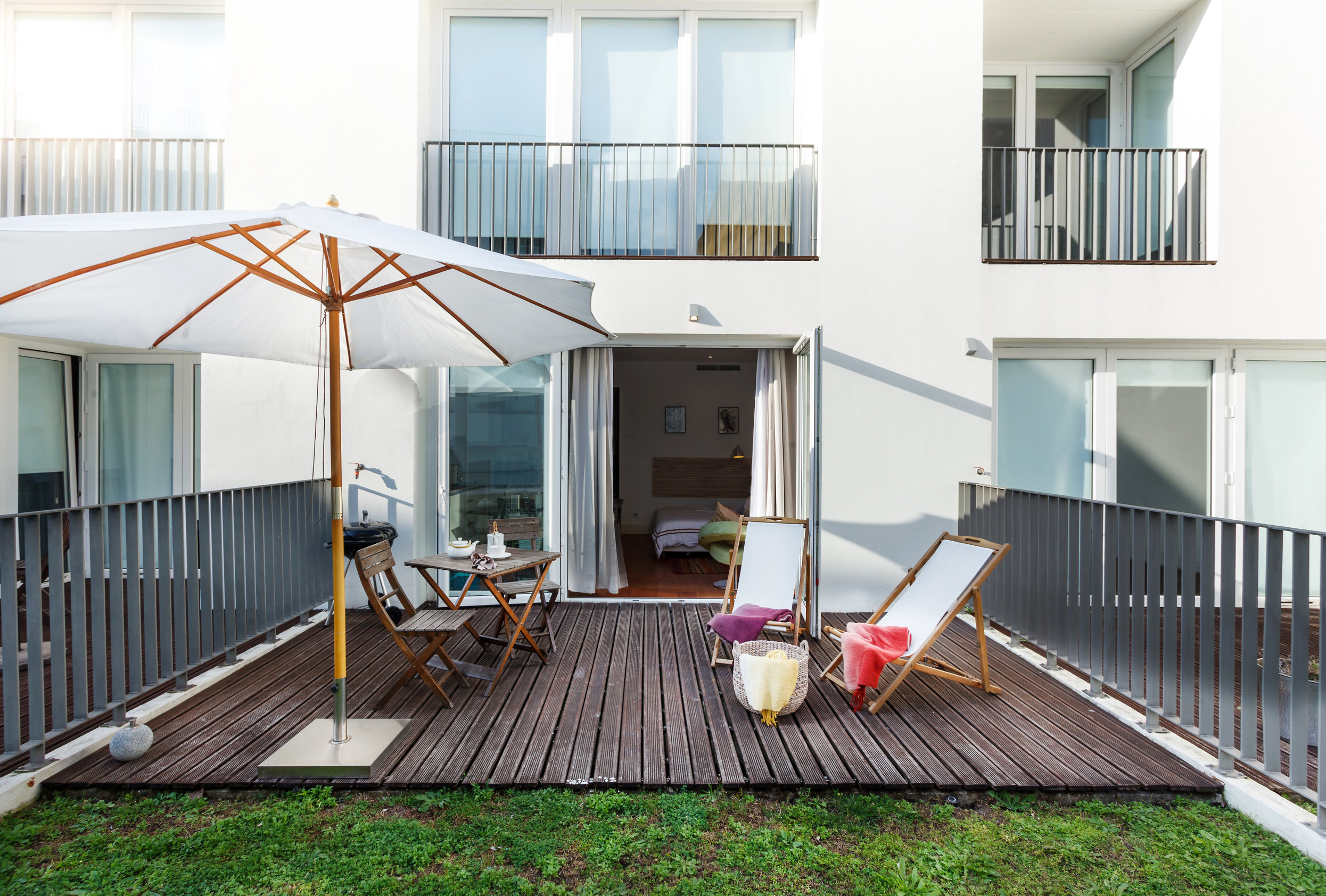 4. Add some cooling shade with a patio umbrella.
Enjoy your patio even when the sun is at its hottest and highest in the sky with a patio umbrella. Patio umbrellas are a simple patio idea that can give your space some much-needed shade and create a great place to spend time with your friends and family.
Protect your skin from harmful UV rays and your patio furniture from fading in the sun or molding from the rain with the perfect patio umbrella. With a variety of shapes, sizes, designs, and colors, you can find the ideal patio umbrella for your space.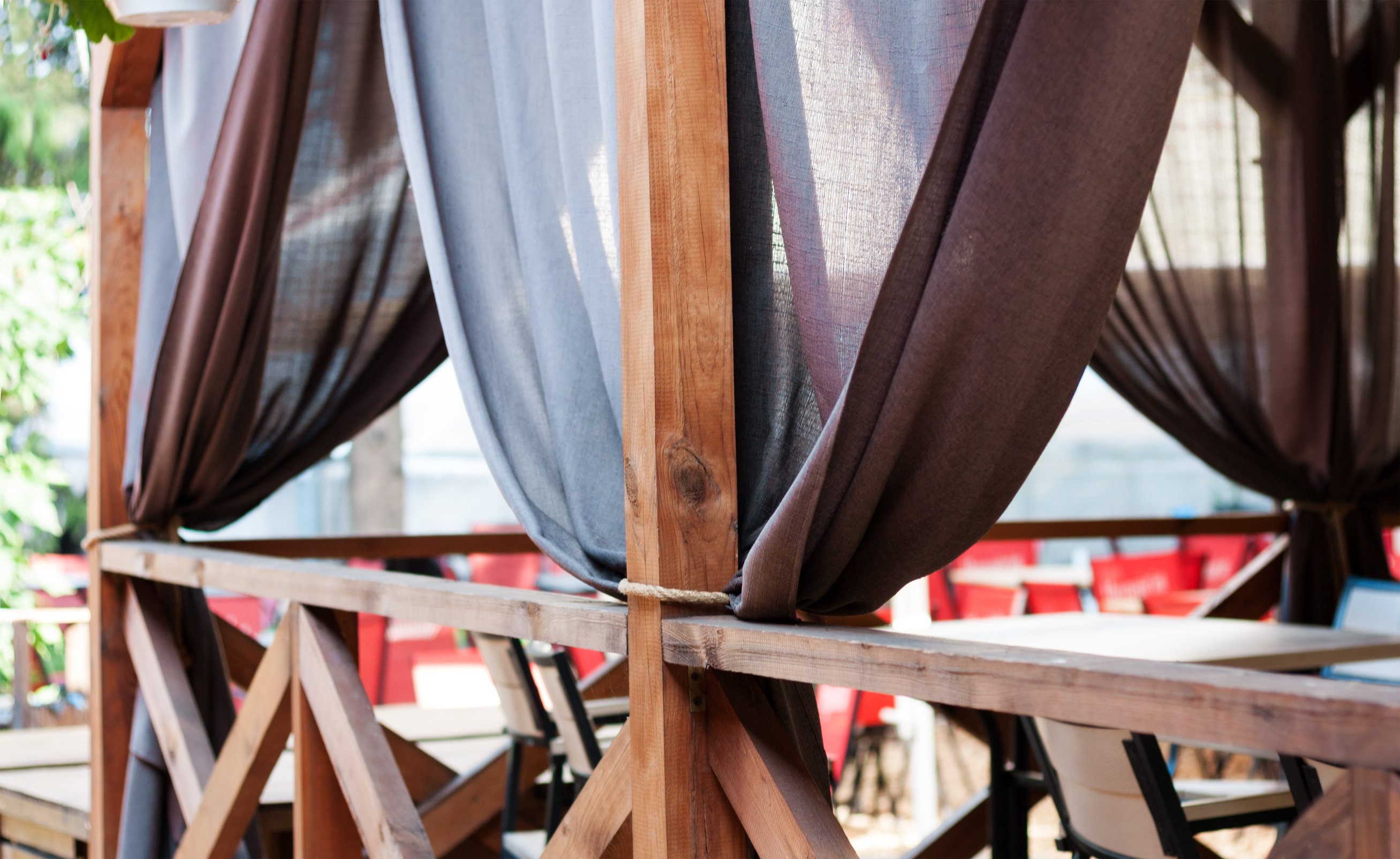 5. Create your own private oasis with patio curtains.
Patios don't often come with a sense of privacy from neighbors and passersby. A simple patio idea that can add a little privacy and comfort to your space is patio curtains. 
The right patio curtains can transform an open-air space into another living space for your home. Whether you have a structure—like a pergola—or have a balcony patio space, adding a patio curtain can give you the option to close off your space or open it up to the fresh air.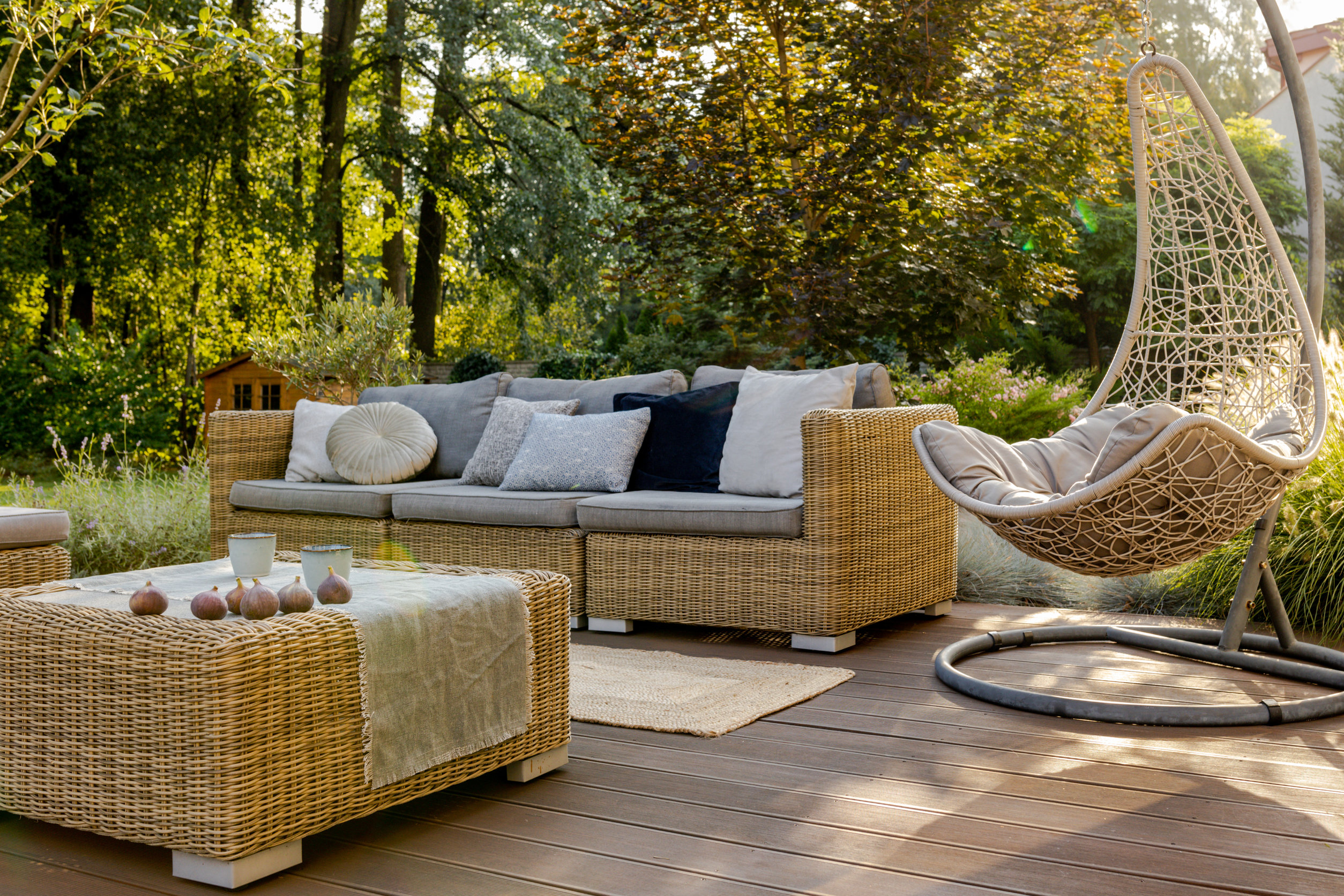 6. Upgrade your comfort with custom patio cushions.
Patio cushions from big box stores are a quick and easy way to add a little extra comfort to your patio, but they often don't last a season. Being left out in the sun or soaked through in the rain can leave them smelling and feeling a little disgusting.
Keep your patio feeling fresh and comfortable with patio cushions you'll want to protect! Custom patio cushions are designed to fit your furniture and match your patio's color, fabric, and theme!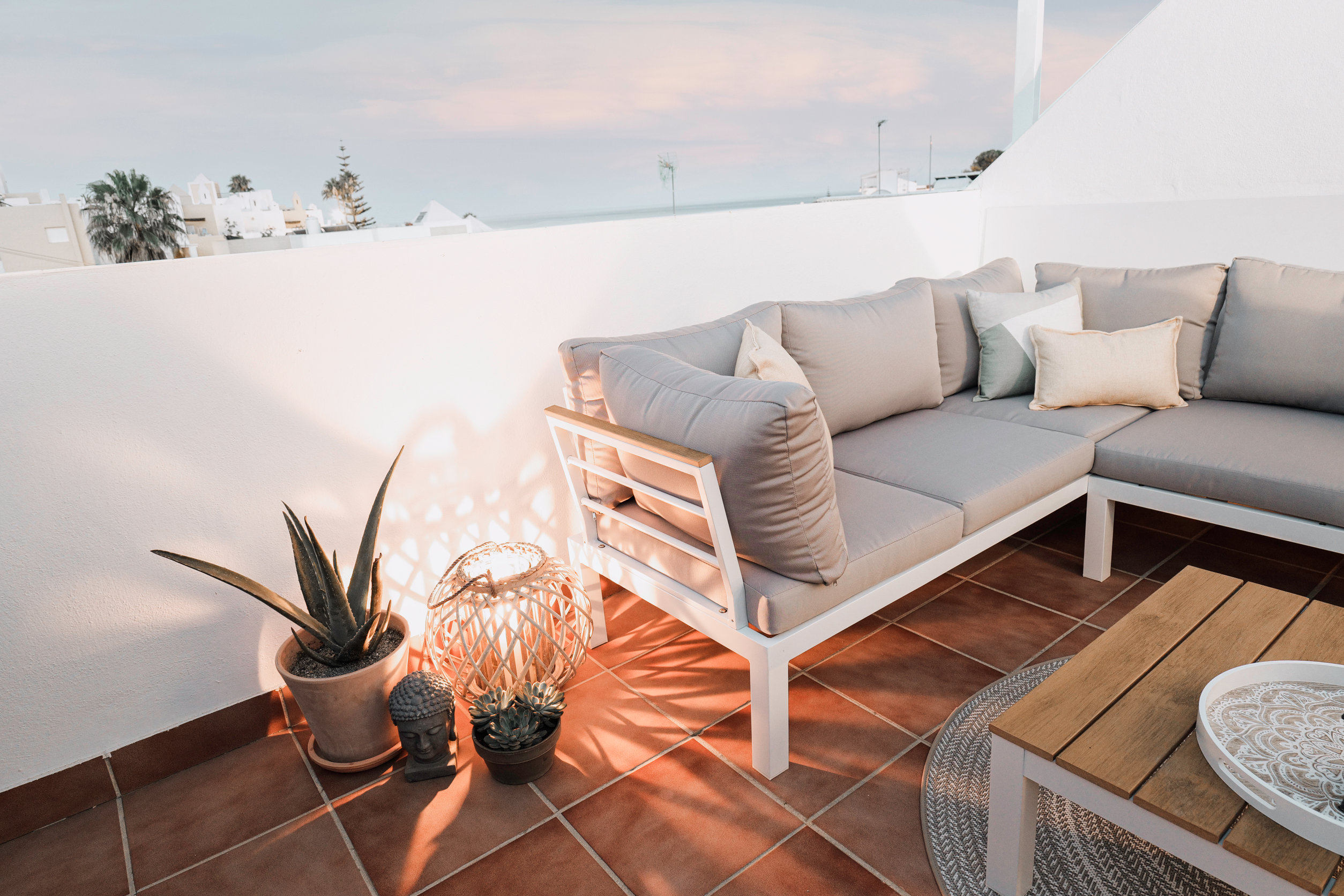 7. Express your style with the right accessories.
Accessories are the last addition that can really pull the look of your patio together. Pieces like throw pillows, blankets, and paintings are easy patio ideas that can completely transform your space and add your own unique style.
Don't forget about your walls! Paintings are a great—and temporary—way to add color and dimension to your patio space.
You can easily transform your outdoor space with these patio ideas. If your patio is looking a little bare, adding a colorful rug, a shady umbrella, fresh greenery, stylish light, or some comforting accessories can make your patio a favorite relaxation location for your friends and family. However, be sure to ask your landlord or property manager what changes are permitted at your rental before making any major changes. Whatever you choose to do to your space, we know your patio will be amazing!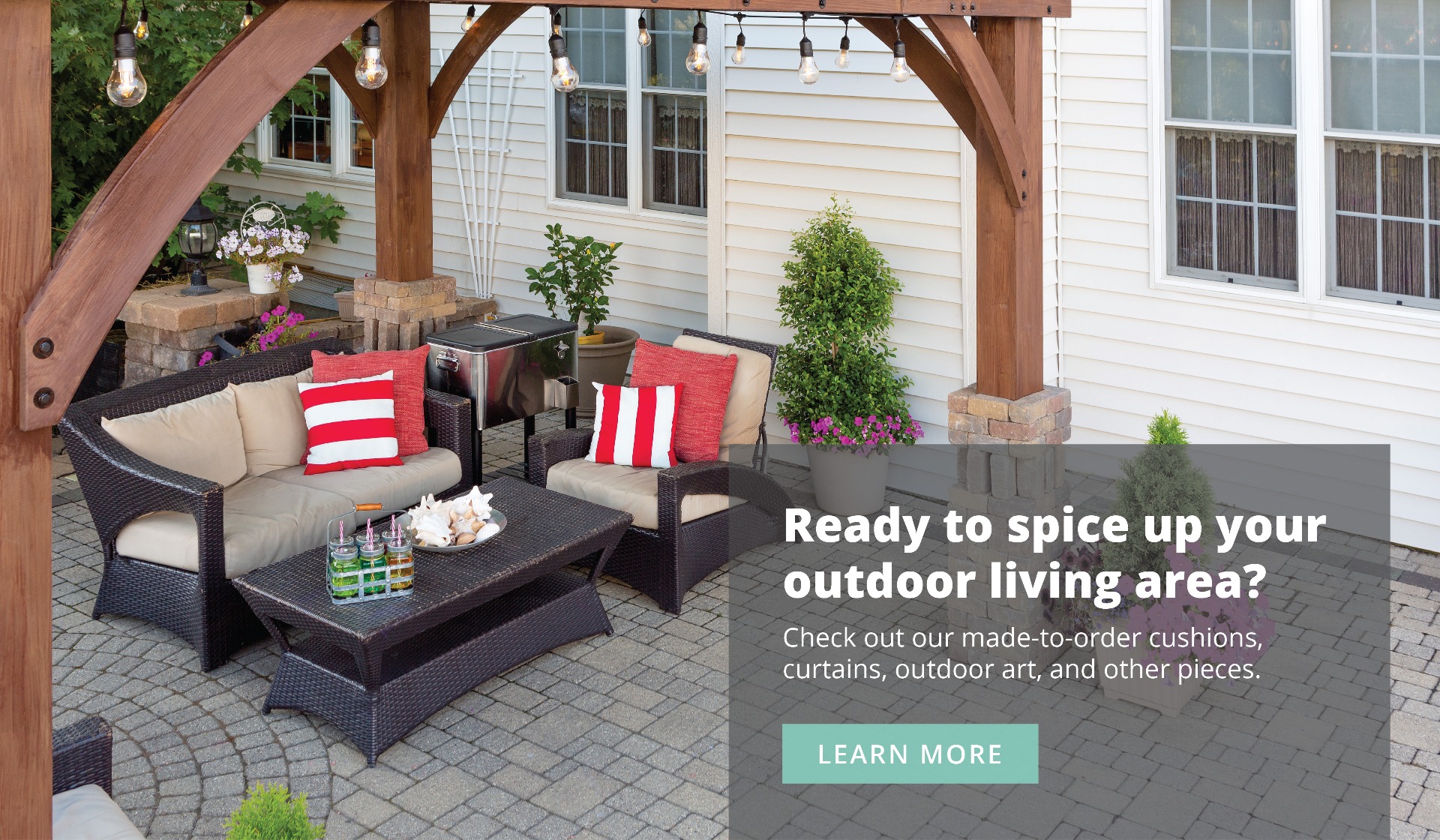 Summer Living Direct—a branch of Jordan Manufacturing—has helped Indiana homeowners, decorators, and DIY-ers find quality custom cushions, curtains, outdoor art, and umbrellas for their patios since 1994. To learn more, please visit our website or follow us on Facebook.