For most people, shade and privacy are the first two things that come to mind when they think of patio curtains. But these drapes aren't just for keeping you cool, blocking out the neighbors, and looking great!
Outdoor "rooms" or curtain-enclosed areas are becoming more and more popular, with manufacturers designing curtains that look like they could belong indoors but are still great at standing up to the elements, protecting patio furniture, and more. 
Read on to learn seven benefits of outdoor curtains that might make you even more excited to transform your porch or patio into a cool, quiet oasis.
1. Enjoy sun and water resistance.
When you invest in outdoor curtains, you'll want to make sure they can resist as much sunlight and rain as possible — especially if you live in an area where the weather is unpredictable! While it's always a good idea to bring your patio curtains, pillows, cushions, and other pieces inside when you're anticipating a bad storm, a little unexpected rain won't hurt your curtains if they repel water well.

Acrylic and olefin are great fabric options for curtains in rainy areas, because they wick away moisture and dry quickly. And even if you don't get much rain, you'll also want UV ray-resistant curtains that won't fade easily in the sun. For materials that resist fading and other sun damage, you can choose acrylic fabrics, olefin, or even spun polyester. (You'll learn more about these fabrics later in this blog.)
2. Block out bugs, allergens, and the wind.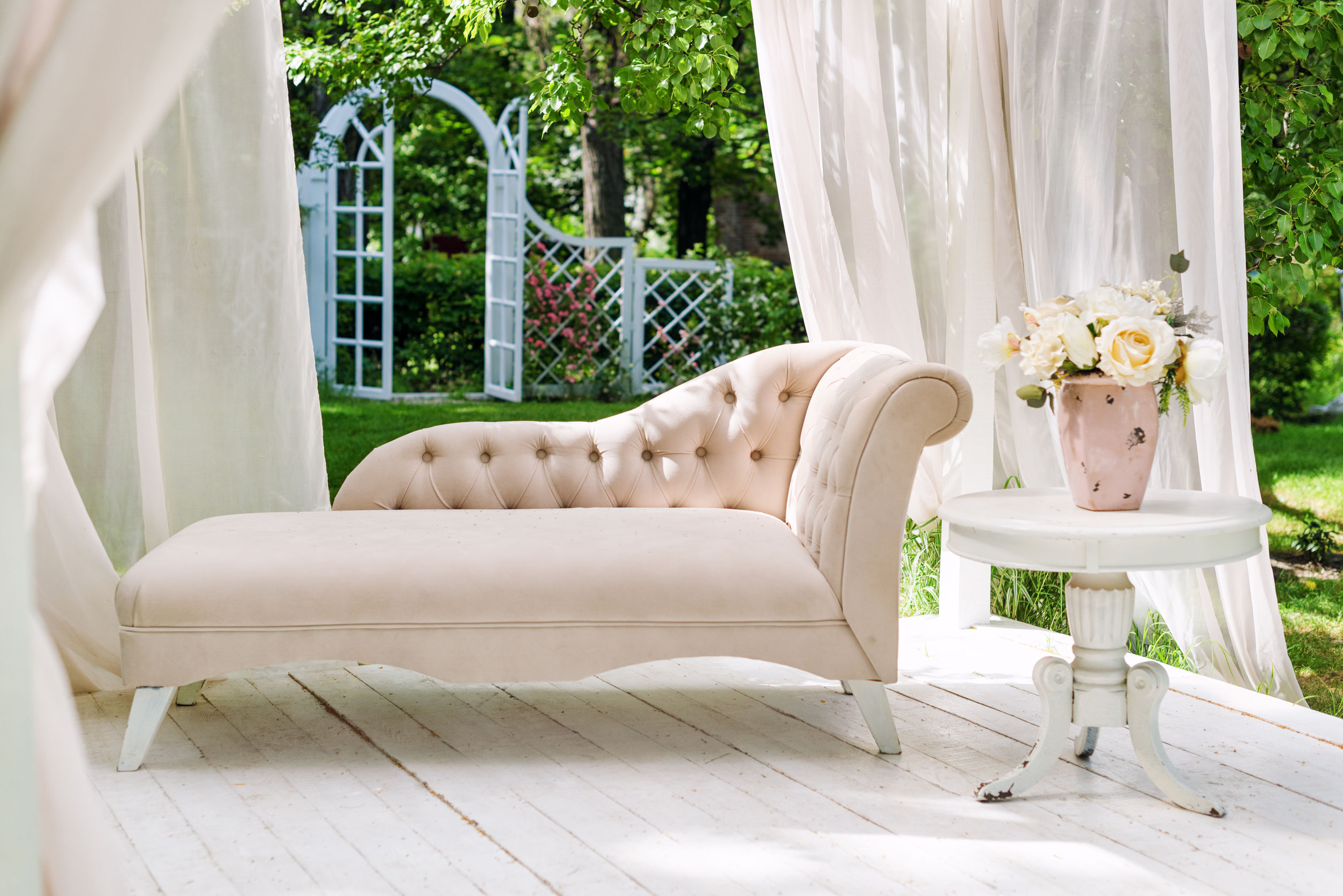 Everyone loves being outside in the summertime but hates pesky mosquitos and other bugs! But when you opt for outdoor curtains, you can simply close them once insects start circling your porch in the evenings. Your drapes can also provide shelter from the wind, which helps if you're entertaining outside and need to keep plates, cups, and other items from blowing away.

Outdoor curtains can even help you enjoy more time outdoors if you have seasonal allergies. The drapes will block some of the pollen from getting into your porch or patio space — meaning fewer sneezes, headaches, and itchy eyes for you. You also won't have to clean pollen and dust off your patio furniture every day when the curtains are keeping those irritants at bay!
3. Have a positive environmental impact.
Some fabrics will naturally be more eco-friendly than others, but if going green is important to you, there's a curtain material you may love: olefin. Manufacturing this fabric creates very little waste, and its fibers are 100% recyclable. And once you recycle your olefin curtains, the material can be re-extruded (repurposed or remanufactured) into new yarn up to 10 times.
Olefin is also a durable material, so you won't have to worry about replacing your curtains for a long time. That means buying drapes less often, saving on shipping costs, and reducing the amount of energy — and waste — it takes to ship products. (Keep reading to learn even more about olefin later on.)
4. Save money on shading your patio.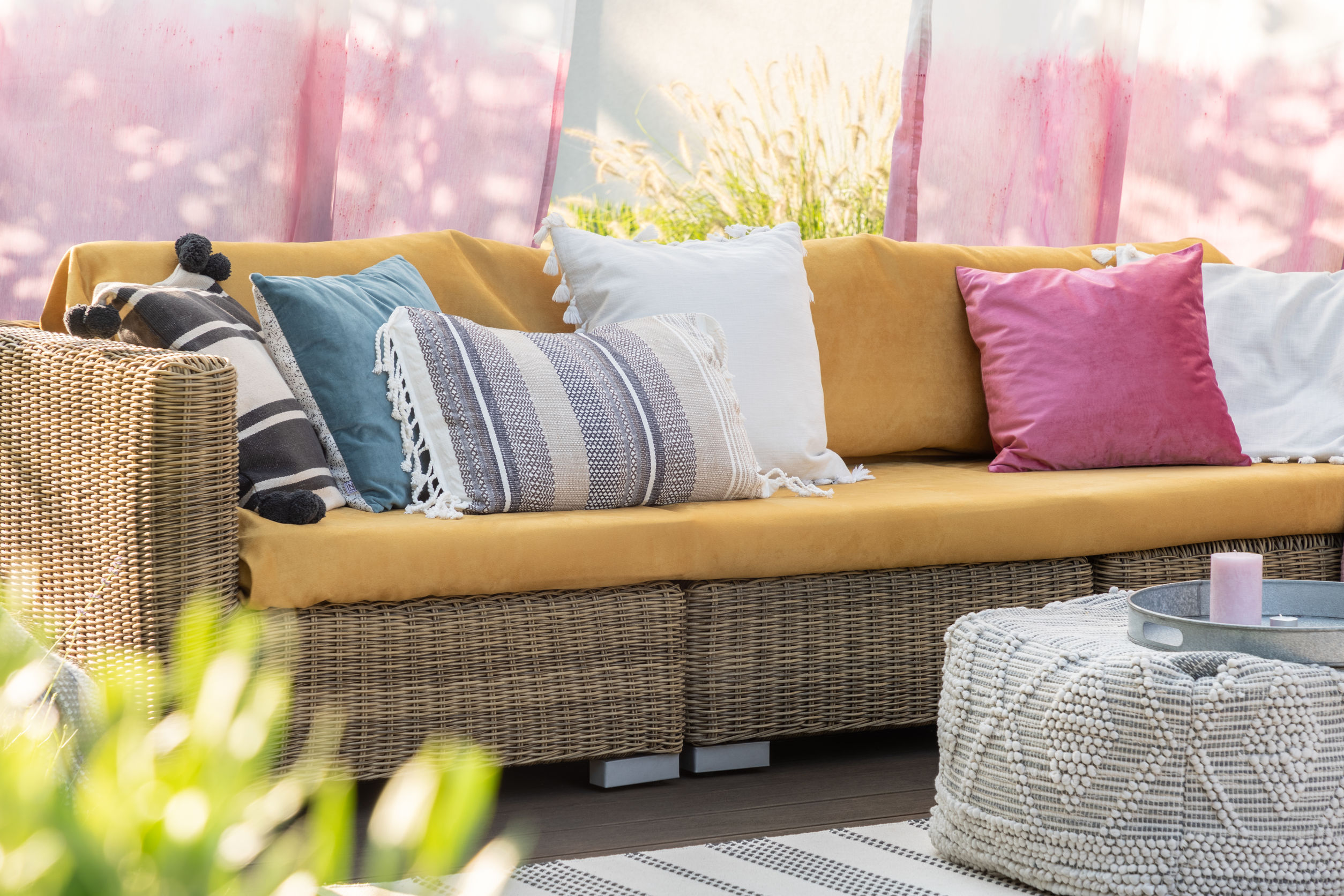 It may be tempting to build a sunroom or another permanent shaded structure on your patio, especially if you get lots of direct sunlight and/or rain. But while they look amazing and require little maintenance, sunrooms aren't cheap. They can cost anywhere from $8,000 to $80,000, with an average price tag of $30,000 per sunroom addition.
One of the benefits of outdoor curtains is that they don't cost nearly as much as a permanent structure like a sunroom. Custom drapes start as low as $25 per panel, so if you just need two or four around your patio, you're only looking at $50 or $100 to shade your outdoor space. Plus, curtains are easy to pull back to let in the sunlight or breeze, and to remove from their rods to wash — making them a flexible and user-friendly alternative to sunrooms and permanent structures.
5. Protect your furniture, pillows, and cushions.
No matter what material you choose for your patio furniture, pillows, and cushions, they're all at risk of wearing down from the sun's rays after an extended period of time. Plastic may melt, direct sunlight can crack wooden frames, and the bright colors of your pillows and cushions may fade if they're not protected.
But shading your patio with outdoor curtains can help you prevent your furniture and other pieces from fading away in the sun. Plus, if you get caught in an unexpected shower, the drapes can provide extra protection for your cushions and pillows, giving you time to take them inside if the rain gets worse.
6. Choose from a variety of fabrics.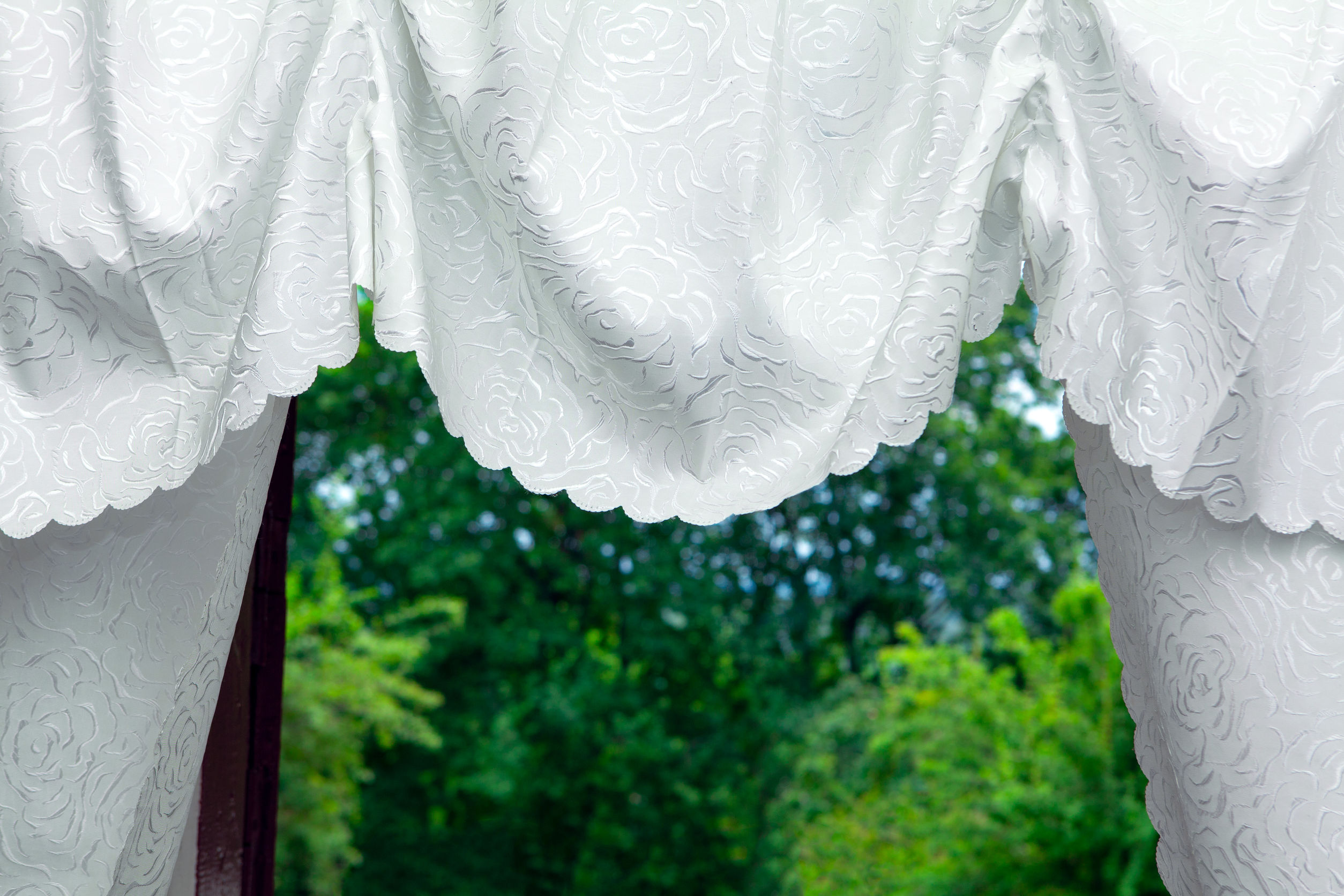 As we mentioned earlier, you have several options when it comes to outdoor curtain materials. These include acrylic fabrics, olefin, and spun polyester — which are all great choices for long-lasting curtains.
Acrylic Fabrics
Acrylic can withstand about 1,000 hours of UV ray exposure before fading, so it's a smart option if your home gets a lot of intense sunlight. This fabric also wicks away moisture so it evaporates on the curtain's surface, making acrylic a great choice for those living in climates with lots of rain. Solution-dyed acrylics (or acrylic linens) are especially practical for outdoor curtains. since they're easy to throw in the washing machine or scrub clean.
Olefin
Olefin is a long-lasting material that won't fray or pill. And the fabric resists staining and fading because the color is locked into the yarn. If you see a stain on your olefin curtains, you can easily clean them with almost any household cleaner, even bleach. The material also dries quickly and resists mildew, so olefin is perfect for homeowners in rainy areas.
Spun Polyester
Spun polyester is durable enough to last for years, so the fabric is great for curtains that will encounter children and/or pets. The material's dye also protects against stains and fading. And today's polyester manufacturers use fine yarns to create the fabric. That means you won't have to deal with as much shrinkage as you might with lower-quality materials.
7. Express your style with your favorite colors.
Showing off your personality with fun, colorful styles may be the best part about getting outdoor curtains! There are plenty of color and pattern options out there — whether you're looking for ocean-inspired hues to complement your poolside patio, greens and browns to blend in with your garden getaway, or any other color scheme you'd like.

If you're not sure which color (or colors) to choose for your outdoor curtains, don't worry. This quiz can help you narrow down your choices to your favorite color palette, type of patio furniture, outdoor activity, and more. Then you'll have a better idea of which color of curtains may suit your style and the intended purpose of your patio.
With so many benefits of outdoor curtains, we wouldn't blame you if you went out and bought some for your patio right now! Just remember to look for curtains that resist bugs and the elements, protect your patio furniture and pieces, and let you express your style.

Not sure where to start or how to decide on the best curtains for your outdoor space? Our experts can help you find the right fabric, choose from a variety of colors, and custom-design outdoor curtains that will make your patio the envy of the neighborhood.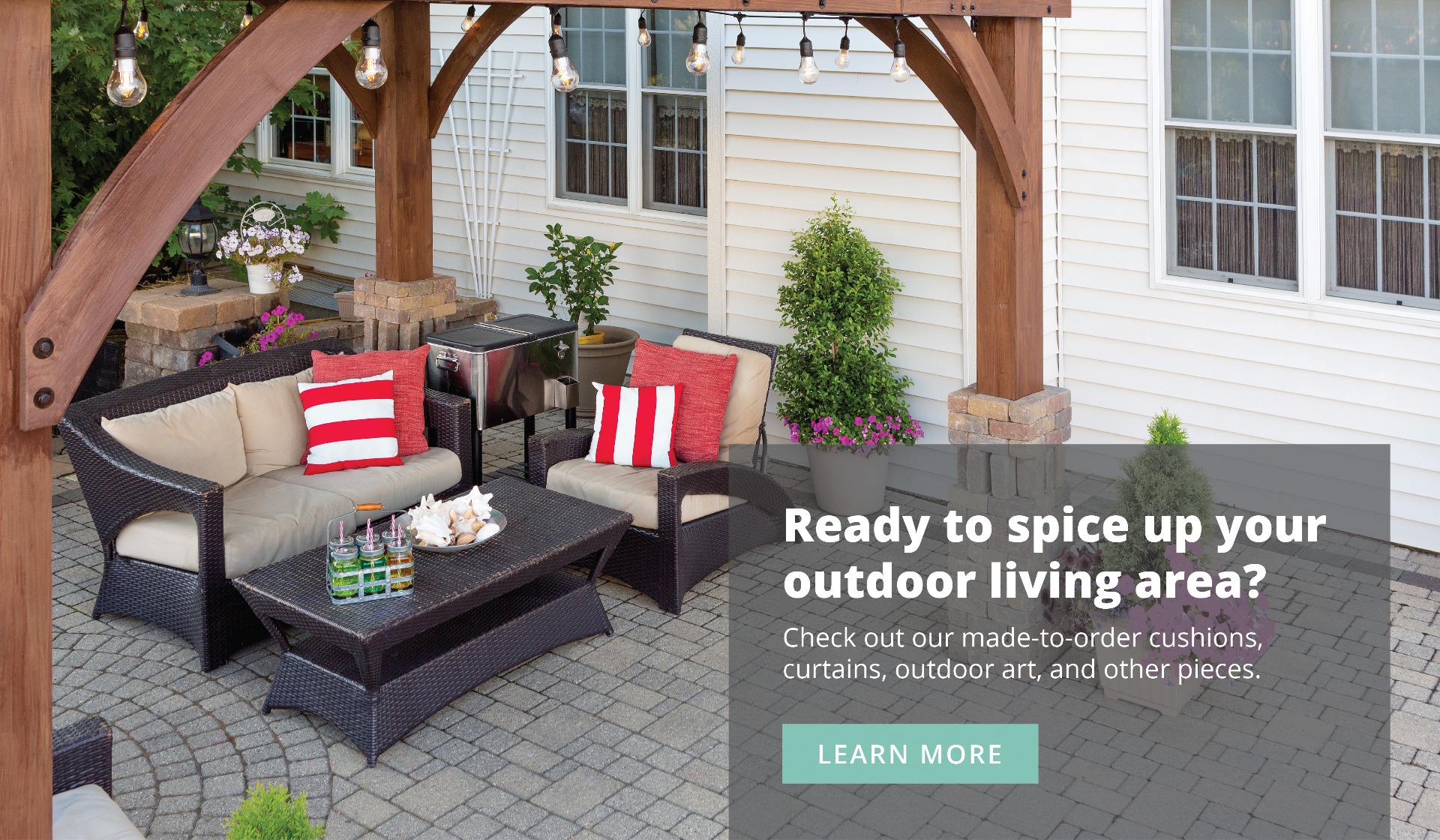 Summer Living Direct has helped homeowners and decorators find custom cushions, curtains, outdoor art, and umbrellas for their patios since 1994. To learn more, please visit our website or follow us on Facebook.