When choosing cushions for your patio furniture, it can be difficult to know where to start. Knowing your options for a great outdoor cushion can help you pinpoint the look and feel you're searching for as a designer, interior decorator, or DIY homeowner.

Whether you're interested in custom choices or simply browsing for new ones at the store, learning about available designs and styles—as well as which fabrics will last in the climate where you live—can help you decide which cushions are best for your outdoor furniture. We've provided a breakdown of three essential features of a patio cushion, as well as the options you may consider. Let's get started!
What makes a great outdoor cushion?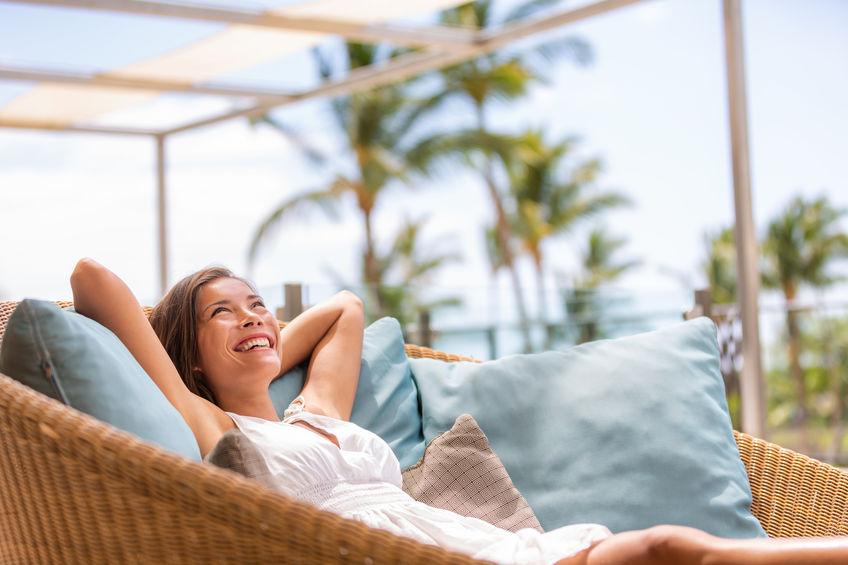 While selecting the best outdoor cushion may seem like it's only about comfort, there are plenty of factors that impact style and functionality, too. It may help to keep these three aspects in mind when searching for the best cushion for your patio furniture: edges, filling, and fabrics.
Cushion Edges
Choosing cushion edges is important for appearance, comfort, and quality. Depending on your furniture, you'll want to consider a variety of options.
Box Edge
Cushions with box edges are made from three pieces of fabric and lined with welts or piping. They have flat sides, much like a shallow box. These are great for larger chairs and bench seats but aren't as ideal for throw pillows or smaller seating due to their thicker shape and stiffer detail.
Knife Edge
This type of edge creates a rounded corner and a slightly flatter cushion that fits more easily in smaller spaces. Chair cushions, lounge cushions, and throw pillows commonly have knife-edged cushions.
French Edge
While they offer a thicker cushion for added comfort, French edges also have a simpler look than box edges. Offering a clean, box-like appearance without additional welts or piping, French edges are a great option for chairs and lounges.
Cushion Filling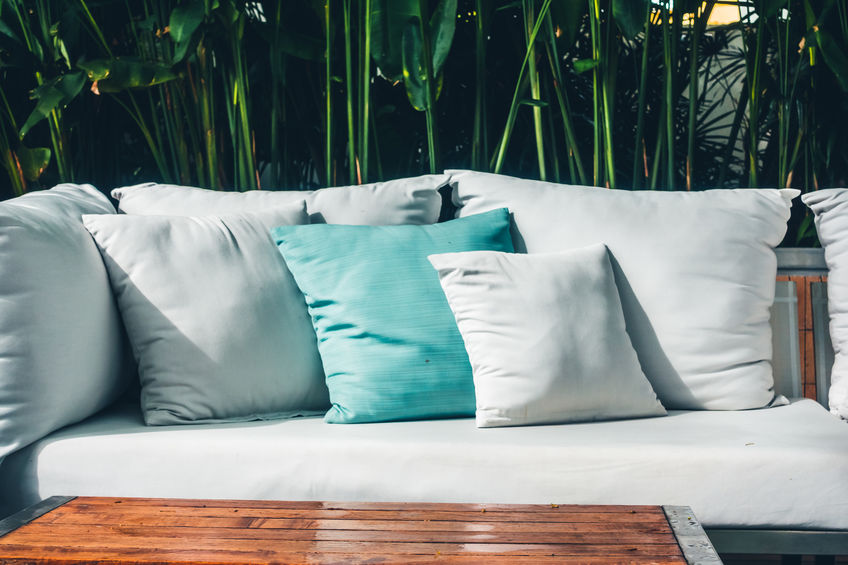 The filling inside your patio furniture cushions may seem like a small detail, but it makes a big difference when it comes to comfort and appearance. There are a variety of cushion fillings that contribute to great outdoor cushions.
Foam
Filling cushions with foam can provide longer-lasting support and rigidity. This porous material allows cushions to hold their shape and not retain water, so they're great for outdoor use. Floor pillows and poufs are commonly filled with foam.
Blown Fiber
Blown fiber filling is one of the most comfortable fillings because it creates a cushion that is soft and pillow-like. Made from polyester, it does not retain water and is another excellent option for patios. Seat pads and outdoor throw pillows often have this filling.
Layered Fiber
Layered fiber filling can be manufactured with different levels of thickness and density. It's often made to drain water and resist mildew as well. This makes layered fiber great for creating well-tailored cushions for your patio furniture.
Cushion Fabrics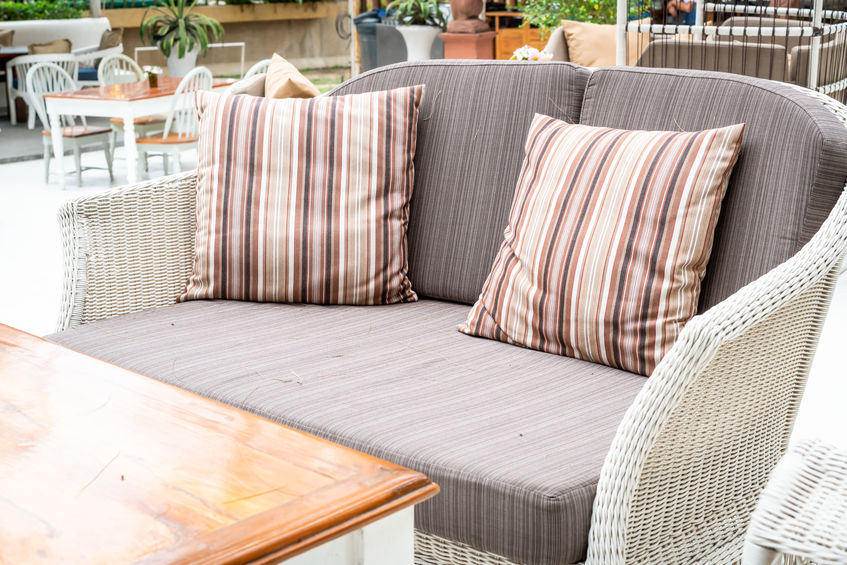 When choosing a fabric for your patio cushions, outdoor durability is a top priority. These fabrics can have a variety of qualities, but most are able to withstand rain, are UV treated, and are easily cleaned.
Acrylic Fabrics
Acrylic fabric feels like soft canvas, making it comfortable and breathable. This is great for staying cool in hot, arid climates. Most cushions with acrylic covers are also sun-safe, quick-drying, and easy to clean thanks to soil and stain resistance.
Spun Polyester Fabrics
Spun polyester is a great choice for cool and comfortable outdoor furniture cushions, especially if you need extra stain, mildew, and insect resistance. This fabric also does not pill, tear easily, or stretch out of shape. Spun polyester is great for wet climates, but it may fade in year-round sunny weather or arid climates.
Use this guide to decide which patio cushion edges, fillings, and fabrics are best for your needs. If you're struggling to find quality cushions that suit your patio—or you don't want a cookie-cutter solution—consider designing custom, made-to order cushions that will last, match your style, and be a perfect fit.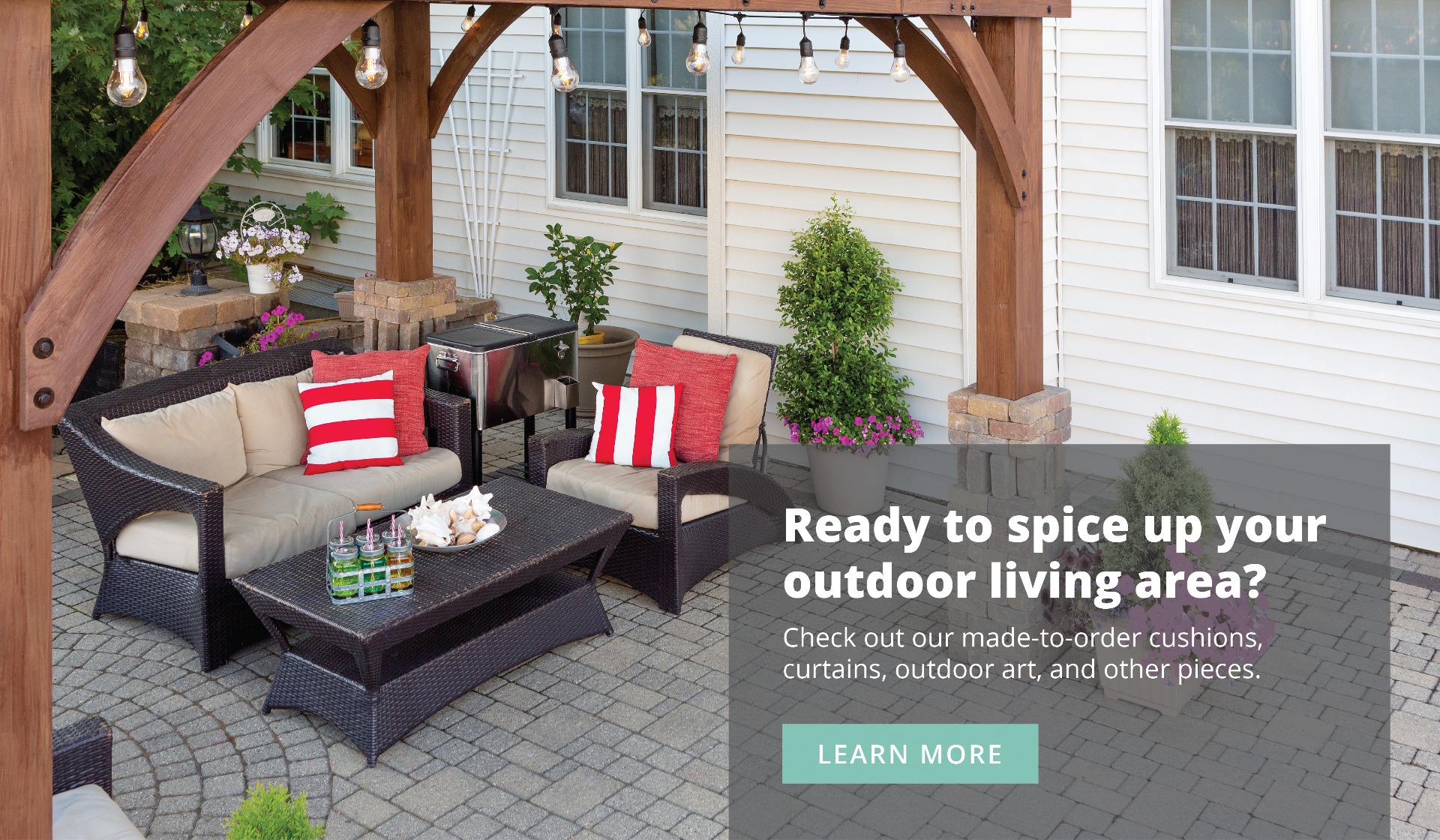 Summer Living Direct—a branch of Jordan Manufacturing—has helped Indiana homeowners, decorators, and DIY-ers find quality custom cushions, curtains, outdoor art, and umbrellas for their patios since 1994. To learn more, please visit our website or follow us on Facebook.