Beautiful art, flowing curtains, and comfortable cushions can create your perfect outdoor space, but the elements can be damaging. You want your patio to be your sanctuary, but worn and run-down decor can make it hard to relax and enjoy your space. 
You can keep your patio accessories in their best shape when you know how to choose the best materials and what you can do to guard them against harsh weather. Check out our tips for prolonging the life of your patio cushions, outdoor art, and curtains.
Patio Cushions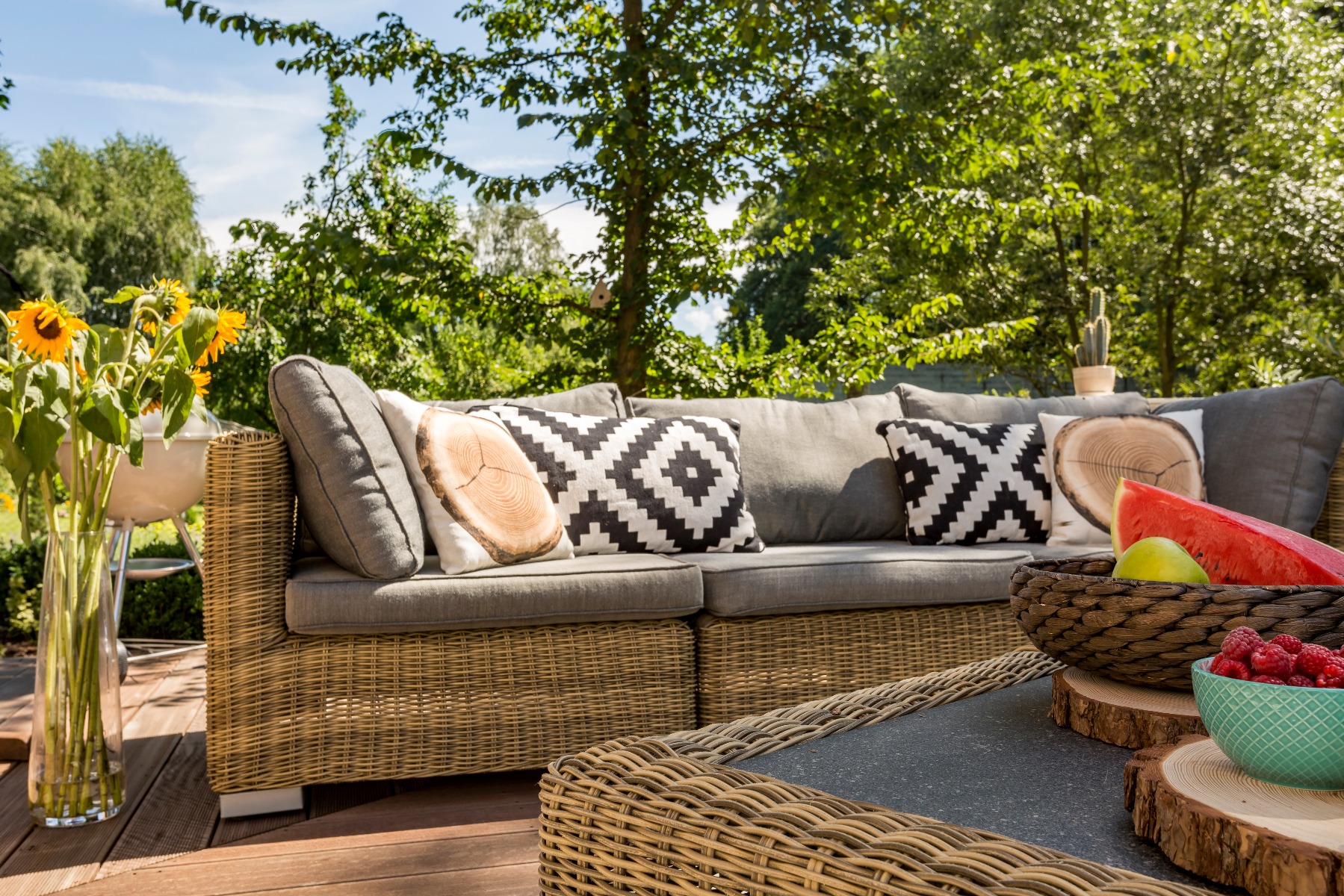 Improving the longevity of your cushions is easy when you think ahead by selecting the best fabric for your needs. Choosing durable materials that'll withstand summer sun and storing cushions appropriately during inclement winter weather can help you preserve them for seasons to come.
Choose the best fabric for summer.
A big part of keeping your patio cushions in great shape is choosing the right fabric when you purchase them. There are a number of materials that work well for different needs and preferences. Each fabric has advantages and disadvantages to weigh when you're deciding which is best for your patio.
Acrylic 
Cushions made from acrylic are sunlight-resistant, soft, and moisture-wicking to keep mildew or mold from forming. However, pilling, flammability, and the environmental impact of manufacturing can be limiting. 
Acrylic Linen
Much like acrylic, acrylic linen doesn't fade as quickly in sunlight as other fabrics. It's also resistant to water, mildew, stains, and soil. However, it does pill and succumb to wear and tear faster than other choices. 
Olefin
Durable and long-lasting, olefin cushions are less affected by wear and tear but aren't easily reshaped if you accidentally crush them. And despite being mostly moisture and stain resistant and responsive to almost all cleaning methods, it can take multiple washes to remove marks. 
Spun Polyester
Cushions made from spun polyester are extremely durable, so they're great for families with kids and pets. But despite being resistant to staining, fading, and soil, they can stretch or warp over time, especially in places with high heat.
T-Spun Polyester
T-Spun polyester is highly resistant to wear and tear thanks to its elasticity and low absorbency. While resistant to stains and mildew, it is more easily damaged by sunlight than fabrics like acrylic. 
Store cushions properly for winter.
If you live in a climate with cold or wet winters, it's a smart idea to put your patio items in storage for the duration of the season. Storing cushions in a waterproof space such as a shed, container, or garage can prevent them from locking in moisture, mildew, and mold.
For an extra layer of protection, wrapping cushions in a plastic bag is another step you can take to keep water out and ensure they last for several winters. 



Outdoor Art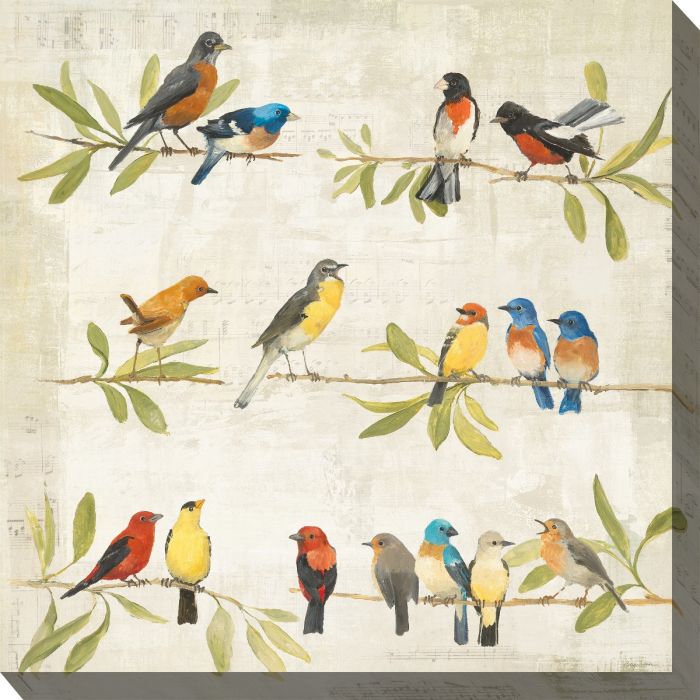 Outdoor art adds beauty to any space, but materials can be susceptible to damage from rain, snow, and sun. You can keep your outdoor area well-decorated without worry by protecting your art with a few simple steps. 
Spray metal and canvas art. 
Metal art designed for outdoors is usually made of powder-coated steel. This makes it less likely to chip, corrode, or fade. However, any metal art will rust after long periods of exposure to the elements. Spray it with polyurethane a few times per year to keep it in tip-top shape and reduce the amount of rust. 
Outdoor canvas art is often designed to resist moisture, meaning water should bead up and roll off. But if you're using art that isn't specially made for outside spaces, consider coating or spraying it with acrylic to protect it. 
Store and protect ceramic, resin, and stone art.
Art made of ceramic, resin, or stone is highly durable but prone to cracking in wet or freezing conditions. This is why it's recommended that you store this type of outdoor art away from winter weather.
These materials (especially resin) tend to fade in the sun, so keeping them in shady areas will prolong their life on your patio. If your art is in a sunny space, polyurethane with UV protection is your best option. Apply two thorough coats as needed to prevent damage. 
Outdoor Curtains
Outdoor curtains can make your backyard your sanctuary by adding shade and privacy. Make your space your own with long-lasting, beautiful curtains by considering the best fabrics and features for the outdoors. And don't forget—even the best fabrics should be brought inside during cold and wet winter months!
Choose the best fabric.
The type of fabric your curtains are made of can impact their durability and practicality in your yard. Choosing the right material to start can save you money, time, and stress down the road.
Acrylic
Outdoor curtains made from acrylic are great for strong colors that last. This is especially true with solution-dyed acrylic (or acrylic linen), where the color is locked into the threads before the fabric's manufacturing even begins.
Cotton Canvas
Canvas curtains made from cotton are a popular option for those looking to create their own outdoor curtains. While this is an easy and affordable choice, cotton can retain water and grow mold. Waterproofing sprays may work, but they involve strong chemicals and a mess. 
Olefin
Curtains made from olefin are durable, light, and fade resistant in sunlight. Olefin also allows for a variety of colors and designs you can choose from. 
Polyester Blends
Outdoor curtains made from polyester blends are common due to their water resistance, draping texture, and ability to have bright colors or prints. However, discoloration and fading from UV damage can be a problem for this fabric.
Consider other important features.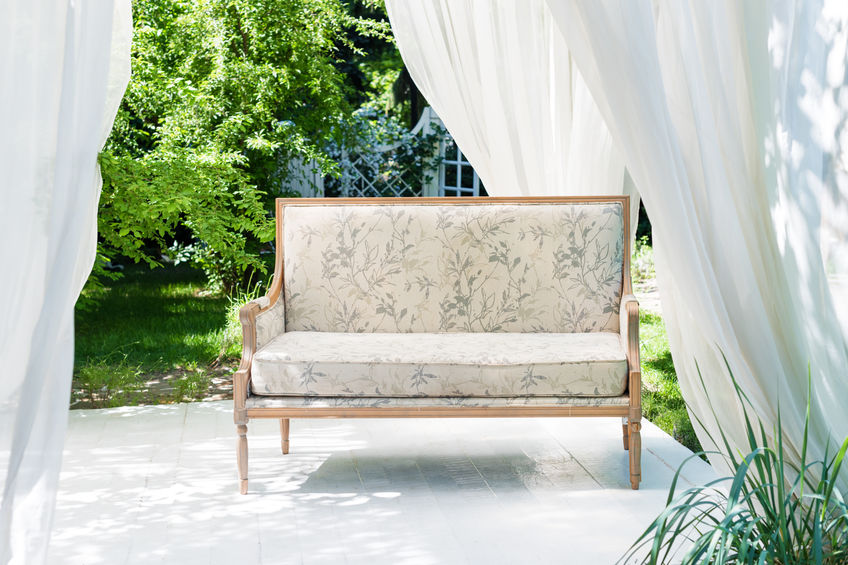 Your outdoor curtains should check off every box that matters most to you. Here are a few other features to consider when you start beautifying your backyard. 
Environmental Impact
You love the outdoors, so keeping your backyard clean and free from unnecessary waste and chemicals is important. Choosing a curtain fabric like olefin is recyclable and safer for the environment if that's something you prioritize. 
Fade Resistance
Constant direct sunlight can damage your outdoor curtains and cause them to fade. To avoid a dull appearance and uneven coloration, you should choose curtains that are UV and fade resistant. 
Water Resistance
Your outdoor curtains should be resistant to water and moisture. This will prevent them from absorbing water, becoming heavy, and producing mold and mildew. 


As you consider your next purchase for your outdoor space or try to keep accessories and decor out of harsh weather, these tips will help you avoid damage and additional expenses. Keep your patio looking beautiful with flawless art, curtains, and cushions that make your space a relaxing sanctuary.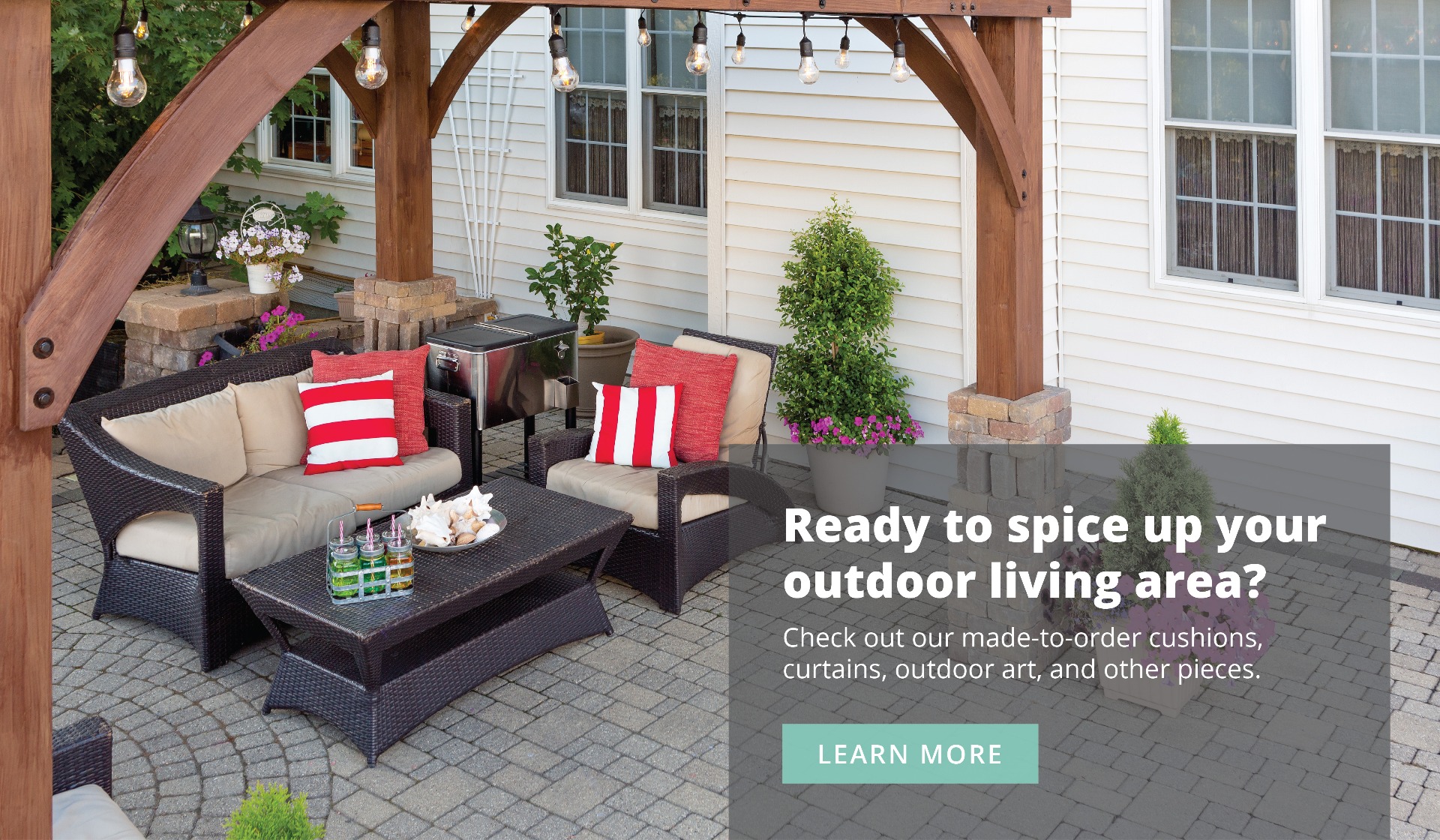 Summer Living Direct—a branch of Jordan Manufacturing—has helped Indiana homeowners, decorators, and DIY-ers find quality custom cushions, curtains, outdoor art, and umbrellas for their patios since 1994. To learn more, please visit our website or follow us on Facebook.