Happy New Year! We hope you're enjoying some safe, relaxing quality time over the holidays. While you're celebrating and recharging at home, here's a New Year's resolution that will help you love your space even more: designing or redesigning your patio with 2021's exciting trends. Think statement lighting, comfort, tiny gardens, and more!
Whether you're building a brand-new patio or redecorating an existing outdoor space, check out these five patio trends for 2021.
1. Tiny Gardens & Balcony Gardening
Not much space? Not a problem! Tiny gardens are a wonderful choice for city-dwellers or anyone with a limited outdoor area. Long-flowering perennials, evergreens, vines, and climbing hydrangeas are just a few suitable plant options when you're trying to express big style in a small space.
And if you have a balcony, you don't need a private or shared garden to bring your patio to life. Try jasmine, lavender, and various herbs to introduce amazing scents (and tastes) to your outdoor area. You can also add raised garden beds with colorful flowers to your balcony for even more beauty.
2. Lighting That Makes a Statement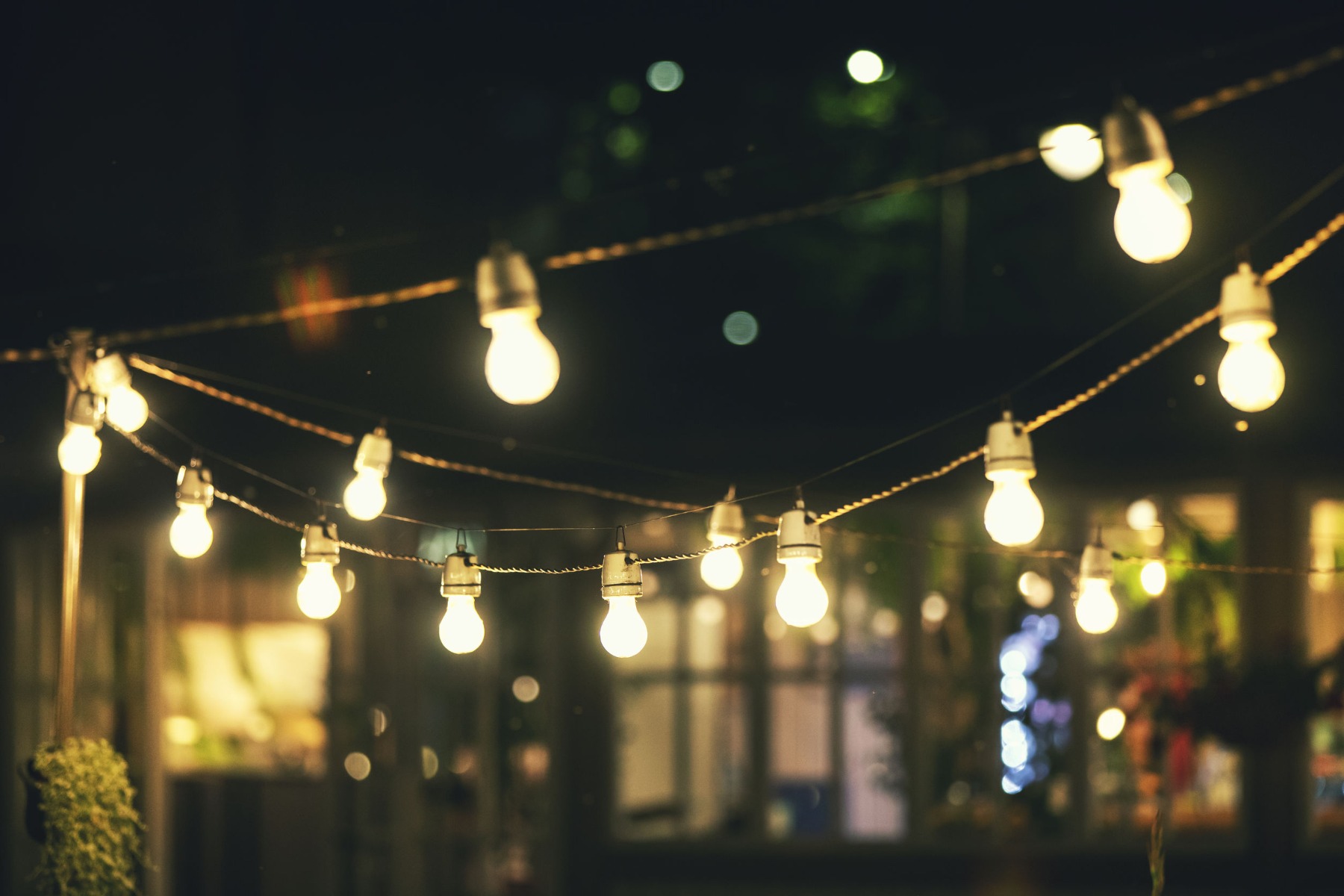 Choosing the right lighting will help you highlight the best features of your outdoor space (and set the mood you're going for). For example, warm, low lighting creates a relaxing atmosphere, while bright lighting brings energy and vibrance to any outdoor gathering. 
No matter what mood you want to set, statement lighting fixtures will add an interesting visual element to your patio parties (and be a conversation starter!). Try stringing twinkling lights on the trees around your garden, or add tiki torches around your patio. Decorative lamps and ceiling fixtures are a great option if your outdoor area is on the sheltered side.
3. Joyful, Sophisticated, & Minimalist Colors
2021 patio trends are all about making the most of joyful, sophisticated, and/or minimalist color palettes. Whether you choose one color or multiple ones for your outdoor space's pillows, cushions, and decor, these hues will help you create the patio of your dreams.
Joyful

: Incorporate teal, coral, gold, yellow, or lavender for a happy, vibrant feel.

Sophisticated

: Try navy, crimson, olive green, or purple-grey for a classy look.

Minimalist

: Use white, mint green, pale pink, or royal blue for a fuss-free vibe.
**Just a note: Your patio pieces and decor should be whatever colors you'd like! The goal is for you to love your outdoor space, so you can of course stray from this list. 
4. The Importance of Comfort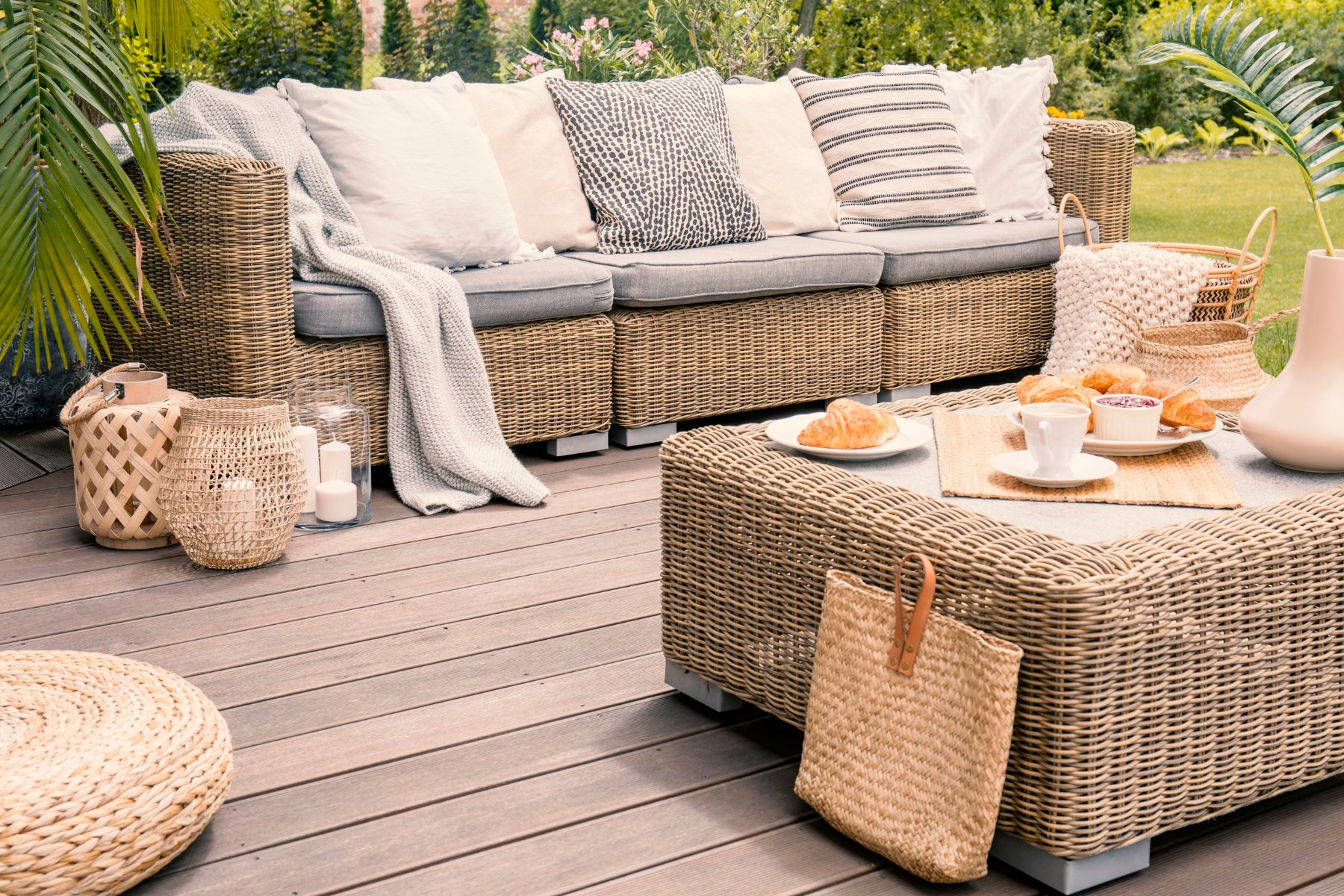 Homeowners and designers are focusing on comfortable outdoor settings (and not just aesthetic appeal) more than ever before. As we spend more time working and learning from home, we should have outdoor spaces (with comfortable accessories) that let us unwind when the day is over.
Custom-made pillows and cushions can soften functional furniture while showing off your style and eye for design. Acrylic fabric and acrylic linen (or solution-dyed acrylic fabric) are two great options for comfortable outdoor cushions, and plush pillows will make any patio instantly feel cozier.
5. Patios as an Extension of the Home
Many people are making the most of their outdoor space and spending as much time there as possible. Designing your patio as another "room" in your house or apartment is a great way to just that! You'll be able you relax in an outdoor space that feels like home as you make memories with loved ones.
Here are a few ideas for extending your home's style and functionality to your patio:
Set up an outdoor kitchen space with a fridge, counter space, cooktop, and even a bar (for the 21-plus crowd).

Add waterproof cushion boxes, garden tool storage, and outdoor toy boxes to keep your space tidy and organized.

Make your patio a private outdoor "room" for the whole family with

rugs

,

curtains

, and even

pet screens

.
With these 2021 patio trends, you're sure to love your outdoor space more than ever! Enjoy designing your patio in a way that reflects your personality and needs for the space: calm and relaxing, vibrant and energetic, warm and welcoming, or a combination of these.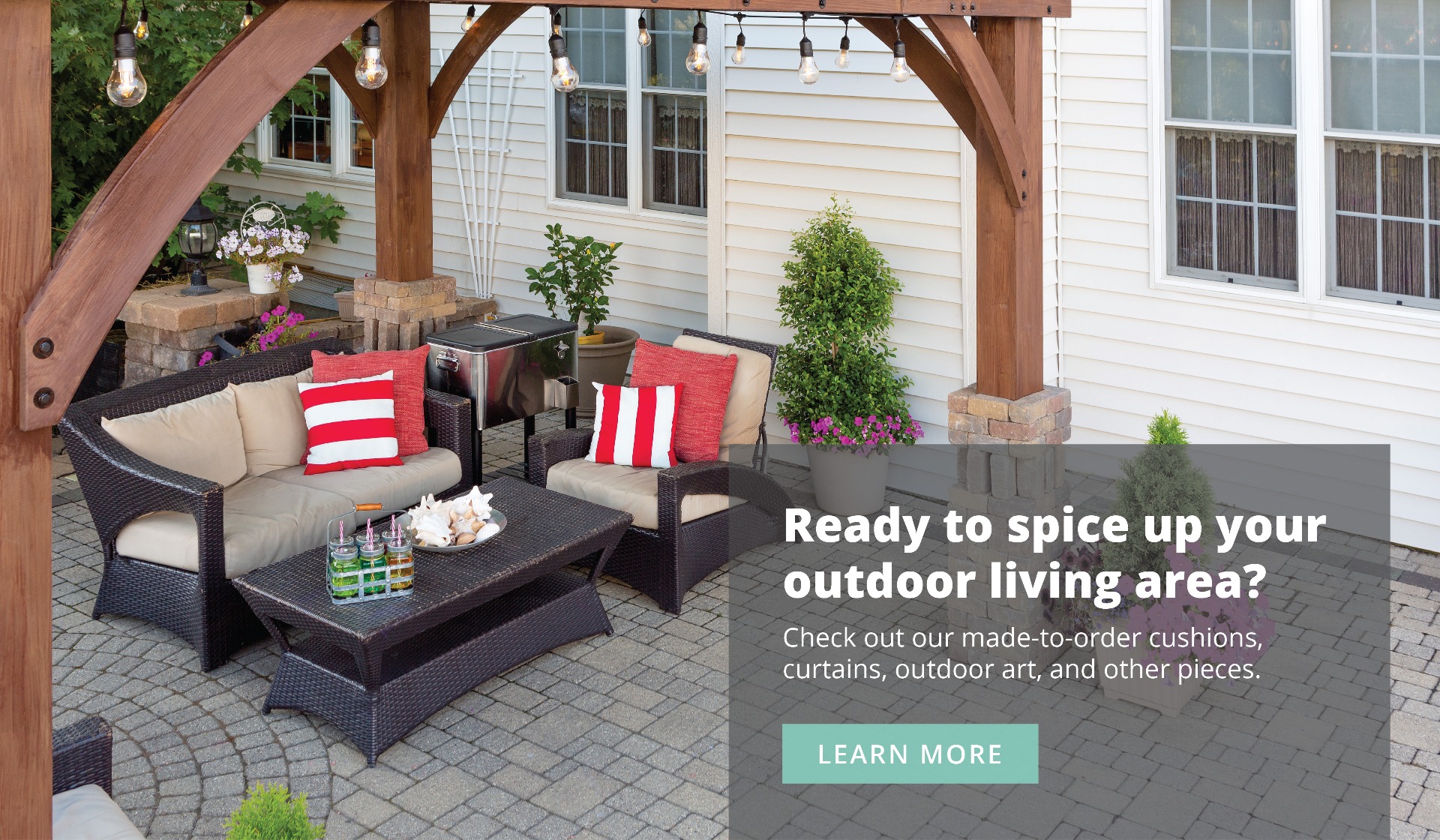 Summer Living Direct has helped homeowners and decorators find custom cushions, curtains, outdoor art, and umbrellas for their patios since 1994. To learn more, please visit our website or follow us on Facebook.