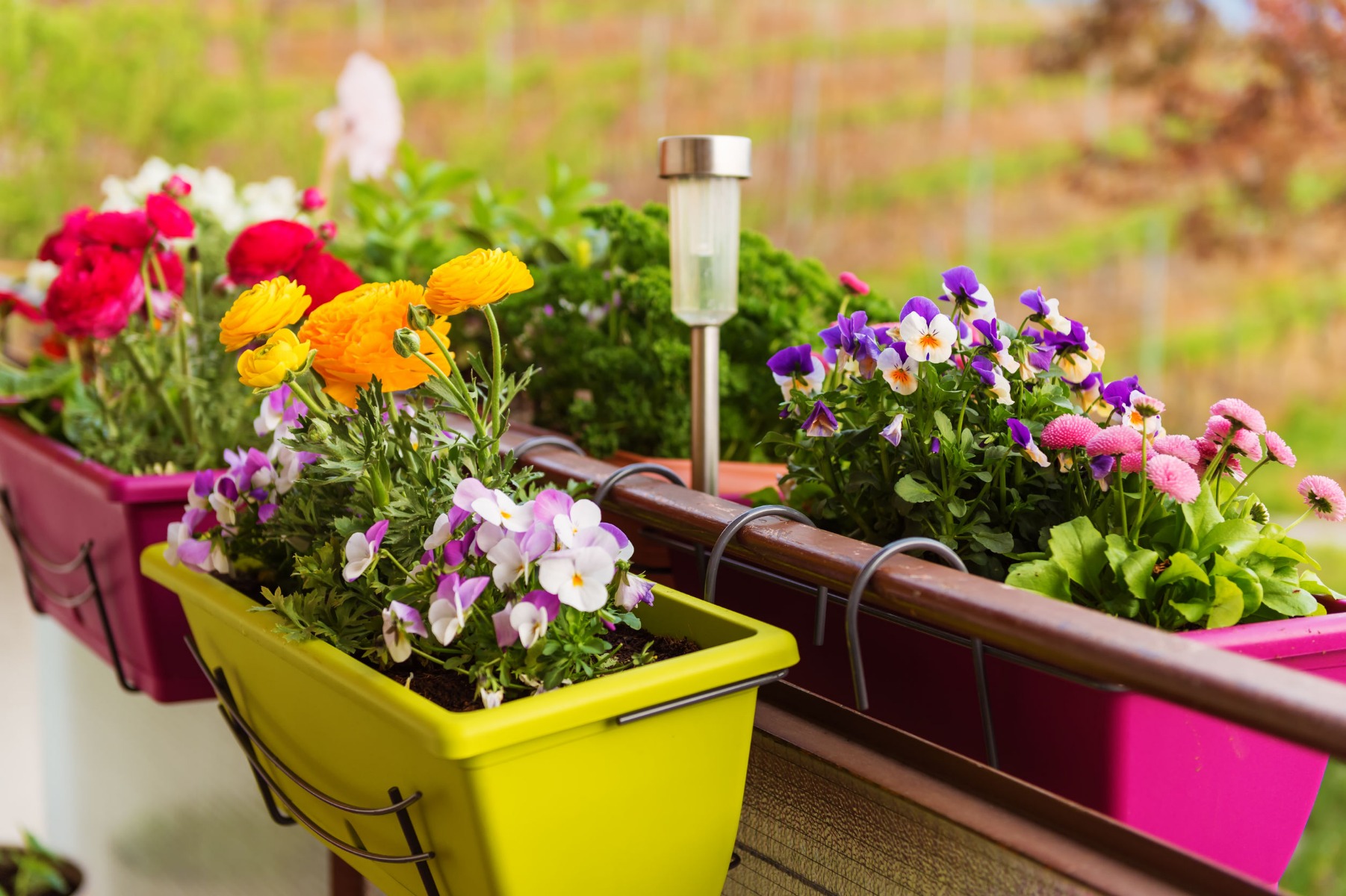 Summer is the perfect time to get out and enjoy your patio! Whether you prefer hosting backyard barbecues or relaxing poolside, you'll love your space even more after a few easy upgrades.
Read on for six summer patio decorating ideas (and a few DIY projects!).
1. Paint the floor, or add a colorful rug.
For redecorating your patio on a budget, painting the decking or floor is an inexpensive way to add personality. Here's a helpful how-to from DIY Network: 
Wash the floor and rinse several times. Let it dry for several days.

Sand and vacuum the floor. Then, wipe with a cloth to remove residue.

For concrete patios, fill any cracks or holes, then let dry.

Apply two coats of primer with a paint roller. Let the floor dry between coats.

With a clean roller, repeat Step 4 with the epoxy paint color of your choice.

With a clean roller, repeat Step 4 with several coats of masonry sealer.
If you don't want to spend time painting your patio, add a colorful outdoor rug instead. This is a quick and easy solution for any outdoor space that needs freshening up. You can choose from a variety of colors and sizes to fit your patio and your style.
2. Hang curtains for shade and privacy.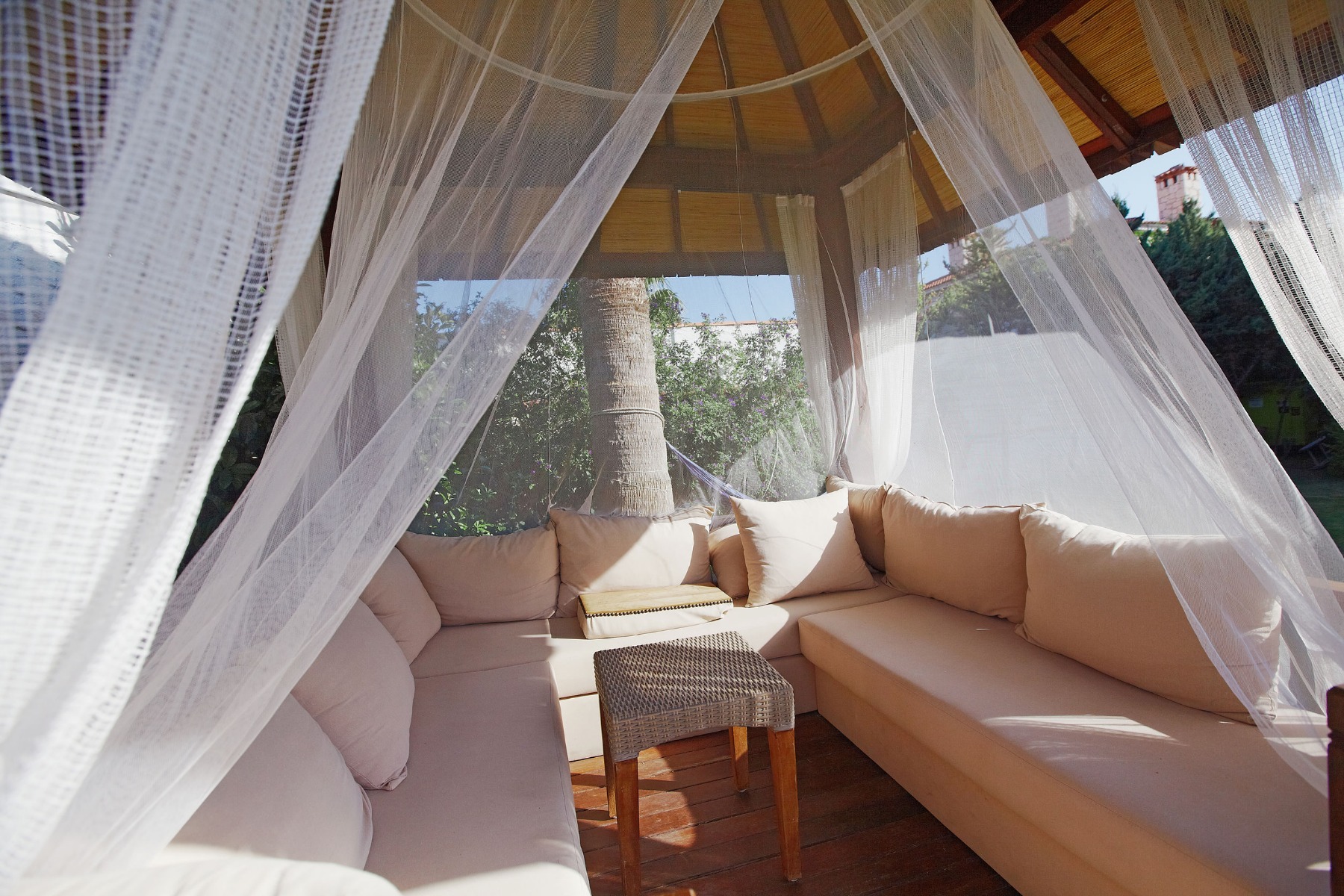 Want to make your outdoor space a breezy oasis? Curtains are an easy way to stay cool and separate your patio from the rest of the outside world. Not only will the shade feel great on a hot summer day; curtains can also help you reduce your risk of sunburn.
If you choose to hang curtains around your outdoor space, follow these tips for the right fit, look, and support: 
Measure the length from ceiling to the floor, and the width of your space.

Get curtains that touch the floor.

Make sure your rod will support the curtains.

Steam or iron drapes before hanging them.

Hang your curtains from the patio ceiling.
3. Decorate with low-maintenance plants.
Plants can spruce up any porch or patio, and the ones that don't use as much water are a great option for summertime! Try low-maintenance plants like succulents, burgundy cordylines, or bamboo palms. These will add a bright burst of color to your outdoor space.
No-hassle greenery is another way to save money, since you won't have to water them as often. These plants will also add interesting textures to your patio — as well as an alternative to flowers, if those tend to stir up your allergies.
4. Make your own fabric pouf ottoman.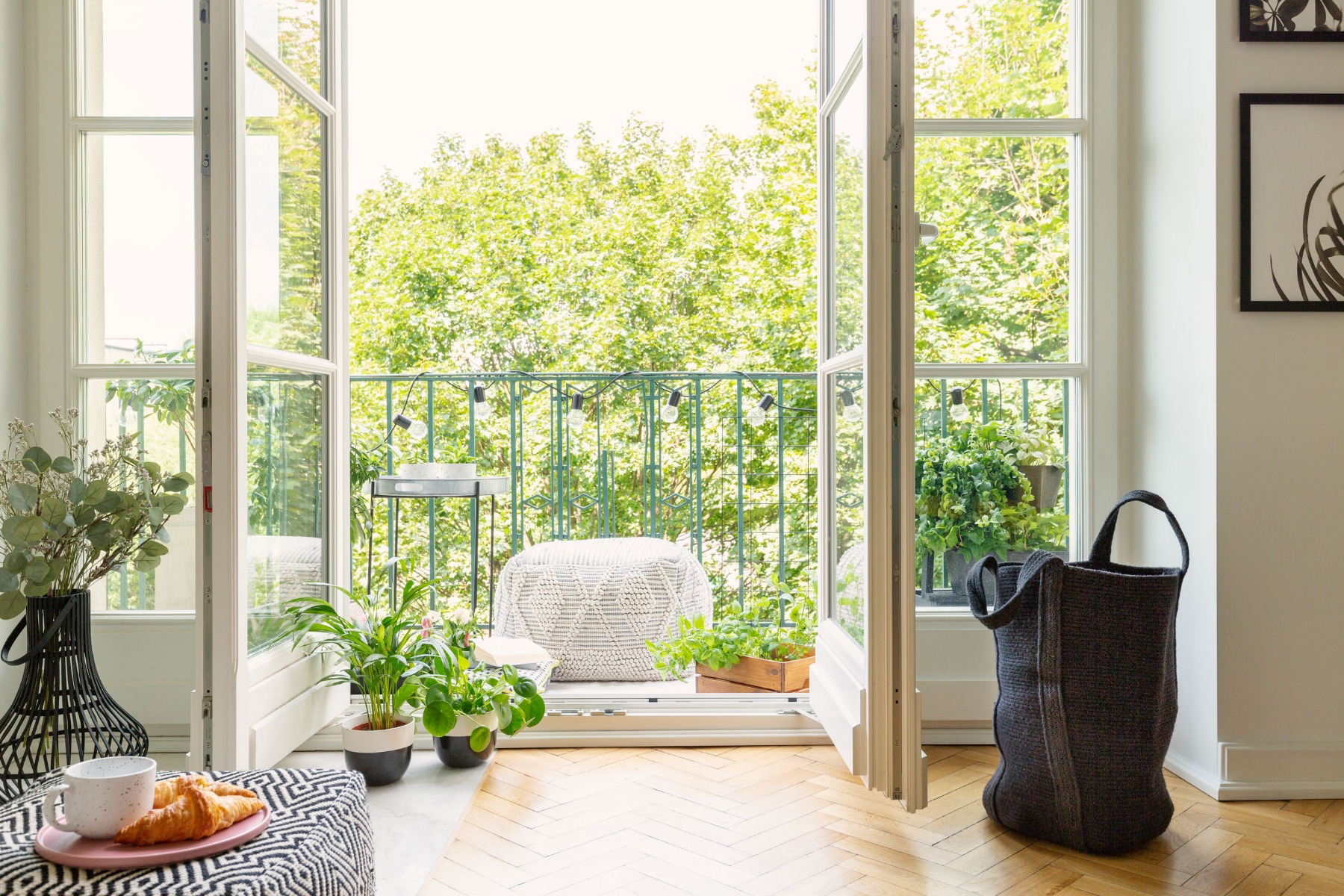 Ottomans let you add flexible (and comfortable) seating to your outdoor space. You can even use them as mini tables with food or beverage trays! You'll probably leave them on your patio, but these pieces are easy to bring inside and store on a rainy day.
To make your own fabric pouf ottoman, check out this how-to from HGTV: 
Get 2 yards of

fabric

in a color and print that you love.

Download and print this

pouf pattern

(with several shapes).

Lay your fabric on a smooth surface and pin the first shape on top. 

Cut the first shape out of your fabric. Repeat for the rest of the shapes.

Sew pieces together by following directions on your pouf pattern.

Leave a 4-inch corner opening so you can turn the pouf right-side out. 

Sew other corner pieces together and turn right-side out.

Stuff pouf with old towels, sheets, and fabric until almost full

Add polyfill until your ottoman is smooth and the fabric is taut.

Hand-stitch the 4-inch opening closed.
5. Turn crates into a table, cart, or storage tower. 
Need a table, cart, or storage unit? Look no further than your old wooden crates! With just a few tools and supplies, you can create a portable drink station or a place to keep toys and gardening tools.
To build a coffee table out of crates, try this HGTV how-to: 
Lay four crates back-to-back on a ¾-inch plywood base.

Paint the crates with primer and your choice of paint color.

Seal your base's front and back with paint and primer.

Once the paint is dry, put the plywood on a drop cloth.

Put one caster (wheel) in each corner and drill to secure.

Flip your base over so the wheels are on the ground.

Position crates on top of the base so their openings face out.

Secure the crates to the base and to each other with your drill.
6. Create a cozy outdoor dining area.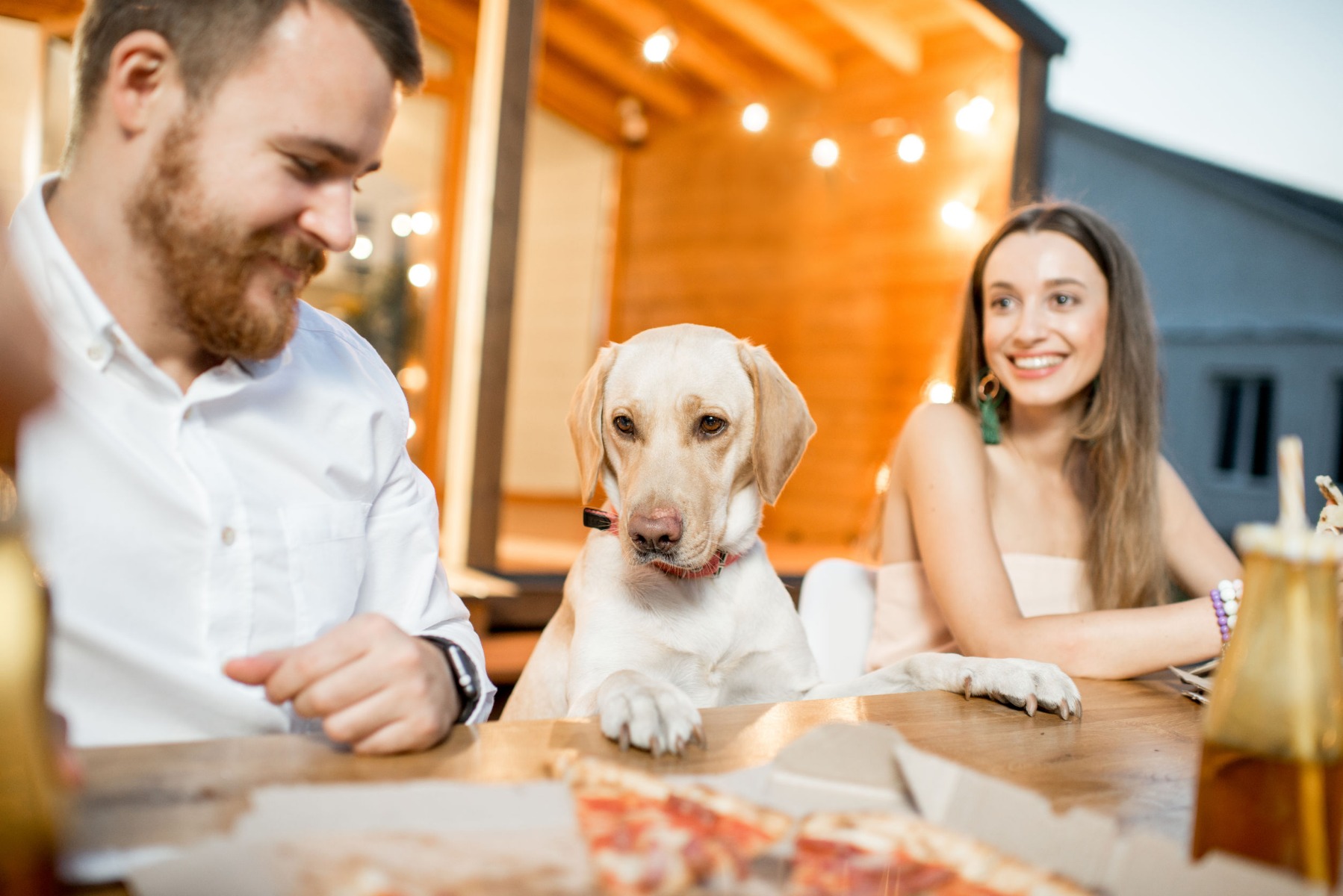 Having lunch, dinner, or drinks outside is a great way to build summer memories with loved ones. You can decorate your patio with soft cushions to help your guests relax while eating in your outdoor space. Plush pillows will complement your cushions and add comfort (and color).
And you don't have to leave your patio just because it's dark! String lights and candles are a simple solution for entertaining and eating outdoors after the sun goes down. Look for battery-operated LED candles so you don't have to worry about flames.
With these summer patio decorating ideas, you can transform your outdoor area in no time! Then, you'll be ready to sit back, relax, and enjoy a gorgeous patio with your family and friends.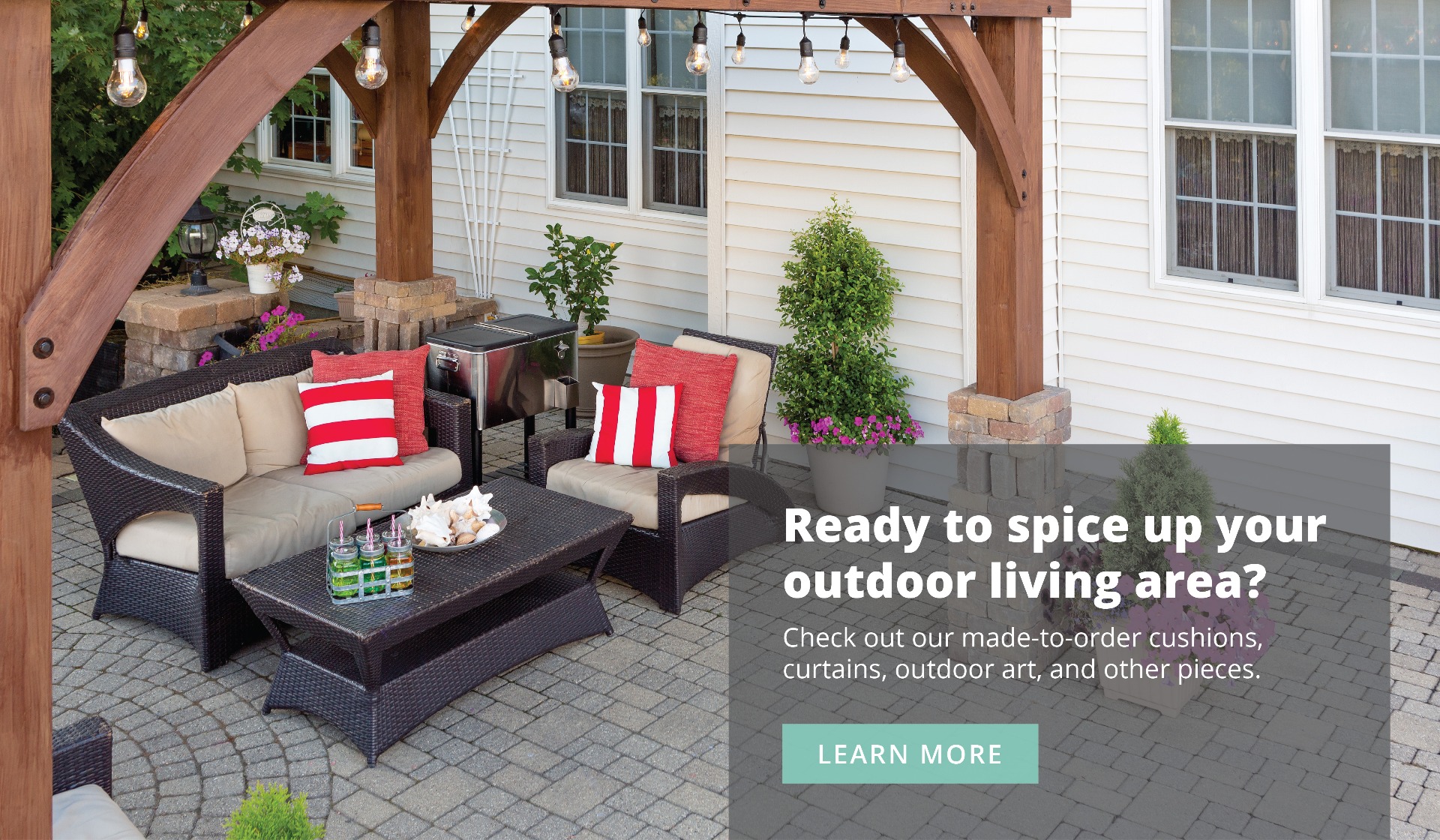 Summer Living Direct has helped homeowners and decorators find custom cushions, curtains, outdoor art, and umbrellas for their patios since 1994. To learn more, please visit our website or follow us on Facebook.