Just because the weather's cooling down, that doesn't mean you have to head inside! Whether you have dramatic or subtle summer-to-fall changes, there are a few easy ways you can spruce up your patio this autumn. From pumpkins and fall flowers to cozy seating and pillows around the fire, your outdoor space will be everyone's favorite place to gather.
Read on for fall patio decorating ideas (and a few helpful how-to's!).
1. Decorate your door with a mini pumpkin wreath.


Photo courtesy of Southern Living.
For a fun family activity, visit your local pumpkin patch for fall produce. You'll find pumpkins, squash, gourds, and more on these family patches and farms. If you have kids, you can even let them pick out their own mini pumpkins to bring home.
If you want to turn your finds into an adorable decoration, Southern Living has an easy, step-by-step guide to making a mini pumpkin wreath.
All you need is:
Florist wire 

Miniature pumpkins

Plastic foam wreath 

Sheet moss

Florist pins

Wide burlap ribbon
To make your wreath:
Using the florist wire, make a hole near the bottom of a miniature pumpkin. Run the wire all the way through the pumpkin.

Place the miniature pumpkin on the plastic foam wreath. 

On the underside of the wreath, twist wire ends together to hold the pumpkin in place. 

Continue threading and attaching pumpkins with wire until you've covered the wreath.

Cover any exposed areas with pieces of sheet moss, securing with florist pins.

Twist a piece of wire around the top of the wreath to make a loop for hanging. 

Make a large bow from the wide burlap ribbon, and attach it near the wire loop. 

Hang the wreath by the wire loop from a nail or hook on your door.
2. Add fall flowers, plants, and produce.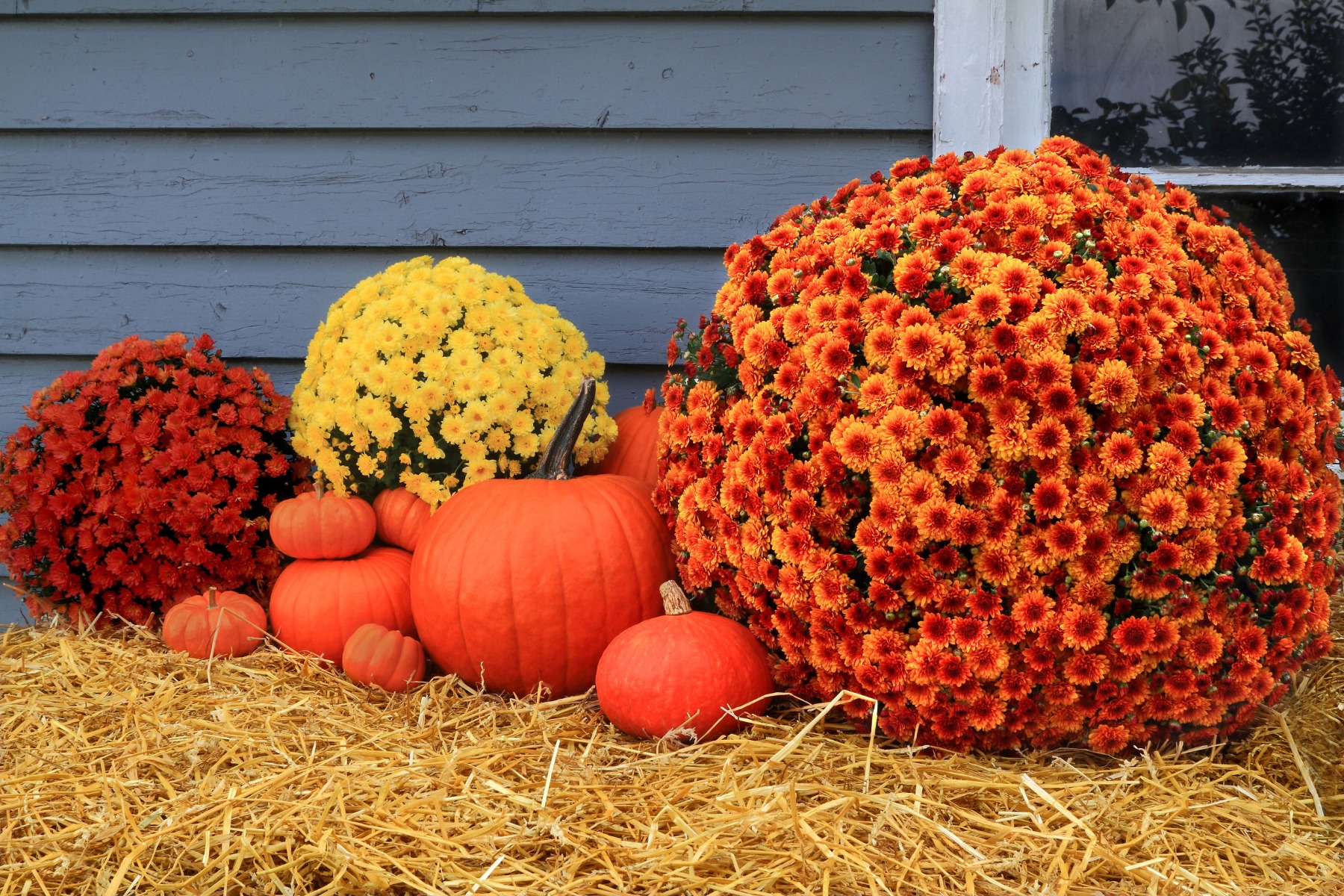 If you got extra pumpkins from the patch, why not decorate your garden or patio with them? With autumn-friendly flowers, plants, and produce, you can add pops of warm colors to make your outdoor space the envy of the neighborhood.
Mums, the classic autumn flower with full blooms

Goldenrod, a great pollen source for bees and butterflies

Hardy sunflowers, which self-sow and can grow up to 10 feet tall

Flowering vines, a sweet-smelling plant that loves to climb fences and gazebos

Autumn joy sedums, a flower changing from pink to red to rust
Flowering cabbage, with greens and purples that deepen as the weather cools

Golden leaf sage, a hardy yellowish-green plant

Purple fountain grass, which adds bold texture and hues to outdoor spaces

Lamb's ear, a tough plant with fuzzy or velvety textures
Pumpkins, which you can carve or paint to add personality 

Apples, with a sweet taste (when you want to turn decor into a snack!)

Corn or squash, which looks great in an outdoor basket or cornucopia
3. Create cozy seating around your firepit.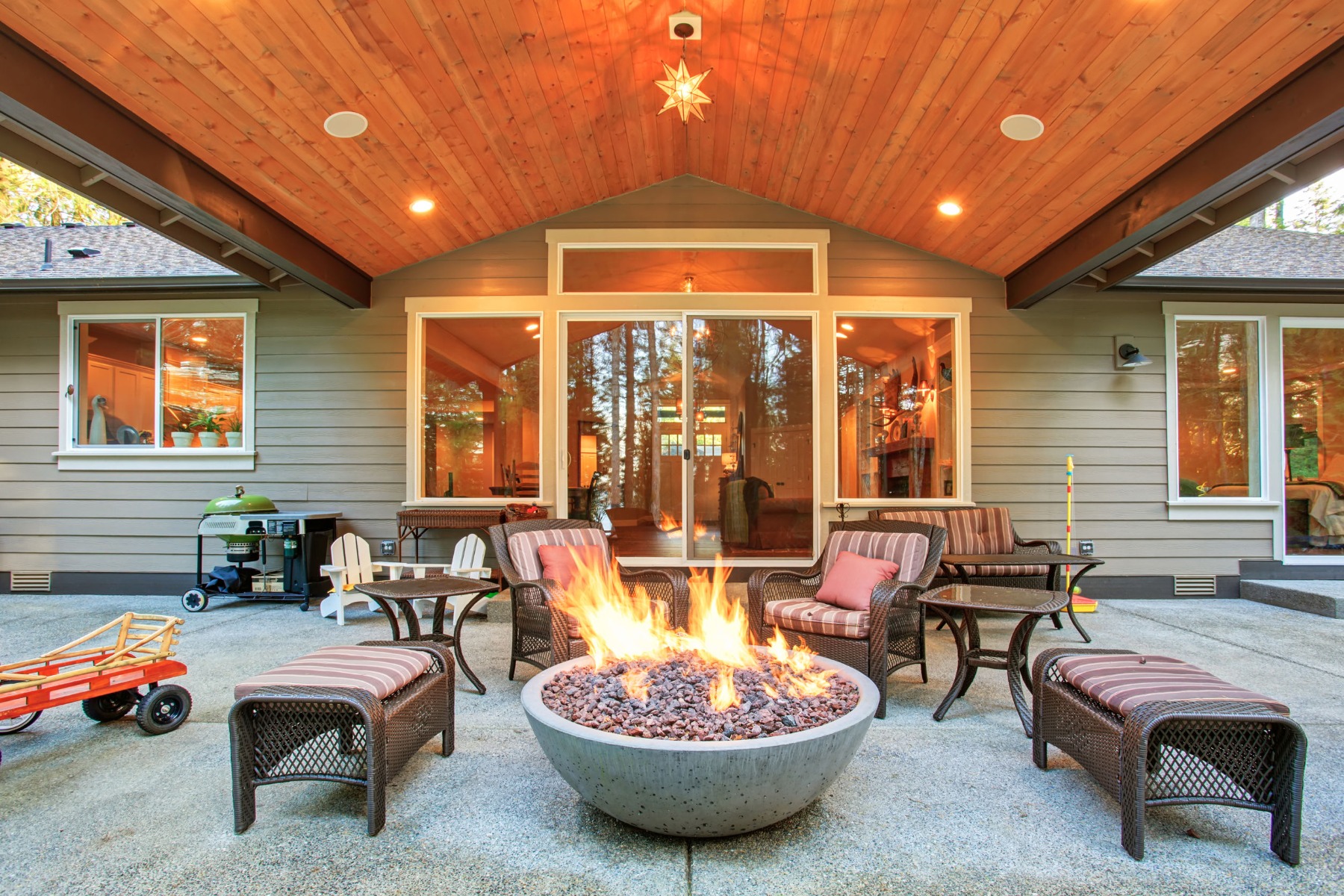 It wouldn't be fall without gathering around a warm fire with family and friends! Make your patio's firepit the center of attention by surrounding it with cozy chairs and benches. You can accent furniture with red, orange, yellow, or brown pillows and cushions to add to the warmth. Don't forget to keep blankets nearby for chilly nights, too!
When you're around the fire, remember these safety tips: 
Check wind conditions before starting the fire.

Build the fire in the open (and away from your home).

Burn branches and logs, not construction lumber.

Keep chairs away from the fire.

Have a bucket ready to extinguish the flames.

Don't leave a fire unattended.

Drink responsibly around the flames.

Follow any no-burn advisories from your city.

Store firewood a safe distance from the pit.
If you need safe yet comfortable seating ideas, check out this photo gallery from Home Stratosphere. You'll find inspiration for arranging benches, overstuffed armchairs, and even rocking chairs around a firepit. 
4. Make your own pillows and cushions.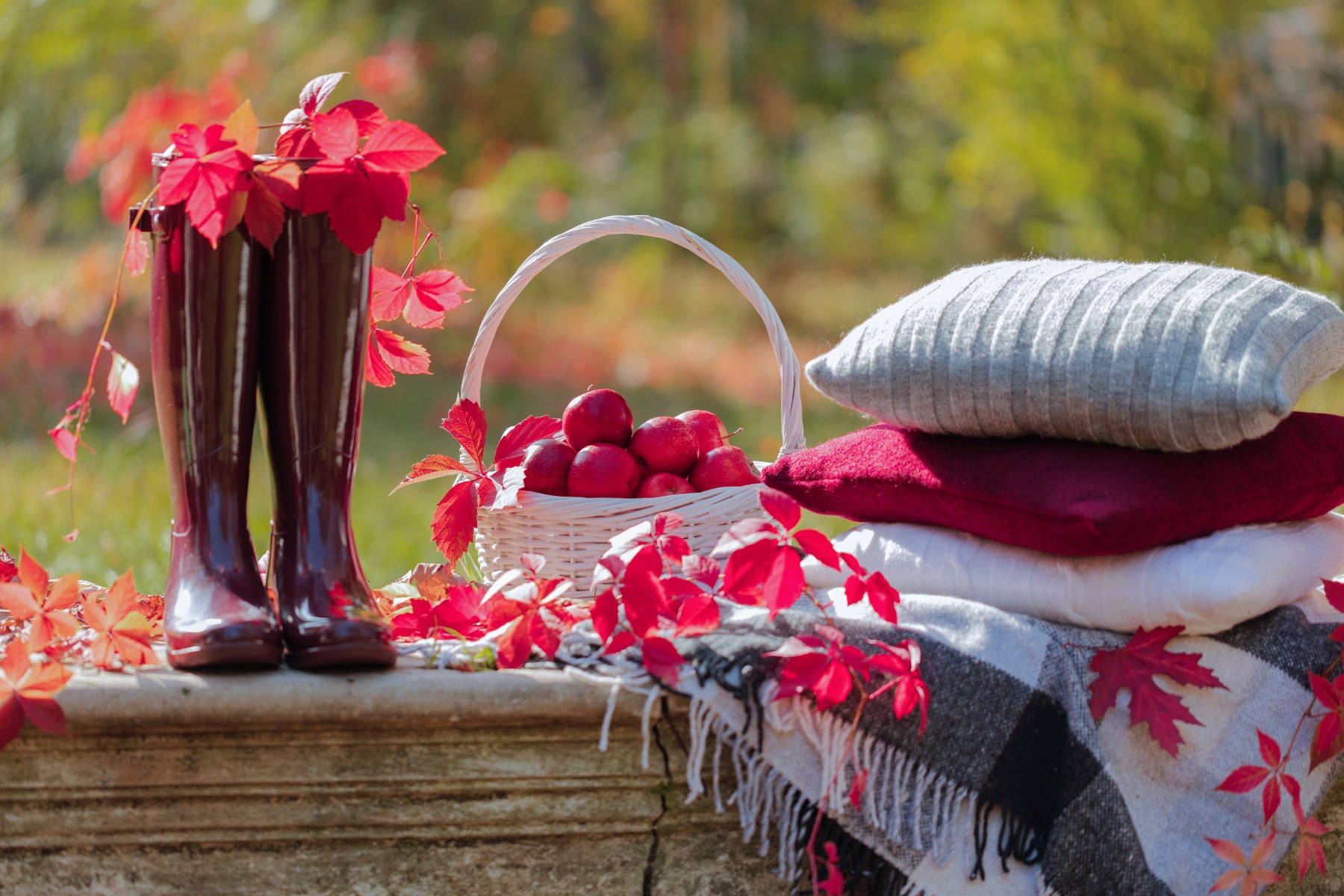 With gorgeous fabric and warm colors, you can add cozy fall pillows and cushions all around your patio. This DIY video shows you an easy, no-sew technique for making outdoor pieces. 
All you need is:
Pillow stuffing

Separating zippers

An iron

Fabric glue

Cushion foam

Plywood

A staple gun
To make your pillows:
Cut pillow stuffing to your desired dimensions.

Cut 2 fabric pieces 1 inch wider and longer than your pillow measurements. (This is so it can wrap around the stuffing.)

For the zipper, fold one edge of both pieces over ½ an inch and press with an iron.

Apply fabric glue to each piece's fold and press with the iron.

Glue the opened zipper facedown to the pressed seams.

Make sure zipper teeth are over the edge of the folds (and not touching the glue).

When dry, zip the pieces together.

Add a line of fabric glue around the pillow ½ an inch from the edges.

Match the right sides and press.

Unzip the case. Turn right side out and insert pillow stuffing.
To make your cushions:
Cut foam and plywood to your desired dimensions.

Cut 1 fabric piece 8 inches wider and longer than your cushion measurements. (This is so it can wrap around the foam and plywood.)

Fold the fabric 1 inch along each side. Press with an iron.

Apply fabric glue to the 1-inch folds and press with the iron.

Center the foam on the fabric, and the plywood on top of the cushion.

Pull the fabric over the plywood and staple along the edges.

Fold the corners and secure with more staples.
With a few materials and some creativity, you can bring these fall patio decorating ideas to life. Get ready to entertain and relax in your beautiful outdoor space all season long!

If you'd rather buy cushions and pillows than take the time to make them, no worries. A custom cushion manufacturer can help you design your patio pieces and choose from a wide variety of fabrics and styles.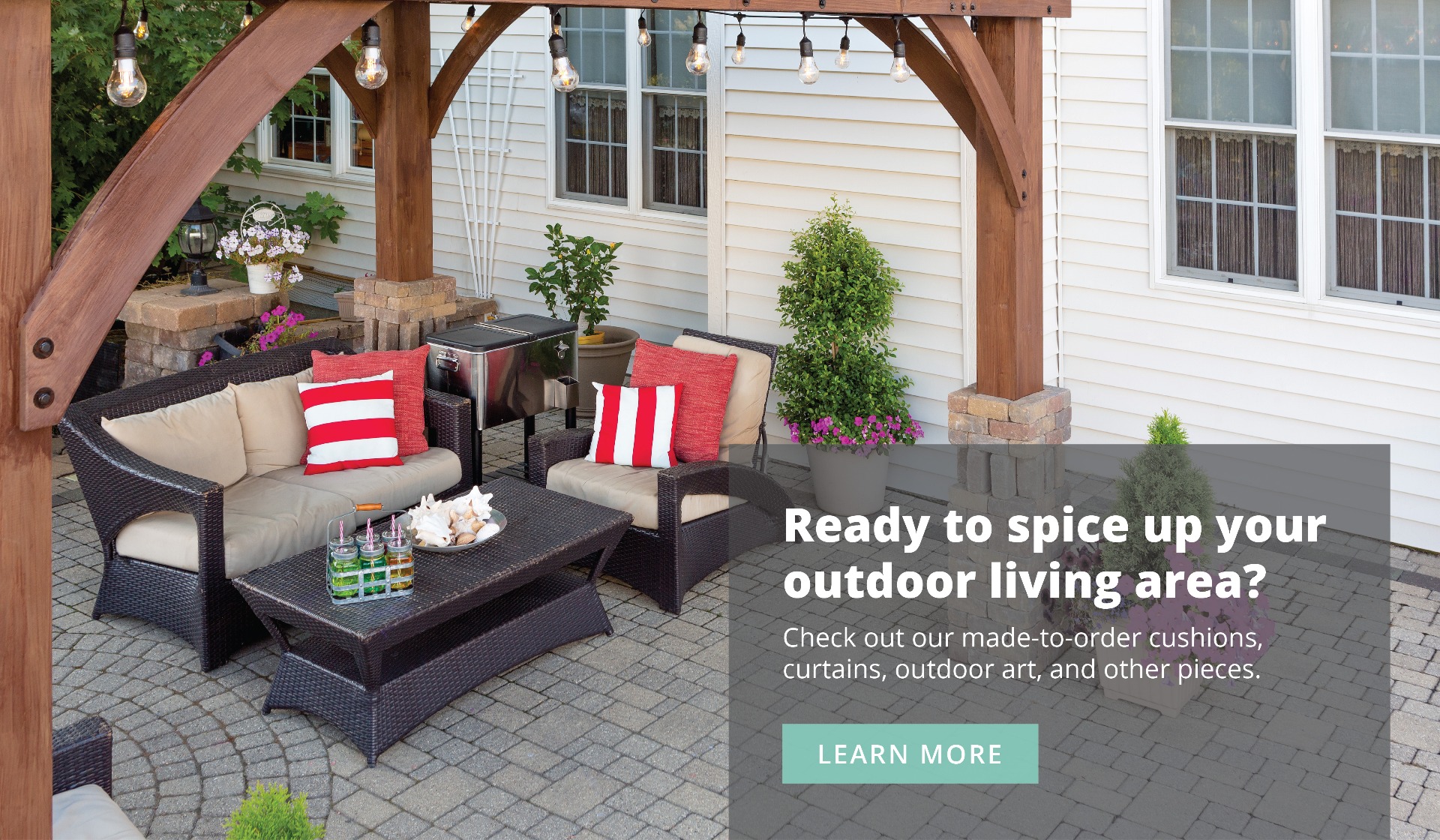 Summer Living Direct has helped homeowners and decorators find custom cushions, curtains, outdoor art, and umbrellas for their patios since 1994. To learn more, please visit our website or follow us on Facebook.