Nothing says "fun" quite like an outdoor party or barbecue! Whether you're hosting a small family get-together or a party for the entire neighborhood, your patio or backyard is the perfect place for loved ones to gather.
It's easy to feel overwhelmed when you're planning a get-together, but it really can be more fun than stressful! Here are five outdoor entertaining tips that will help you make your next event easy and unforgettable.
1. Make it a fuss-free potluck.
While the host usually prepares the main course, you can (and should!) encourage guests to bring their favorite side dishes, snacks, and desserts. A potluck-style party lets people choose what they're going to eat and privately address any dietary restrictions, such as bringing a gluten- or dairy-free dish.
No matter what your guests decide to bring, you'll want to keep bugs out of the food. You can easily do this by turning mesh colanders upside down over the dishes and bowls. Your friends and family will then be able to see what's underneath while filling their plates — letting all of you enjoy a pest-free potluck.
2. Keep the weather in mind.
No matter the weather, you can help your guests enjoy themselves by preparing for the outdoor conditions ahead of time. Use tablecloth weights on a breezy day, and set up a patio umbrella or two for shade from the sun. Serve cool drinks and desserts if it's hot, and cider or hot chocolate if it's a chilly evening.
For summertime patio parties, try filling a bowl with ice and place dairy-based dips or other perishables in the bowl. Then, you'll keep the food outside while it stays cool! And for chilly fall and winter gatherings, you can use Crock-Pots, hot trays, and thermoses to keep the food, drinks, and guests warm.
3. Decorate with disposables.
Making your outdoor gathering look beautiful doesn't have to be stressful or expensive! Think of disposable decorations as your new best friend. You can easily clean up at the end of the party, and you don't have to worry about guests accidentally staining or knocking over expensive decor.
For example, brown craft paper will add a lovely contrast to a white table or tablecloth. And if there are children at your party, they can even draw on the paper with crayons! When the gathering ends, you can either throw away the craft paper or invite the kids to take their masterpieces home.
4. (Safely) fire up the grill.
Backyard barbecues are a summertime staple, but you can grill any time of year if the weather's nice — or if you feel adventurous. Your friends and family will love the smell of cooking steaks, chicken, burgers, and hot dogs, and you'll get to chat with guests outside instead of prepping all alone in the kitchen.
Just make sure you follow these grilling safety tips when barbecuing outdoors: 
Only turn on the gas while your grill lid is open.

Don't overload your grill with food (that can cause a flare-up).

Have sand or baking soda nearby in case of a grease fire.
5. Get creative with seating.
If you're not sure how everyone will fit on your patio or deck, you can improvise with the furniture you already have. Try converting ottomans and footstools into chairs next to a wall, so your guests can lean back against something. Or, bring indoor chairs and settees outside and toss a few throw pillows on them for a cozy touch.
You can also encourage loved ones to mingle by grouping chairs and settees together throughout your backyard or patio. Soft chair pillows and comfortable cushions will also entice your guests to sit down and stay a while.
By following these outdoor entertaining tips, you can throw a fuss-free, welcoming backyard barbecue or patio party. All that's left is to eat delicious food, enjoy the outdoors, and make memories with your loved ones!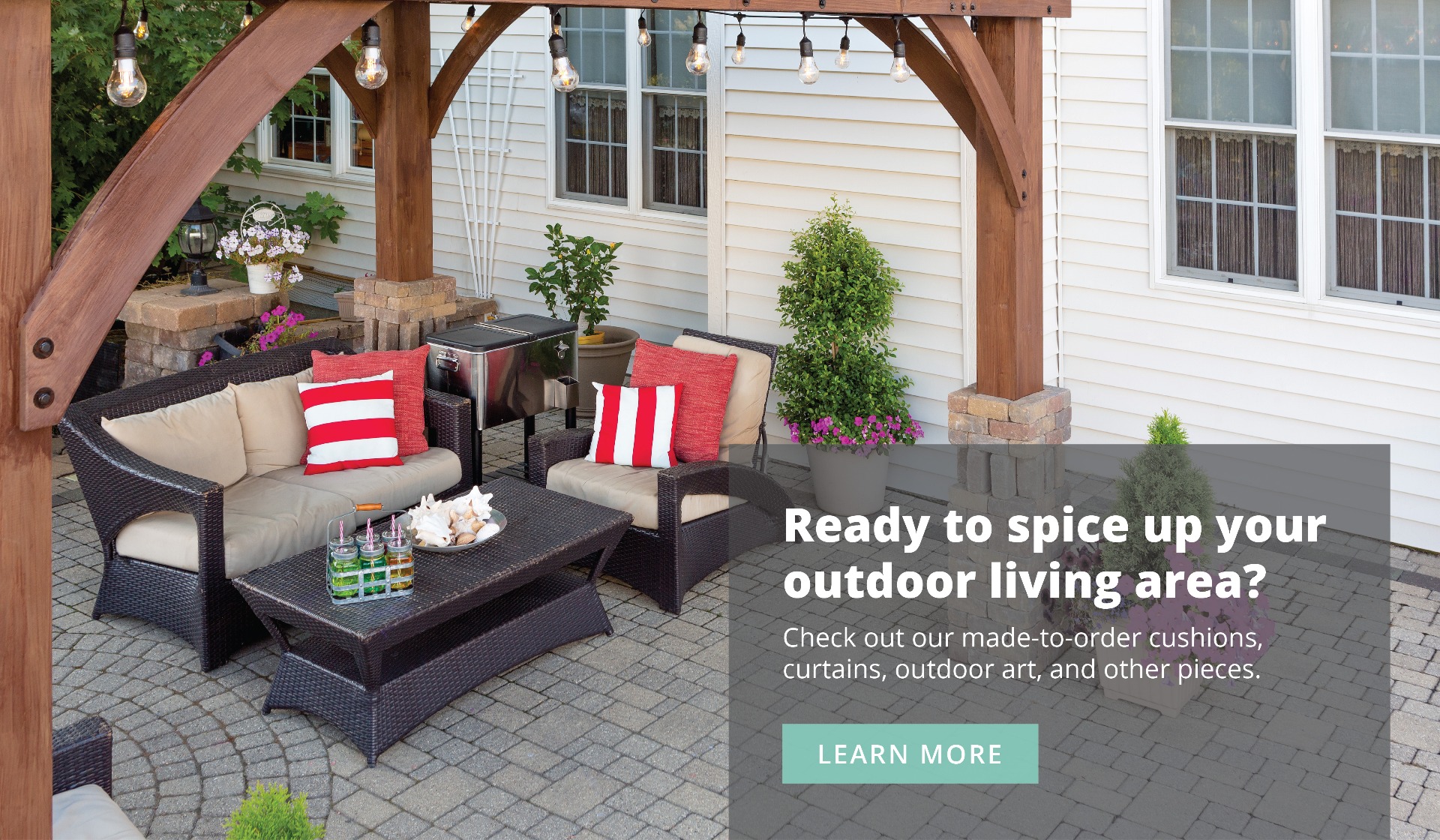 Summer Living Direct has helped homeowners and decorators find custom cushions, curtains, outdoor art, and umbrellas for their patios since 1994. To learn more, please visit our website or follow us on Facebook.