Whether you have a poolside patio, a garden oasis, or a tucked-away deck in the woods, spring is the perfect time of year to enjoy your outdoor space. You only have to spend a little time cleaning your patio to get rid of any mildew, dirt, or bird droppings. Then, you'll be ready for relaxation! 
Read on for five spring cleaning tips to prepare your patio for eating outside with your family, playing games, or just soaking up a sunny day.
1. Clean the surface, steps, and siding.
You'll enjoy relaxing on your patio more when it's clean!
To wash your patio's surface:
Move all furniture, cushions, and plants off your patio. Sweep off any leaves, sand, and other debris.
Rinse your patio with a garden hose to prep the surface.

Spray any stains with a 10:1 solution of warm water and an outdoor cleaner. (Globo Surf has a list of

six great patio cleaners

you can try.)

Leave the cleaner on for 15 minutes, then scrub with a stiff broom and rinse. If your initial treatment didn't get the stains out, add a cup of bleach to your 10:1 solution and spot-treat them.
To wash the steps and siding:
Use a pressure washer on the sides and steps to remove dirt and mildew.

If you have tiled steps or siding, just rinse these with a garden hose to avoid loosening the tiles.
2. Wash your outdoor furniture.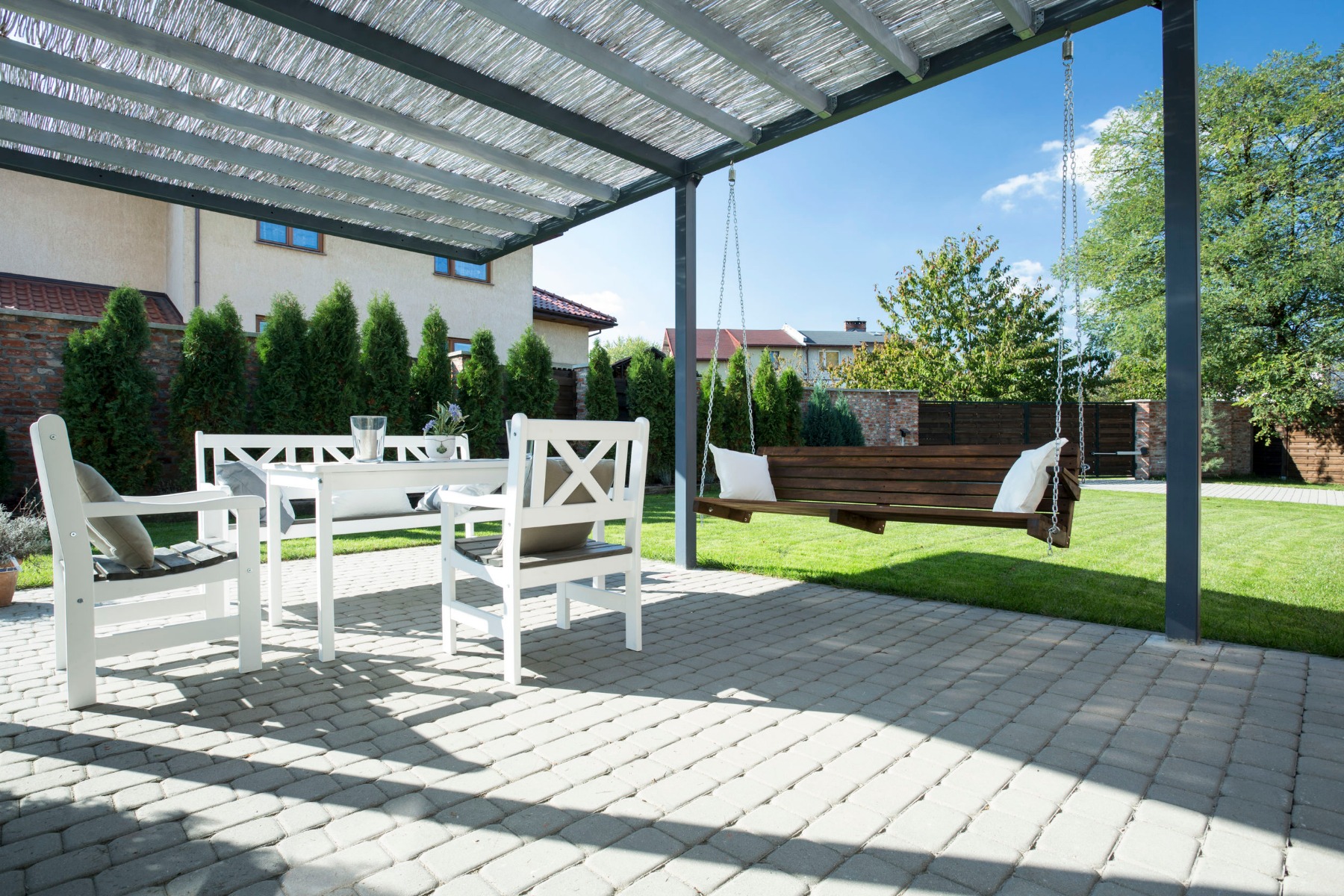 Once you've washed and rinsed your patio's steps and foundation, it's time to do the same with your outdoor furniture. You can make your furniture last even longer with a thorough wash each spring.
Many people choose powder-coated aluminum and teak for their pieces, which are already great for preventing mold. All you have to do for these is gently scrub your outdoor pieces with water and mild soap or detergent. 

If you have wicker or rattan furniture, just take an old toothbrush to the grooves after washing to remove any built-up grime. No matter what material your outdoor pieces are made of, rinse them when you're finished to remove soapy residue. Let your pieces dry in the sun before placing cushions and pillows on them.
3. Update outdoor light fixtures.
Whether your lights just need a deep cleaning, or you'd like to change things up with a different color, now's the perfect time to update your fixtures.
Your lights have probably gotten dusty from using your patio less in the winter, but you can easily wipe them down. Just take a foam paintbrush, spray it with window cleaner, and wipe the inside and outside of the glass fixtures. Use a second dry brush (or a cleaning rag) to remove any stray cleaner.
You can even repaint your fixtures if you'd like! Just remove and disassemble the lights, then coat your fixture with spray paint in a color that would go perfectly with your patio.
4. Scrub your pillows and cushions.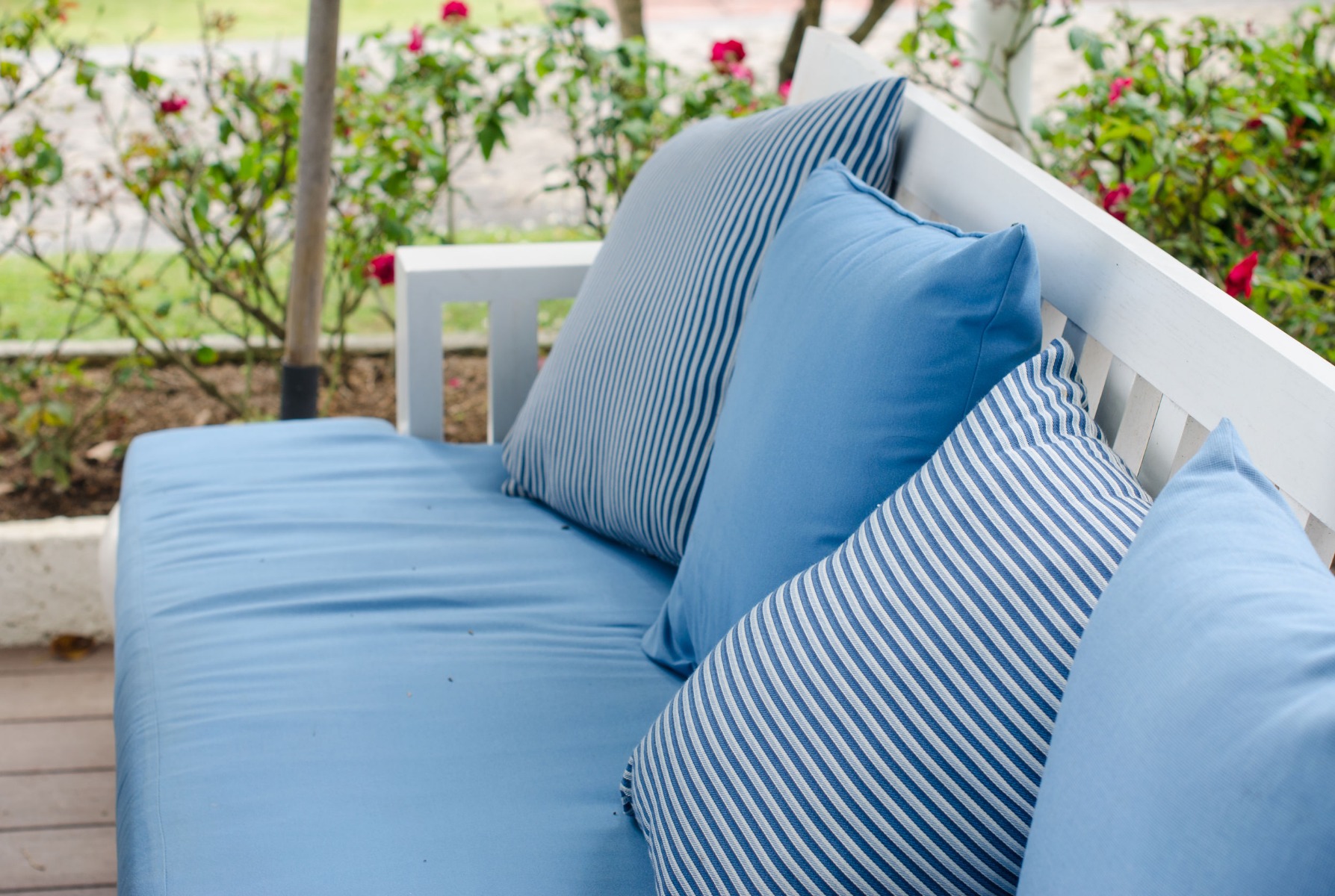 Once you've taken care of your furniture, surface, and lighting, you're ready to scrub down the pillows and cushions before returning them to your patio. We've provided a few general spring cleaning tips, but you can check out this blog to learn how to remove oil stains, bird droppings, and mildew.
To clean your pillows and cushions:
Follow the directions on the manufacturer's label.

Hand wash cushions and pillows to prevent damage or misshaping.

Test your cleaner in an inconspicuous area to ensure it won't hurt the fabric.

Spot treat with liquid soap and lukewarm water.

Rinse with clean water or a hose.

Let your cushions and pillows air dry.
5. Get new cushions for your patio.
When you start cleaning your cushions and pillows, you may find that some are beyond salvaging. Between kids, pets, and weather, it happens! A new set of cushions or pillows can spruce up your patio and make it look brand-new again.
One way to bring your outdoor space to life is to design your own custom cushions. You can choose from fabrics like olefin, T-spun polyester, and acrylic linen. A custom cushion manufacturer will also carry a wide variety of patterns and colors, so you're sure to find something that looks great on your patio.
Once you've decided on cushions, choose a fun throw pillow (or a few!) to spruce up your space. Patio pillows are a great way to add a pop of color and a touch of softness to your outdoor furniture. With clean, comfortable pillows and cushions, you'll love sitting on your patio again.
____________________________________________________________________ 
With these five spring cleaning tips, you'll be able to freshen up your patio in no time! 

And if you want replacement pillows, umbrellas, or any other patio-related item, no worries. A custom cushion manufacturer can help you find the pieces you need to get your patio ready for spring.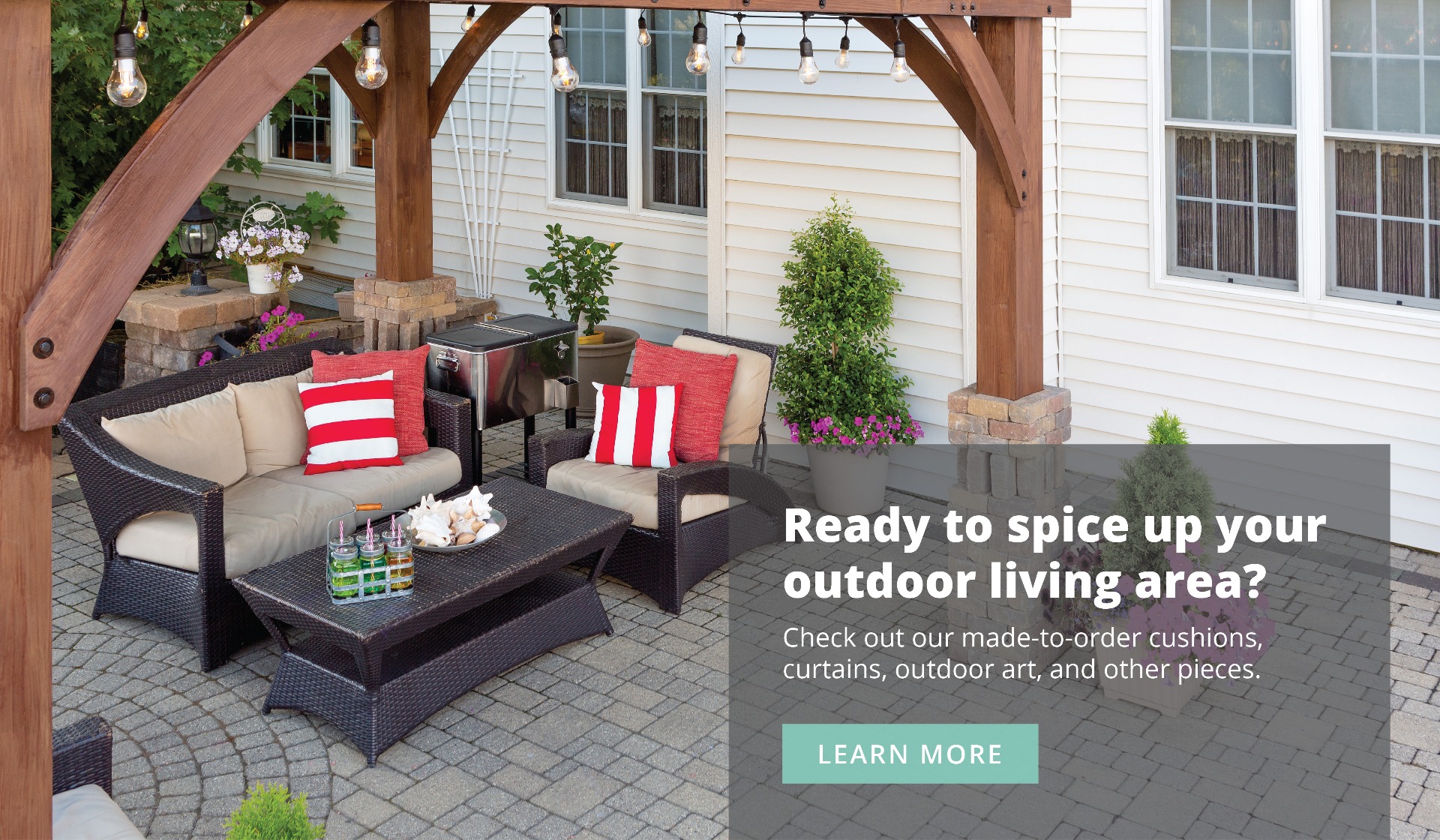 ____________________________________________________________________
Summer Living Direct has helped homeowners and decorators find custom cushions, curtains, outdoor art, and umbrellas for their patios since 1994. To learn more, please visit our website or follow us on Facebook.