While you may think of summer when you hear "patio," you don't have to be stuck inside when the temperature drops! Many homeowners and designers are starting to treat their porches and gardens as an extension of their homes, which means they want to spend more time on the patio — even in the winter. 
You can spend time outside in the colder months and keep guests warm and cozy with a little planning. Check out these five tips for using your patio in the winter!
*Just a note: If you gather with family and friends for the 2020 holidays, make sure to quarantine before and after spending time with them to reduce the risk of transmitting COVID-19. Small outdoor gatherings are best, provided that your loved ones are healthy and willing to spend extended time together.
1. Cover and light up the patio. 
Whether you choose a simple pergola or a full roof with fans and heaters, covering your outdoor space will help you keep winter wind and snow at bay. If a roof isn't quite enough to protect your patio from the elements, try hanging outdoor curtains. These will not only add privacy to your space, but will also prevent a chilly breeze from getting in.
Lanterns or heat lamps can illuminate your patio while helping you and your guests stay warm. After all, having some type of heat source — and being able to keep the party going after dark — is key to using your patio in the winter! If you'd rather gather around the fire for warmth (Tip #5), you can string LED or solar lights across your outdoor space.
2. Enjoy warm food and drinks outside.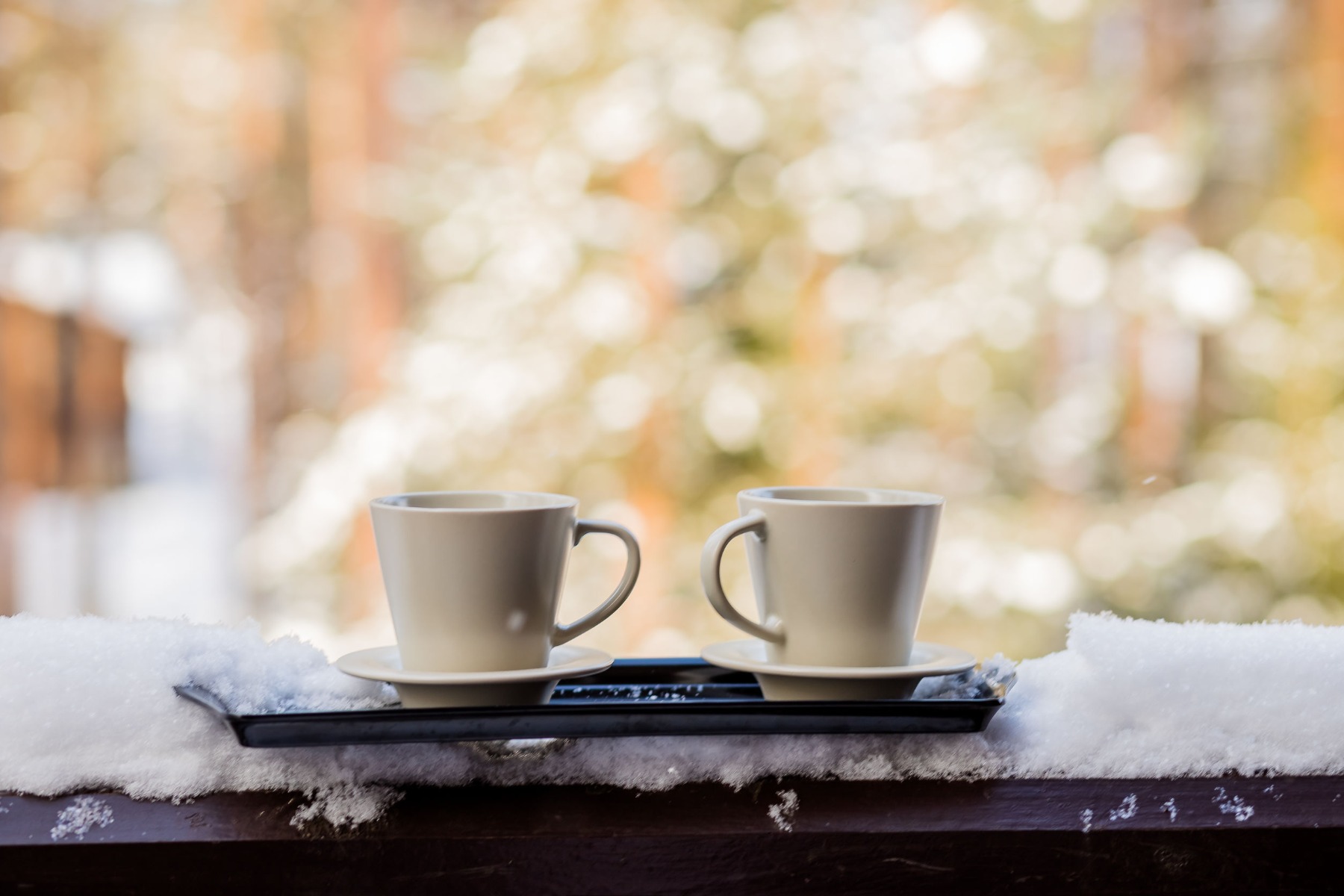 An easy (and delicious!) way to warm up on the patio is by enjoying your favorite winter drinks and food. Whether you're hosting a big outdoor party or spending quality time with family, make sure you keep plenty of warm treats on hand to keep everyone full and toasty.
For a winter patio party or dinner, you could: 
Grill burgers or pizza.

Cook a pot of chili.

Make s'mores over the fire pit.

Enjoy fondue with pretzels or fruit.

Drink coffee or hot chocolate after dinner.
3. Add coniferous trees and winter plants. 
Still fighting the winter wind? Planting coniferous trees near the patio can help in the long run (although you'll have to be patient, since they only grow a few feet per year). 
Coniferous trees will allow you to keep wind and storms at bay all year long, especially those harsh winter gusts. They'll also take away some of the moisture in the air, lessening the effect of extreme temperatures.
While trees take years to grow enough to protect your patio, you can add winter plants now to at least bring some color and life to the space. Rosemary, holly, pansies, and dogwood are just a few beautiful winter plants that can withstand the cold and wind.
4. Decorate with cozy blankets and pillows.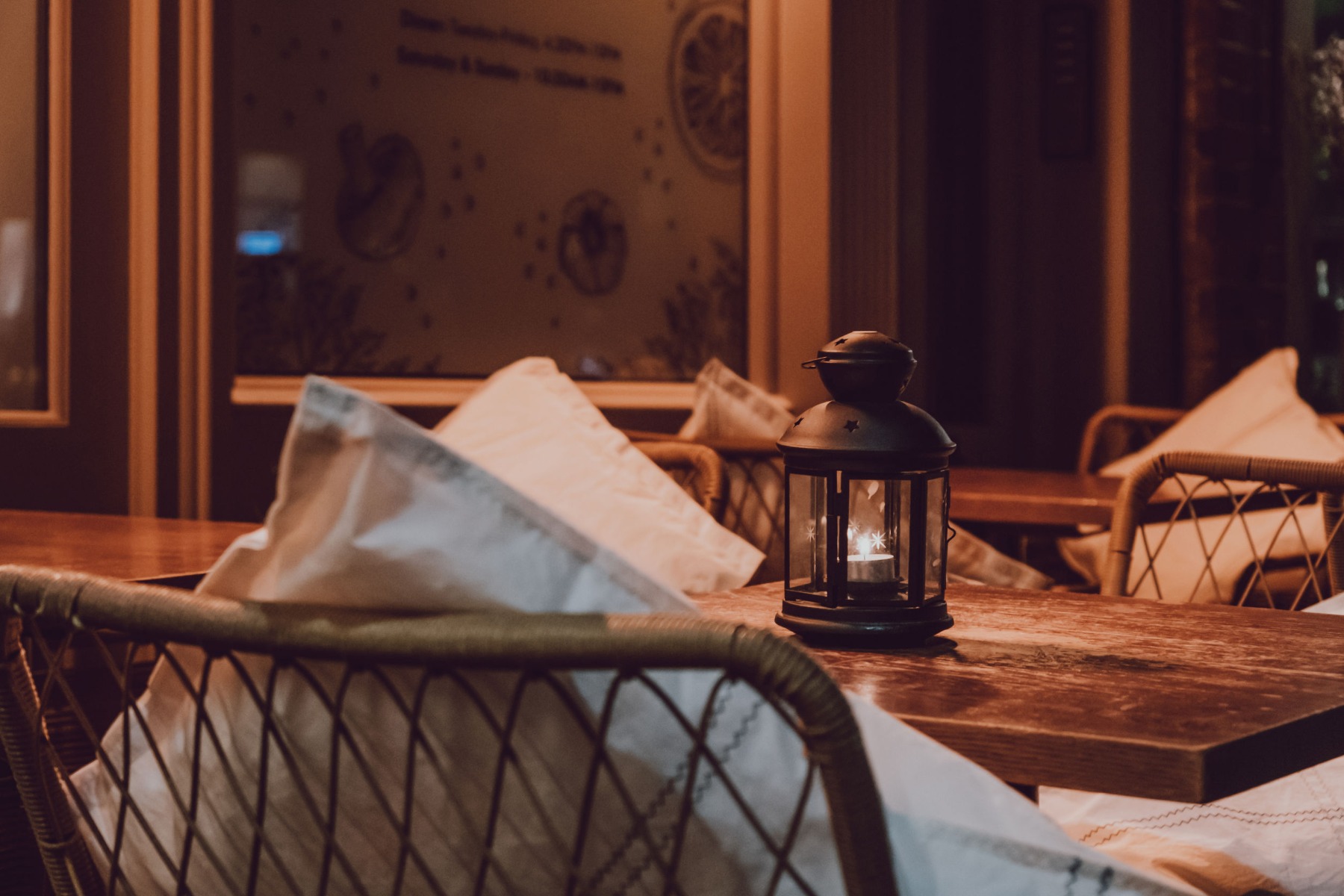 Adding plenty of blankets, comfy pillows, and soft seat cushions to your patio will entice you and your guests to curl up on the patio for a while — even in the winter! You can also visually warm up your space by choosing bright colors, cheerful plaid, or holiday patterns for blankets, rugs, and pillows.
While decorating with cozy pieces will warm up any outdoor space, you'll want to keep a waterproof storage container on or near your patio. Then, you can store blankets, pillows, and cushions if you're expecting a snowstorm. Furniture covers are another smart way to protect your outdoor pieces in inclement weather.
5. Safely place chairs around a fire pit.
A fire pit can make a great focal point for your outdoor space, and it lets guests keep warm while sitting near each other. Whether your loved ones know each other well or are just meeting for the first time, they'll have a great opportunity to mingle when you place chairs, ottomans, or couches around a cozy fire.
Just be careful with seating around the fire to protect your guests from any accidents. Solution-dyed acrylic linen is a great option for chair cushions, as long as they're a safe distance away from the fire. This fabric is less flammable than others, so guests can safely enjoy the fire pit while seated on acrylic linen cushions. 
Whether you love sitting around the fire, drinking hot chocolate with friends, curling up with a cozy blanket, or all of the above, you can enjoy using your patio all winter long. With these tips, you and your loved ones might have so much fun that you (almost) forget it's cold outside!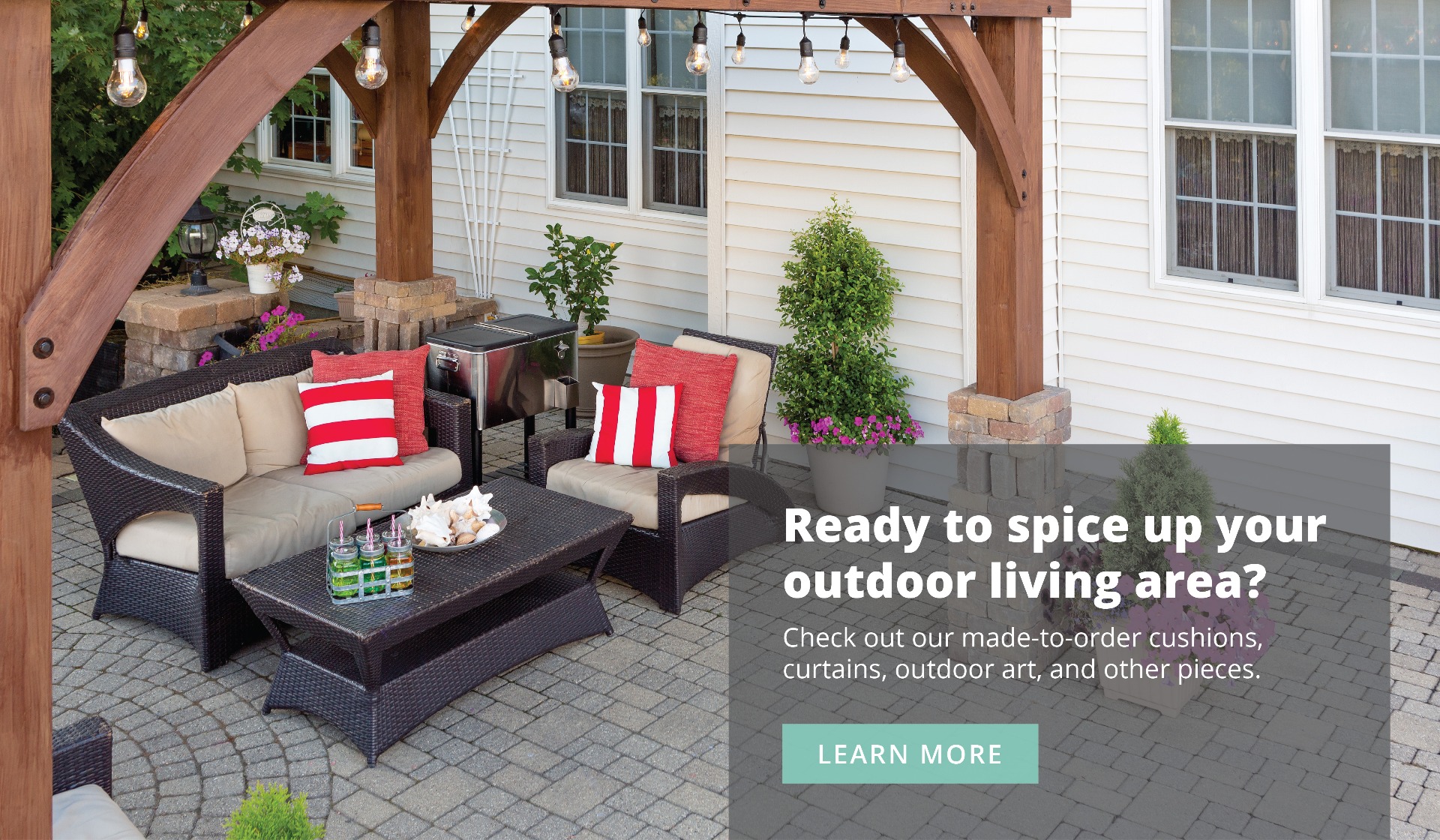 Summer Living Direct has helped homeowners and decorators find custom cushions, curtains, outdoor art, and umbrellas for their patios since 1994. To learn more, please visit our website or follow us on Facebook.