Dirt and moisture aren't the only things that can weaken your outdoor cushions and furniture. UV rays can hurt your patio pieces over time, just as they can damage your skin. But there are steps you can take to keep your furniture and fabric color from fading and while still enjoying a sunny outdoor space.
Here are four ways to protect your patio from sun damage.
1. Inspect your furniture twice a year.
Fading cushions and pillows are usually the first sign of UV damage, but the sun can also weaken and fade your outdoor furniture. Plastic may melt during hot summer days, and direct sunlight can cause wooden frames to crack over time. You should check your plastic, wood, and wicker pieces for damage every six months. 
For solid wooden furniture, splash a little water on the surface to make sure the sun hasn't reduced any staining. After 15 minutes, the water should still be in small beads. If the wood has soaked up the water, add more stain protection to prevent further fading.
2. Rotate (and store) your pillows and cushions.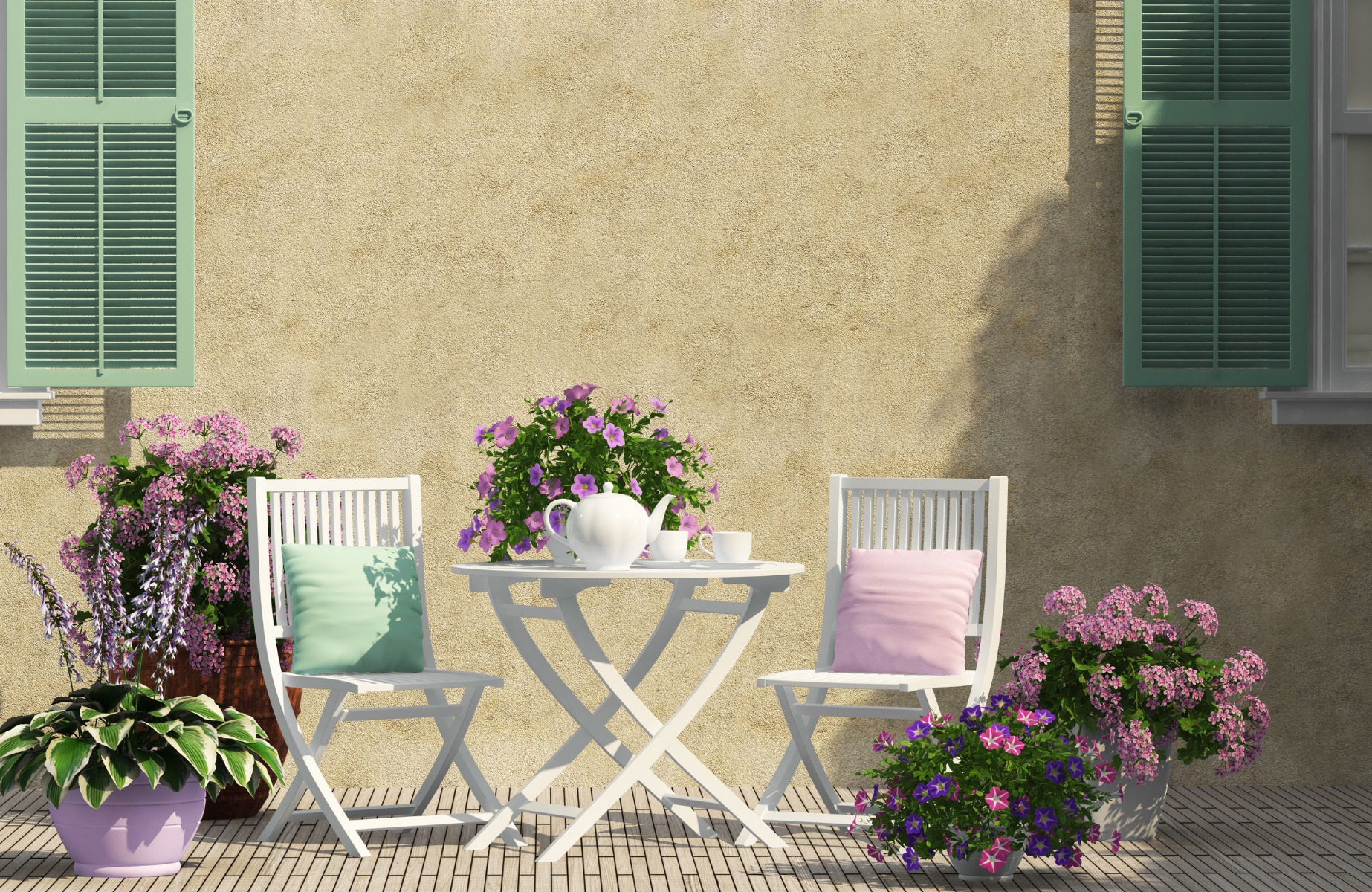 Many people don't think about rotating the pillows and cushions on their patio. After all, they all get sun at some point during the day, and you may not feel like you're making a difference. But some of your pieces might get more UV rays than others, which will make their colors fade faster. Then half of your outdoor space will be bright and colorful, while the other...not so much. To prevent this, move pillows and cushions around your patio so you can expose them equally to sun and shade.
And if you live in an area that experiences all four seasons, move your pillows and cushions inside before winter, and cover heavy furniture. Since you probably won't be outside as much during the cold months, you can further reduce the UV exposure your outdoor pieces get by storing them in a shed, garage, or weatherproof box.
3. Set up a canopy or patio umbrella.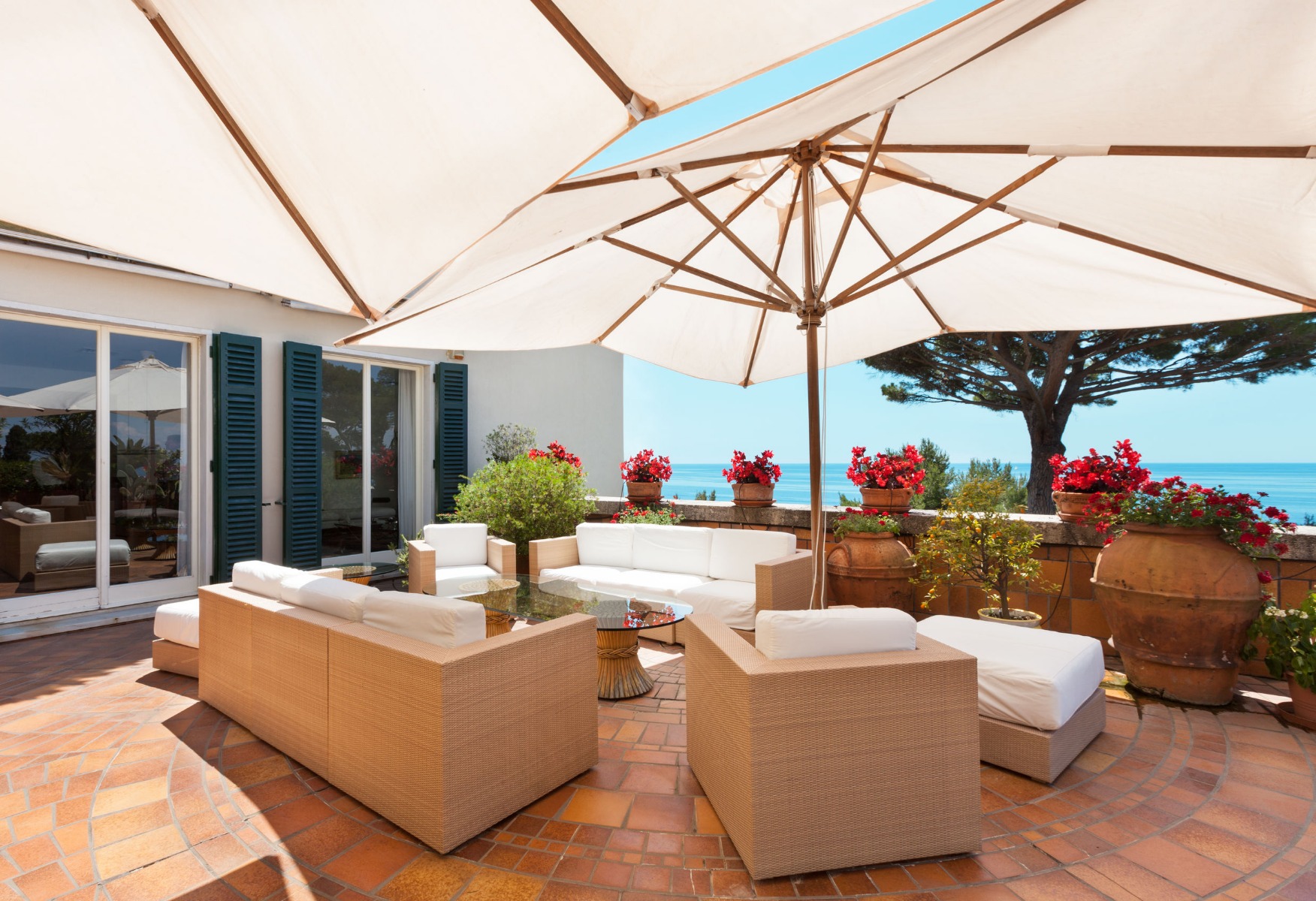 You should enjoy your outdoor space, even on the hottest and sunniest day! A canopy or retractable awning will bring some shade and coolness to your patio. You can try your hand and building your own covering with colorful fabric and PVC pipes. To learn how to create your DIY canopy, check out this blog.
Another easy way to protect your patio from sun damage is to invest in an outdoor umbrella. Shading your patio will not only prevent fading in your furniture and cushions; you'll also be able to add some personality to your space! A custom umbrella manufacturer can help you choose from various fabrics, colors, and patterns to design a stylish covering.
4. Consider UV-resistant cushion fabrics.
Whether you're buying cushions for a brand-new patio or replacing pieces, look into fabrics that will resist sun damage. Acrylic and acrylic linen (or solution-dyed acrylic fabric) can each withstand 1,000 hours of UV exposure before starting to fade. These materials are soft enough for a cozy patio, too, with colors that will stay brilliant.
You should also use a nontoxic fabric protector to further prevent sun damage to your cushions, pillows, or umbrellas. To use this protection spray:
Make sure the fabric is clean and dry.

Spray the protectant in a well-ventilated area, away from anything flammable.

Hold the can upright, 10 inches away from the piece, and spray evenly.

Let your cushion, pillow, or umbrella dry for an hour. 

Repeat for added protection.

 
By following these tips, you can protect your patio from sun damage and keep your furniture, cushions, and pillows looking great for years to come.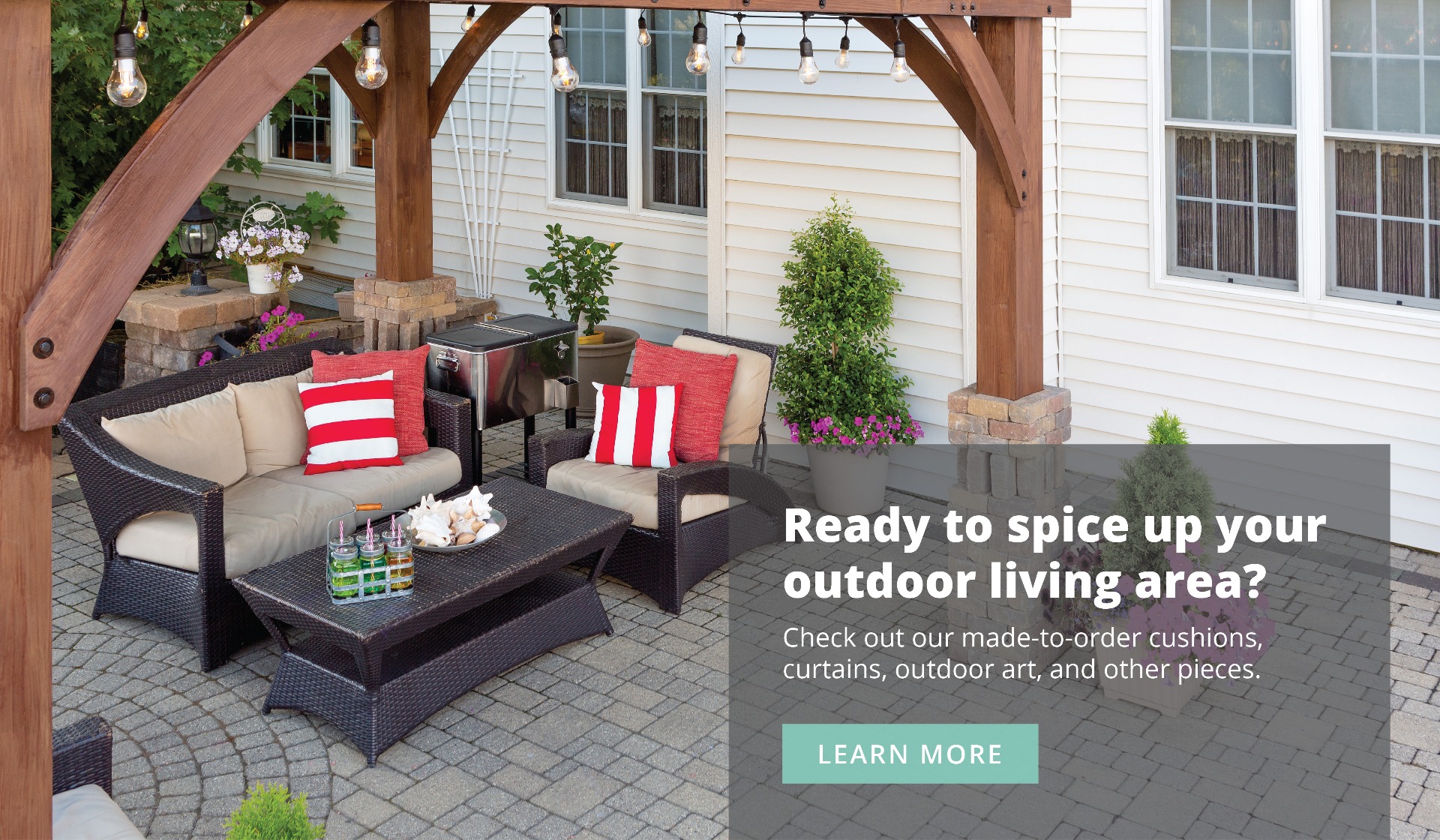 Summer Living Direct has helped homeowners and decorators find custom cushions, curtains, outdoor art, and umbrellas for their patios since 1994. To learn more, please visit our website or follow us on Facebook.