Enjoying your patio is hard to do with old, worn-out, uncomfortable cushions. But finding the best replacements for your outdoor space is easier than you might have thought.
We've put together a guide to buying outdoor cushions that will walk you through:
Measuring Furniture for the Right Fit

Environmental Factors to Consider

Your Cushion Fabric Options

Your Cushion Filling Options

Styles & Features to Choose From

Cleaning & Protecting Your Cushions
1. Measuring Furniture for the Right Fit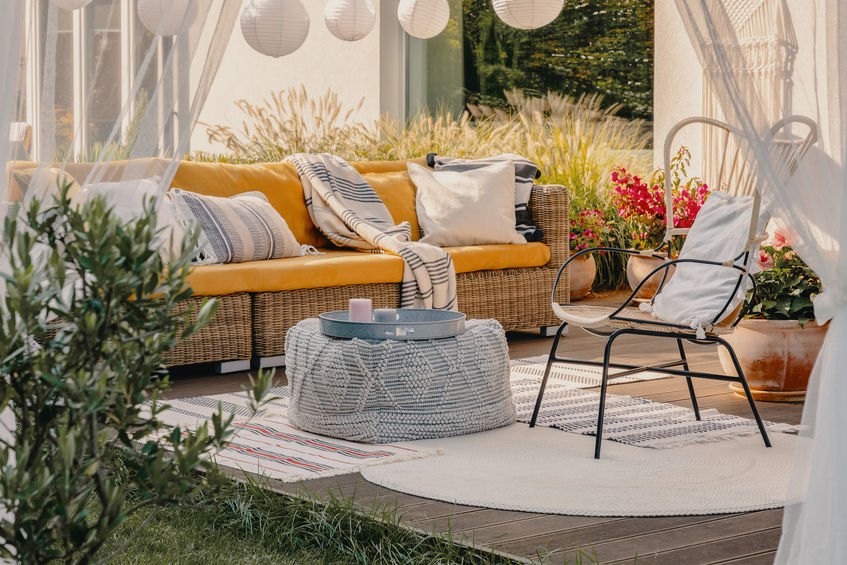 Measuring your actual seats and benches will give you the exact sizes you'll need for new cushions, as your old ones may have lost filling or stretched over the years. Here are the three patio furniture dimensions you'll need to measure:
Back Height
Measure the height of the chair from the tallest point to its seat. Then, round your result to the nearest half-inch. 
If you want a back cushion, account for this one sitting on top of the seat cushion. Subtract the thickness of the seat cushion from the height of the chair back. This will keep your back cushion from sticking up over the back of your chair. 
Seat Depth
Measure the depth from the center of the seat's front edge to the center of the back. Round your result to the nearest half-inch. 
For a proper fit, make sure the back cushion doesn't rise above the seat. For example, if your desired seat cushion is 3 inches thick, and the back height is 18 inches, take 18 - 3 = 15 inches. Then, record 15 inches as the height for your back cushion.
Total Width
Measure the width from left to right across your seat. You'll do this at the front edge of the chair or bench, between the arms (across the middle), and where the seat meets the back. 
These three measurements will help you determine which part of the seat is the widest so you can record that as the total width. Round your result to the nearest half-inch.
2. Environmental Factors to Consider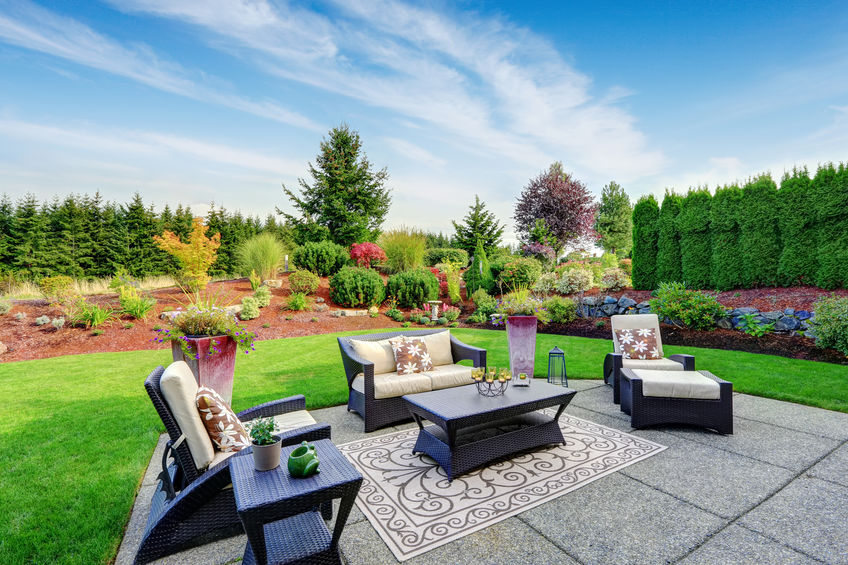 Your custom cushions should be attractive and comfortable, but you'll also want to think about your patio's surroundings, the climate you live in, and potential wear and tear.
Patio Surroundings
Your dream oasis might be a poolside patio, a tucked-away deck in the woods, a fire pit, or a garden getaway. Each will present a different challenge for buying outdoor cushions. 
For example, lounge chairs by the pool will need waterproof cushions, which you can cover with acrylic, acrylic linen, or T-spun polyester fabric. Seats in the woods or a garden may require stain-resistant cushions to repel wet leaves or bird droppings. You can accomplish this with olefin or spun polyester material. And you should keep any flammable cushions — with acrylic, olefin, or T-spun polyester fabrics — away from fire pits.
Your Location & Climate
Where you live will impact your patio cushion needs. For example, if you live in the Pacific Northwest or another rainy climate, you'll want to invest in waterproof cushions. You can do this by covering your pieces with acrylic, acrylic linen, or T-spun polyester.
On the other hand, if you live in the American Southwest or another sunny area, your best bet is a patio cushion that resists fading and extended hours of UV ray exposure. Fabrics that would work well for you are acrylic, acrylic linen, and olefin.
Potential Wear & Tear
Your cushions will go through some wear and tear over time, but a few factors may speed up their deterioration. If you have young children, they might climb or jump onto chairs, which could wrinkle or misshape the cushions. 
In addition, pets may bite, claw, or leave paw prints on your cushions, which will decrease their lifespan. If you have kids or pets, you'll want to invest in extra-durable patio cushions. Spun polyester and T-spun polyester are great choices for parents and pet owners.
3. Your Cushion Fabric Options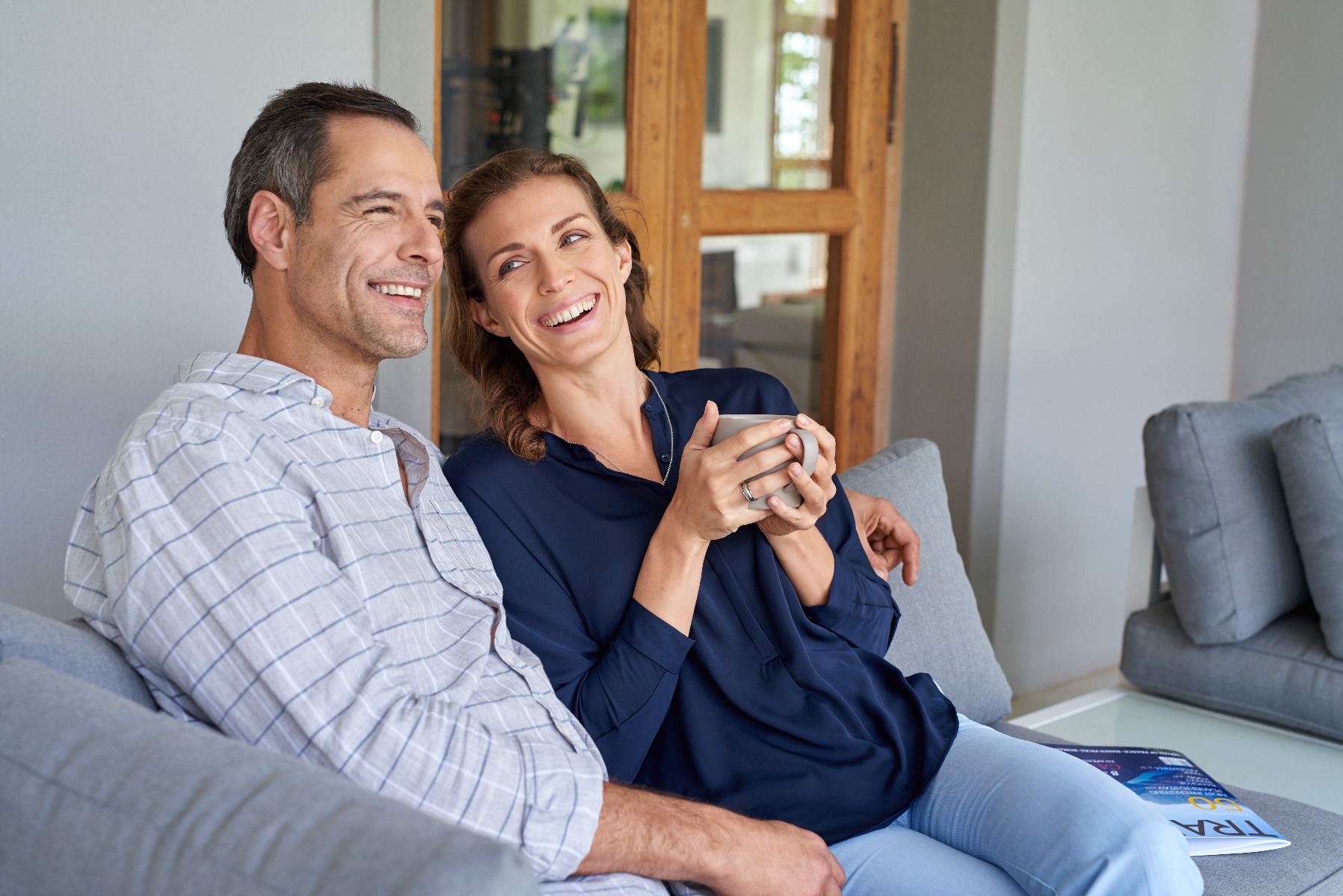 We've broken down five major types of materials you'll find covering custom cushions, each with its own pros and cons.
Acrylic
Acrylic fabric is soft like wool, but it wicks away rain and moisture to evaporate on the surface, keeping mold and mildew at bay. This material also resists sunlight and can withstand up to 1,000 hours of UV ray exposure before fading. 
Acrylic is a great option for both rainy and dry climates, but you should keep cushions with this material far away from fire pits, since acrylic is highly flammable. The fabric is also made from plastics and chemicals, so it's not the best choice for eco-friendly homeowners.
Acrylic Linen
Acrylic linen (or solution-dyed acrylic) is extremely resistant to fading because the fibers are dyed before professionals spin the yarn. This lets the fabric resist repeated cleanings and 1,000 hours of UV exposure before losing its color.
Acrylic linen cushions are a great choice if you live in a sunny area, but they're not the most durable option for those with pets and small children. Acrylic linen is also prone to static electricity and is not environmentally friendly, much like regular acrylic.
Olefin
Olefin is a low-cost, recyclable fabric that lasts for years and won't pill or fray. The material is also highly resistant to stains and fading because its color is locked into the yarn, just like with acrylic linen. If you do have a spill or stain, you can clean olefin with just about any household cleaner, even bleach.
Olefin cushions are perfect for homeowners who have a pool or live in a rainy climate, because they dry quickly and resist mildew. But the fabric is flammable and sensitive to heat, so you'll have to keep olefin cushions away from fire pits. And olefin doesn't reshape easily if it gets crushed, so parents and pet owners may want a different fabric.
Spun Polyester
Spun polyester is a slick yet firm cloth that's twice as durable as cotton and other lighter fabrics. That makes it a great option for cushions that will encounter children or pets! Cushions will last for years thanks to spun polyester's three-ply threads and resistance to soils, stains, and fading.
But this material cannot protect against sunscreen. In fact, without proper cleanup, the oil can bond with the spun polyester fibers and become impossible to remove. The fabric can also only stand about 500 hours of UV ray exposure before fading. Because of these two downsides, spun polyester cushions may not work well for poolside or sunny patios.
T-Spun Polyester
T-spun (or 100%) polyester is made of smooth fibers that create a durable yet soft fabric. It's highly resistant to moisture and mildew, so T-spun polyester cushions are a smart choice for homeowners in rainy areas. This material is also more resilient than spun polyester, so it works well for cushions that will undergo wear and tear from pets or kids!
However, T-spun polyester will fade after 500 hours of UV ray exposure, so sunny climate dwellers should steer clear of this material. The fabric is also flammable, so you'll have to keep it away from fire pits. In addition, T-spun polyester can create static electricity and lead to annoying shocks when you sit on the cushion.
4. Your Cushion Filling Options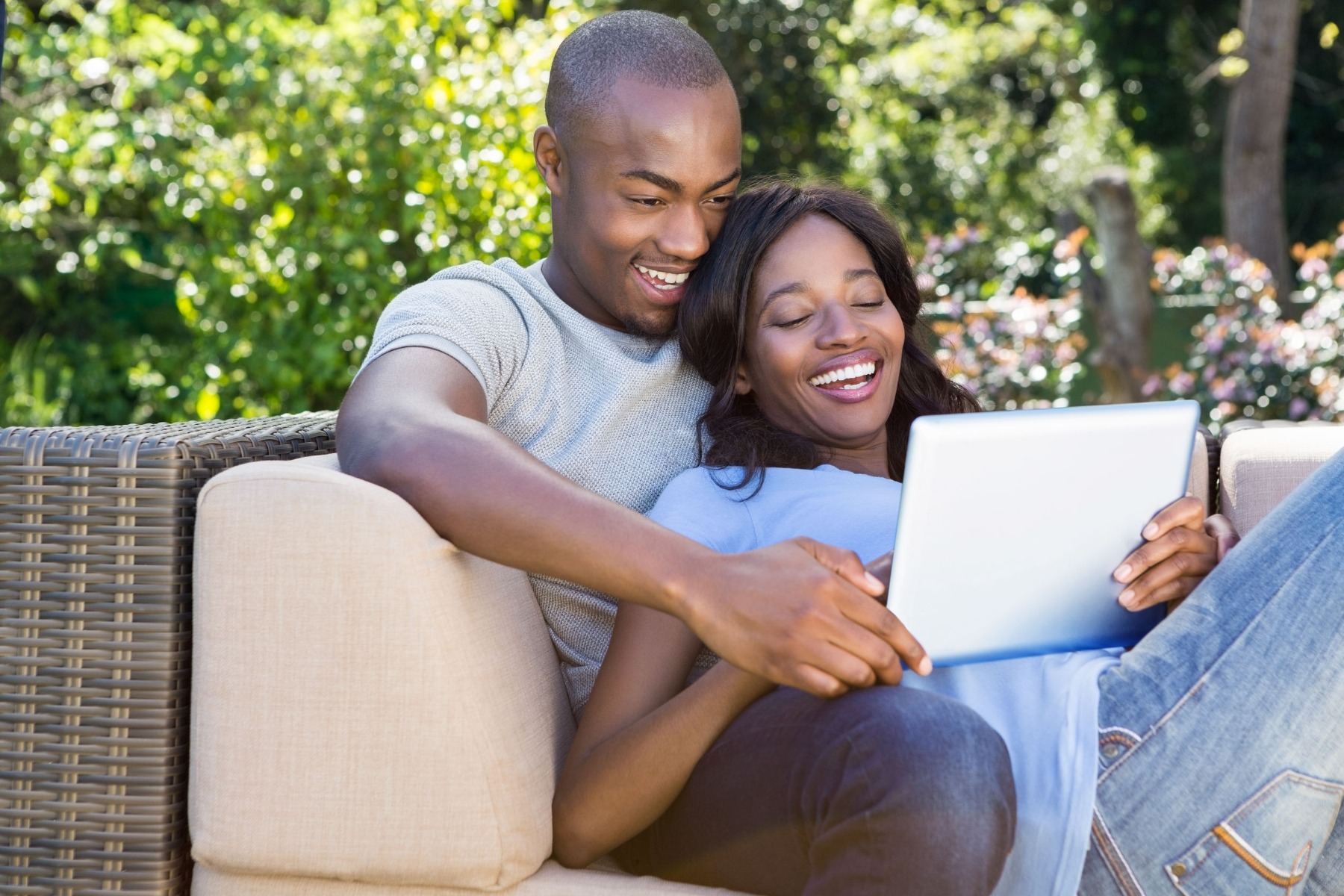 What's inside your custom cushion may seem like a small detail, but it can directly impact the piece's comfort and appearance. Here are two types of cushion filling you'll find.
Foam
Foam filling is water-resistant and durable, so your cushions will hold their shape for a long time. It's a great option for patio cushions and poufs you'll use every day (or that kids and pets might jump onto).
Polyfiber
Cushions with polyfiber filling also resist water and mildew, but they provide a softer and more pillow-like feel than cushions with foam. You'll often find throw pillows and seat pads with polyfiber filling.
5. Styles & Features to Choose From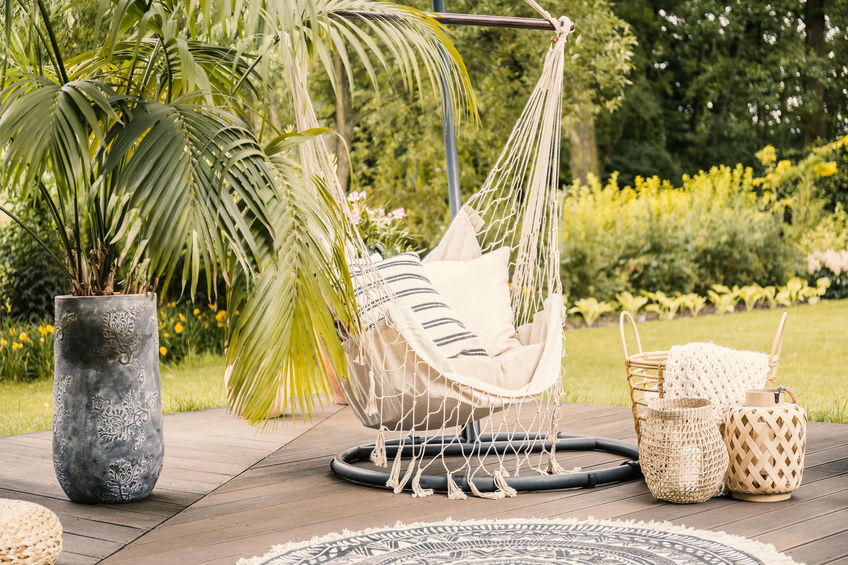 One of the most fun parts about redecorating your outdoor space is incorporating your style and personality into the mix! We've broken down the most common styles you'll see for seat styles, edges, and other features.
Expressing Your Personality
A relaxing rustic feel: If you love the woods and want a tucked-away space, choose weatherproof and bird dropping-proof pieces with olefin or spun polyester fabric. A neutral or burnt orange pattern can help you set a calming mood, and earthy colors will reflect your love of the great outdoors.
A peaceful garden getaway: If you prefer getting away from the world through nature, consider sun- and water-resistant cushions and pillows with acrylic or acrylic linen. A leafy cushion or pillow pattern will complement your garden well, and soft blues or greens can help you emphasize your focus on peace and quiet.
A colorful courtyard oasis: If you enjoy bright colors and throwing backyard summer parties, you'll love decorating your patio with acrylic linen or olefin-covered pieces. An orange and yellow starburst pattern will help you set a fun mood, or you can make a statement with colorful stripes.
A playful poolside escape: If you spend most of your summer by the pool, consider colorful, sun- and water-resistant cushions and pillows made from acrylic, acrylic linen, or olefin fabrics. An anchor pattern is the perfect statement for your waterside pieces, and bold stripes can help you set a summery mood.
Seat Styles
Lounge cushions, which have a longer "seat" than back (for stretching out your legs). These look great on poolside patio chairs.
Back cushions, which allow you to replace just the back of your chair's cushion for a relaxing, supported seat.
Seat pads, which let you opt out of back cushions for a simple yet comfortable padding for your wicker or metal patio chairs.
Bench cushions, which add comfort and style to any patio benches, front porch swings, or poolside loveseats.
Ottoman cushions, which let you sit on those outdoor poufs (instead of just propping your feet up on them!).
Cushion Edges
Box edges, which have a thicker shape and stiffer feel that's perfect for bench seats or cushions on large chairs.
Knife edges, which create a rounded corner and a slightly flatter cushion that works well for poolside lounge chairs.
French edges, which offer a clean, box-like appearance for thicker cushions that add comfort to chairs and lounges. 
Additional Features
Buttons, which may be plastic or fabric-covered and let you add intricate details to your bench, lounge chair, or ottoman.
Welting or piping, which forms a decorative edge around cushions and complements benches and larger seats.
Customizable fabric, which lets you design your own cushion and order a sample swatch to see the colors and patterns in person.
6. Cleaning & Protecting Your Cushions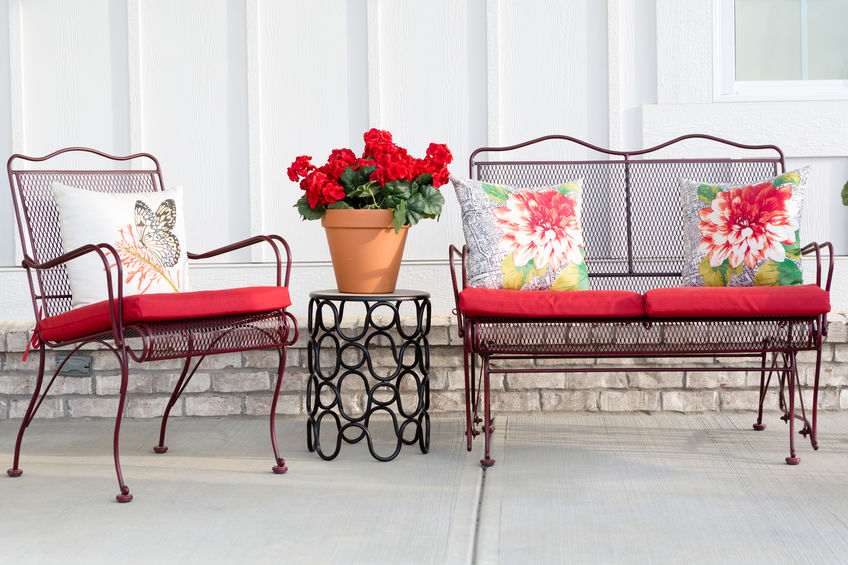 For most cushion fabrics and spills, you'll be able to take these simple cleaning steps: 
Follow the directions on the manufacturer's label.

Hand wash cushions to prevent damage or misshaping.

Test your cleaner in an inconspicuous area to ensure you're using the right product.

Spot treat with a mixture of liquid soap and lukewarm water.

Rinse thoroughly with clean water or a hose.

Always allow your cushions to air dry.
And to store your cushions and prevent winter or weather damage, you can: 
Keep cushions in a

waterproof garage or shed

, or bring them inside the house. 

Cover any cushions you can't remove in a tarp or plastic sheet to protect them from hail, snow, harsh winds, and downpours.

Move sun-soaked cushions into shady areas to reduce UV ray exposure and fading.
Comfort, fit, and durability are some of the most important elements to consider when you're buying outdoor cushions. But you want them to look good, too!
When you take the time to research your options and consider what "dream patio" means to you, you'll be able to choose gorgeous custom cushions that last for years.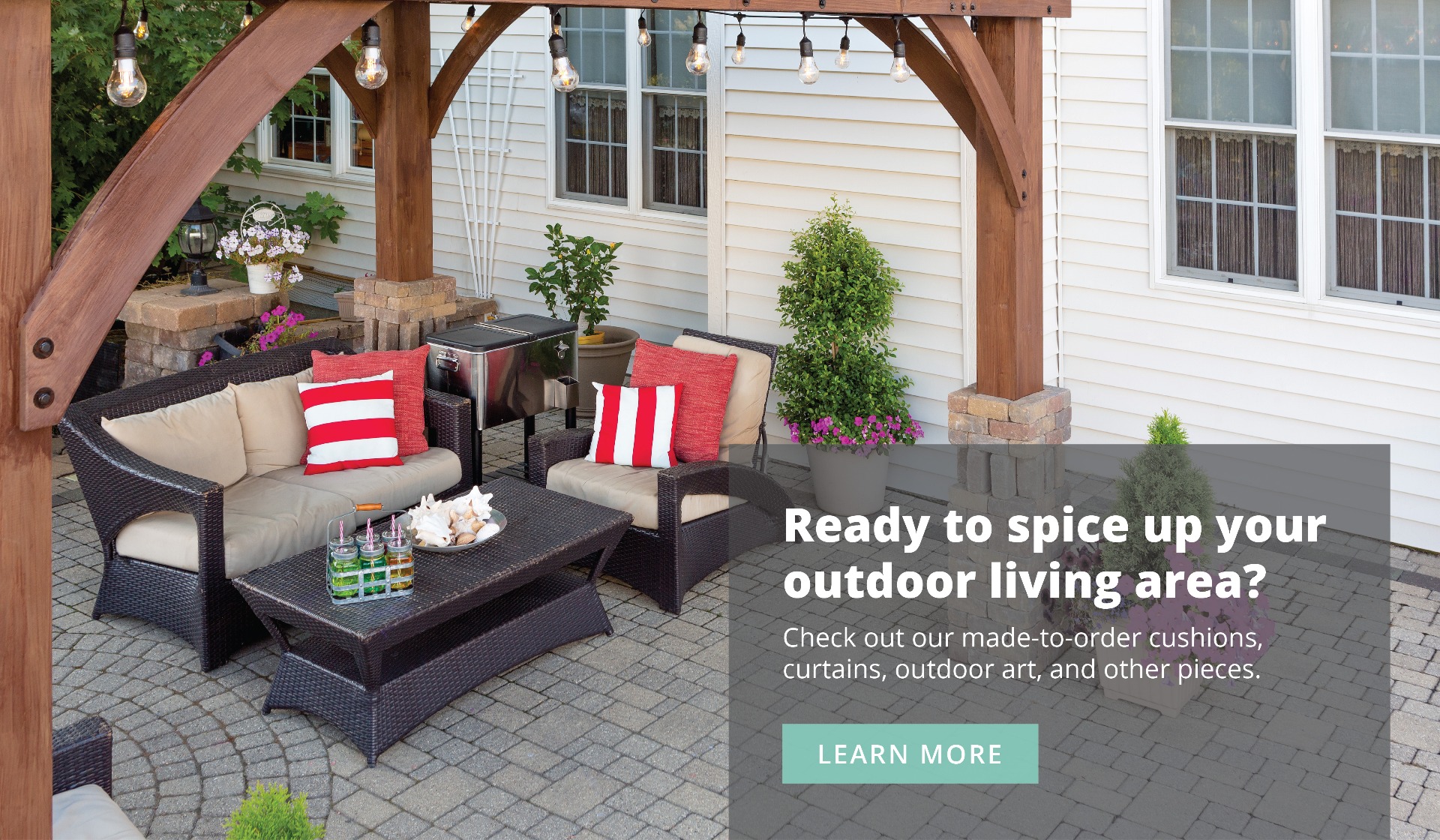 Summer Living Direct — a branch of Jordan Manufacturing — has helped Indiana homeowners, decorators, and DIY-ers find quality custom cushions, curtains, outdoor art, and umbrellas for their patios since 1994. To learn more, please visit our website or follow us on Facebook.